Jeep Will Premiere a Brand New Wrangler Magneto Concept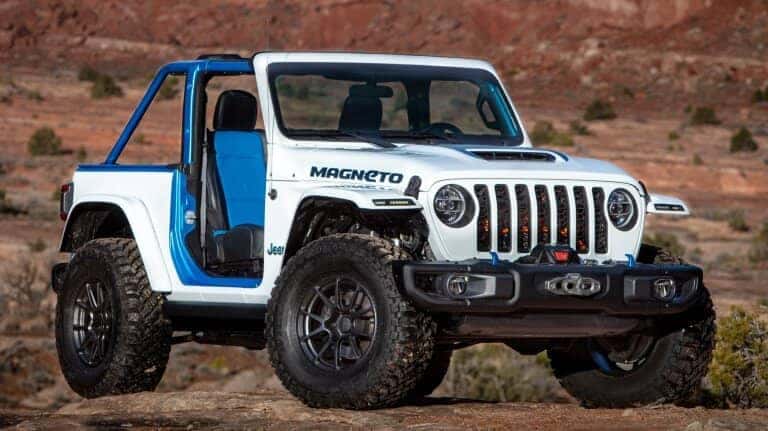 Jeep and Mopar come together again for another superstar concept for the annual Moab Easter Jeep Safari . Typically, Jeep and Mopar would release a compilation of concept images leading up to the grand reveal at the red rock event.
This year Jeep and Mopar went with a different approach. The dynamic duo has recently released an image of the concept vehicle every couple of days. The cautionary images work to build anticipation for the Moab Easter Jeep Safari.
The most recent sketch comes from Jeep and reveals a sneak peek at the internet-breaking: Jeep Wrangler Magneto. Additionally, the Jeep appears painted in Surf Blue (B5 Blue). The "Magneto" reads diagonally along the side of the hood, and next to that, the number "2.0." The 2.0 signifies the second iteration of the Magneto concept.
The original Magneto concept was a fully battery-electric vehicle (BEV). The electric concept was a spirited ninja with unparalleled energy for rock climbing. The innovative team of Jeep, composed of engineers and designers, cultivated a vehicle with impeccable 4×4 capabilities, all while emitting zero emissions. As a result, last year's Magneto provided a whole new perspective on efficiency, sustainability, and performance both on and off-road.
Inspiration for the Magneto originates from the two-door Wrangler Rubicon . Supporting the custom compact is a custom axial flux electric motor that handles up to 6,000 rpm. Additionally, connected to a 6-speed manual transmission was an e-motor that created a manual-electric powertrain. Lastly, paired to the manual-electric powertrain was a clutch that operated similar to pairing with an internal combustion engine (ICE).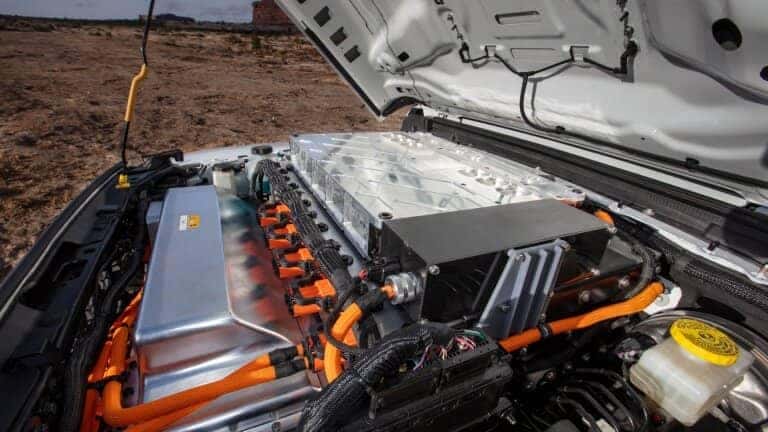 The compact e-motor is similar to the 3.6-liter Pentastar V6, and the e-motor delivered 273 lb-ft of torque and 285 horsepower. The electrified powertrain propelled the Magneto from 0 to 60 in less than 7 seconds.
Last year's Magneto revealed an electrifying Bright White color and Surf Blue accents. In addition, the Magneto sported a heavy-duty performance hood, custom decal, commanding full-width forward lighting, and a redesigned rear gate. The concept Jeep sports custom Royal Blue and Black leather seats plus Sapphire-colored straps.
Jeep equipped the concept vehicle with Jeep Performance Parts (JPP) to solidify the Magneto's captivating appearance. The JPP includes a 2-inch lift kit, 17-inch "Lights Out" Black metallic wheels wrapped in 35-inch mud-terrain tires. The JPP also contained a custom roll cage, Mopar Rock Rails, steel bumpers that include a WARN winch, and a steel belly pan for heightened off-road capabilities.
Although the images above are of last year's Magneto concept, we have a lot to look forward to at this year's red rock auto show . This year's Wrangler concept will serve as a guide to Jeep's electrified future.
Come Test Drive Your Jeep Wrangler at Miami Lakes Automall!
For over 30 years , Miami Lakes Automall has served South Florida with all buying, trading, leasing resolutions.
Our new vehicle inventory or certified pre-owned vehicles speaks to the volume Miami Lakes Automall holds to fit your needs. Yet if you already have a beautiful baby in need of some fine-tuning, you've come to the right place.
Here at Miami Lakes Automall, our * *service experts are warmer than a fresh cup of coffee. So don't hesitate to chat with our friendly service members available to you whenever you need them.
We've been here since 1982, so please stop by today. Your Jeep Wrangler is ready to Go Anywhere and Do Anything.
Previous Post New Jeep Marketing Campaign Speaks to Every Car Enthusiast Next Post The Jeep Performance Parts Headed to the 56th Annual Moab Easter Jeep Safari