Off-Road in Style with the New 2022 Jeep Grand Cherokee 4xe High Altitude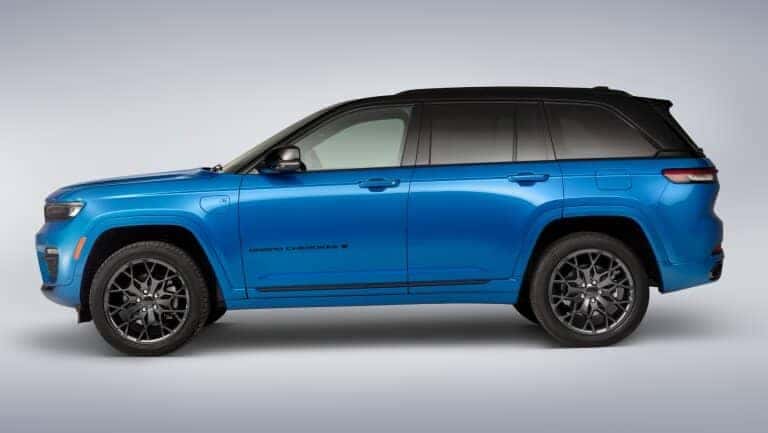 The 2022 Jeep Grand Cherokee 4xe plug-in hybrid has enough bling bling to take 2 Chainz out of business. The new Grand Cherokee 4xe features gloss black exterior accents with beautifully crafted 21-inch wheels. Check the receipt, and Jeep bills the exterior features as a premium blacked-out appearance.
The Cherokee 4xe's blacked-out appearance falls under the High Altitude moniker. High Altitude is a name that many Jeep fans associate with the automaker's customized vehicles or luxurious trims of specific SUVs and Gladiator pickups.
So let's dig into the "High Altitude" name. Jeep's Compass, Wrangler, Wrangler 4xe, and Gladiator vehicles all premiere a High Altitude trim. However, the High Altitude trim is not a new addition for the Grand Cherokee 4xe. Yet, the Cherokee 4xe's trims consist of the Trailhawk, Overland, Summit, and Summit Reserve.
The High Altitude is merely a package. The new Jeep Grand Cherokee 4xe package is available with the Cherokee 4xe's two highest trims: the Summit 4xe and Summit Reserve 4xe. It's okay to be confused; let's unwind this yo-yo.
Toggle between the Grand Cherokee 4xe configurator and then select the Summit or Summit Reserve. From there, Jeep enthusiasts will find the High Altitude Package option. Although the trim(s) full nomenclature reads 2022 Jeep Grand Cherokee Summit High Altitude 4xe, no one will bat an eye if an enthusiast says, "2022 Jeep Grand Cherokee High Altitude 4xe", just like the automaker does.
Let's get to the awesome part, that shines like "bling bling." The High Altitude package takes the well-equipped Grand Cherokee 4xe Summit and Summit Reserve to even greater heights. The High Altitude Package includes 21-inch black-painted aluminum wheels, painted door cladding, gloss black, neutral gray exterior accents, neutral gray badging, and gloss black roof rails.
Don't worry we didn't forget about the electric blue, and it's called Hydro Blue Pearl Coat. The new exterior paint choice is available for the Trailhawk, Overland, Summit, and Summit Reserve trims. Furthermore, the Hydro Blue Pearl Coat is available for the two-row Grand Cherokee, three-row Grand Cherokee L , and Grand Cherokee 4xe. The piercing blue exterior is no stranger to the Jeep family as it once shared a romantic history with the Wrangler .
The 2022 Grand Cherokee High Altitude 4xe in Hydro Blue broke necks and dropped jaws at the 2022 New York International Auto Show. The new appearance package and exterior paint color will reach the market by June 2022.
Come Test Drive Your Jeep Grand Cherokee at Miami Lakes Automall!
For over 30 years , Miami Lakes Automall has served South Florida with all buying, trading, leasing resolutions.
Our new vehicle inventory or certified pre-owned vehicles speaks to the volume Miami Lakes Automall holds to fit your needs. Yet if you already have a beautiful baby in need of some fine-tuning, you've come to the right place.
Here at Miami Lakes Automall, our * *service experts are warmer than a fresh cup of coffee. So don't hesitate to chat with our friendly service members available to you whenever you need them.
We've been here since 1982, so please stop by today. Your Jeep Grand Cherokee is ready to Go Anywhere and Do Anything.
Previous Post The Jeep Performance Parts Headed to the 56th Annual Moab Easter Jeep Safari Next Post Jeep and Universal Pictures' Jurassic World Team Up