Top 10 Best Interior For the New 2021 Jeep Grand Cherokee L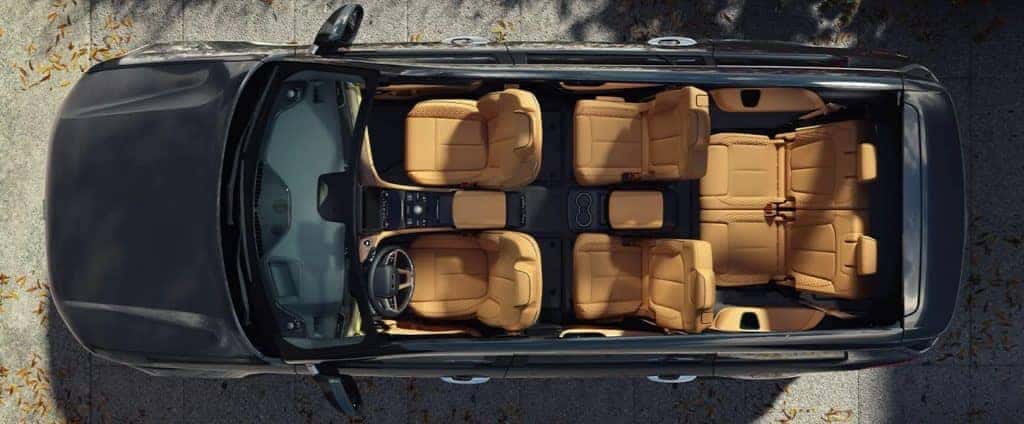 The 2022 Grand Jeep Wagoneer is grand on so many levels. The luxurious SUV is practically the size of a fully furnished SUV. But thanks to the all-new 2021 Jeep Grand Cherokee L , Jeep enthusiasts can enjoy some of those same frills with half the vastness and a quarter more of the distance. The Grand Cherokee L is spacious with its lustrous cabin that incorporates handcrafted materials and revolutionary amenities. Just take a look at the McIntosh audio system. It's easy to see why the Grand Cherokee L holds the title for Wards 10 Best Interiors of 2021.
"When it came to the interior design of the all-new 2021 Jeep Grand Cherokee L, our team's objective was to create one of the most exquisite and technically advanced interiors in the industry. This all-new interior features a much more focused approach to attention to detail of materials and design as a system. Our goal was to deliver an experience for drivers and passengers that delighted the senses and perhaps set a new standard of luxury for the segment, while also setting a new internal benchmark for our future generations of Jeep brand vehicles. We are truly honored to be recognized for the collective team's effort." -Stellantis Chief Design Officer, Ralph Gilles
Accentuating dimensions and symmetry are profound structural accents proving every trim of the Grand Cherokee L is intricately crafted and tailored to provide an extraordinary experience. The instrument panel creates an ampleness through proper portions and angels, producing a spaciousness that enhances with the help of raw but vividly contrasting materials and groundbreaking technologies such as the 10-inch display screens, and housing the new Uconnect 5 powerhouse system.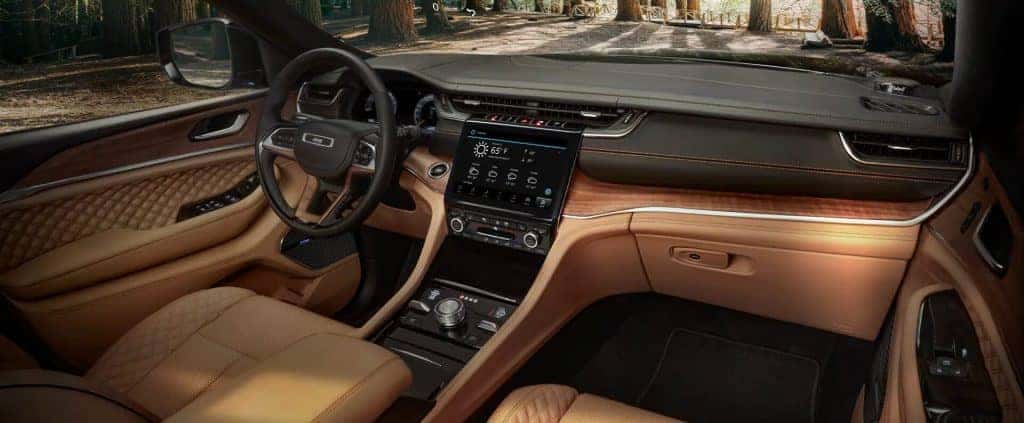 The Grand Cherokee L premieres a new premium package, the Summit Reserve. The Summit Reserve set the caliber for luxury in the full-size SUV segment. The Summit trim is hand-wrapped, quilted Palermo leather with ventilated front and second-row seating, memory massage front seats and the new optional Tupelo interior color for distinction.
"Utterly breathtaking interior. A stunning mixture of rich colors and lavish materials." – Wards 10 Best Judge, Drew Winter
The Grand Cherokee L doesn't shine just on the outside, but the inside with all-new customizable interior LED lighting with daytime and nighttime settings for every model.
Jeep also introduced a brand new seating architecture to the Grand Cherokee L. The SUV's second and third-row vents are wider, slimmer, and placed in the pillars. Unlike the Grand Cherokee's predecessor placed in the overhead, the pillar placement enhances passengers' comfort zones without compromising headroom and visibility.
The 2021 Jeep Grand Cherokee arrives technologically equipped with a surplus of features, including a rear-seat monitoring camera, digital rearview mirror, windshield HUD, and a frameless digital cluster.
Jeep partnered with McIntosh to deliver a superb audio system enveloping passengers in high-definition sound. The 950-watt, 19 speaker sound system takes the comfort of McIntosh's home audio system and unleashes that comfort on the road.
Contenders for the Wards Best Interior award relied heavily on entirely new or significantly redesigned 2021 models. Of 33 vehicles, Wards evaluated each car on its convenience, ergonomics, fit-and-finish, material quality, and aesthetics. It's abundantly clear to see why the Jeep Grand Cherokee L ranked amongst the best.
For over 30 years , Miami Lakes Automall has served South Florida with all buying, trading, and leasing desires. Take a look at our new vehicle inventory or our quality pre-owned vehicles . If you already have a beautiful baby in need of some fine-tuning, you've come to the right place. Our service experts have you covered. Don't hesitate to chat with our friendly service members available to you whenever you need them. We're here to assist you and provide answers to all your burning questions, especially those financial dilemmas. We've been here since 1982. Trust us; We've seen them all. So please stop by today. Your dream car is tired of driving around on your pillow.
Previous Post A Sneak Peak Inside the All-New 2022 Jeep Grand Cherokee Next Post The 2021 Miami International Auto Show to Showcase Stellantis's Best