Prepare for an Electric Jeep Model in Every Division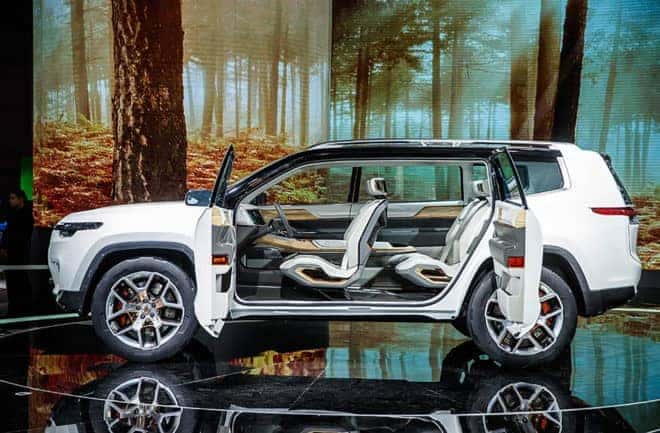 Bringing the Big 8-0, Jeep commemorated 80 years of providing customers with the ability to "Go Anywhere. Do Anything". For its anniversary, Jeep also dared to desire a zero-emission , fully electric Jeep 4xe in every SUV segment by 2025.
That's right; several Jeep models will see the likes of an electric variation four years from now. The first battery-operated electric vehicle model will debut less than four years from now.
"We are fully committed towards a vision of a zero emission future, and by 2025 we will be offering a zero-emission fully electric Jeep 4xe in every SUV segment". -Jeep Brand Chief Executive Officer, Christian Meunier
The Jeep Magneto EV Concept was also introduced during the celebration, confirming Jeep's electrifying future.
The bustling automaker, preoccupied with the expanse of the plug-in hybrid lineup. The 4xe consists of – Jeep Renegade 4xe, Jeep Compass 4xe, and the Jeep Wrangler 4xe. China also exclusively received the 2019 Jeep Commander PHEV.
The Renegade 4xe and Compass 4xe were produced and sold in Europe. While the Wrangler 4xe is made in the US and also sold in Europe.
The next strides for Jeep will be onward into the future of the fifth-generation Jeep Grand Cherokee , the PHEV Jeep Grand Cherokee 4xe. But, unfortunately, the plug-in hybrid that would've premiered at the 2021 New York International Auto Show was canceled due to the Delta variant.
"Next in our exciting global product pipeline is the introduction of the all-new Jeep Grand Cherokee, which will be equipped, for the first time, with plug-in-hybrid 4xe technology." -Jeep Brand Chief Executive Officer, Christian Meunier
Below are the specs for Jeeps future 4xe:
| | | | |
| --- | --- | --- | --- |
| | Wrangler 4XE | Renegade 4Xe | Compass 4Xe |
| Range | All Electric | All Electric | All Electric |
| 0-60 mph | 6 seconds | 7.5 seconds | 7.5 seconds |
| WLTP | 31 miles | 26 miles | |
| Battery | 17 kWh | 11.4 kWh | 11.4 kWh |
For over 30 years , Miami Lakes Automall has served South Florida with all buying, trading, and leasing desires. Just take a look at our new vehicle inventory or our quality pre-owned vehicles . If you already have a beautiful baby in need of some fine-tuning, you've come to the right place. Our service experts have you covered. Don't hesitate to chat with our friendly service members available to you whenever you need them. We're here to assist you and provide answers to all your burning questions, especially those financial dilemmas. We've been here since 1982. Trust us; We've seen them all. So please stop by today. Your dream car is tired of driving around on your pillow.
Previous Post Anticipation Builds for the Newest Jeep Gladiator Next Post Sharing a Wealth of Knowledge on the Grand Wagoneer