Jeep CJ Surge Makes a Grand Debut at SEMA 2022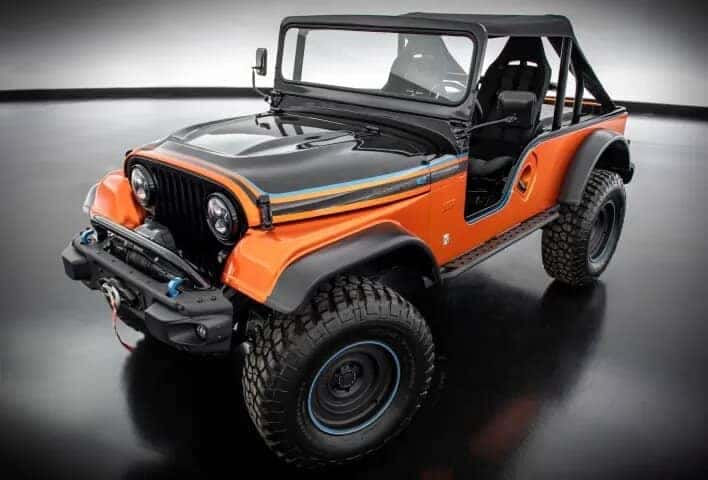 The 2022 Speciality Equipment Market Association (SEMA) (November 1st-4th, 2022) kicked off last Monday in Las Vegas, NV. Mopar and Stellantis OEM accessory division premiered a dynamic trio of concept vehicles. Yet, the catalyst was the electrified Jeep CJ. But, the best has yet to come, ladies and gents, the battery electric technology inside the CJ may act as a restomod for the revival of classic American muscle cars.
"The Jeep CJ Surge concept explores a future zero-emission propulsion system kit and supports the Jeep brand's mission to become the leading electrified SUV brand in the world. Separately, our Ram 1500 Backcountry X and TRX Gold Shot concepts showcase a truckload of innovative Mopar accessories for our award-winning full-size trucks."

– Mopar Service, Parts and Customer Care, North America Senior Vice President, Mark Bosanac.
The Surge concept is known as restomod, which means restoration modification. The compact Jeep concept reveals a polished spin-off of the late model CJ7. In addition, the CJ Surge's internal combustion engine was replaced by the battery electric propulsion. Restomods are not exclusive to electric engines. As a matter of fact, enthusiasts have modified their vehicles with crate engines for decades. However, fans are excited to get a headstart on sustainability, so the demand for classic cars with EV technology is at an all-time high. Furthermore, Ford has initiated the prototype for a fully-electric restomod system, and it's called the Eluminator. The Jeep CJ Surge is Mopar's baby step toward all-electric mobility.
The Jeep CJ7 initially includes an inline-six or V8 engine, but the Mopar vehicle is a compact SUV with a scalable 400-volt, 200-kW Electric Drive Module with four-wheel drive capabilities. Additionally, the powerplant receives support from a 24-module lithium-ion battery fitted inside a custom shell mounted in the back of the passenger cabin. Moreover, the manual transmission is replaced with the Wrangler JK center console and rotary shifter knob.
Concerning performance numbers, neither Jeep nor Mopar has shared any information; they have yet to share if the CJ Surge concept will cause chaos on the market. So, let's appreciate the jaw-dropping prototype and drool over the fact that the best has yet to come.
Come Test Drive your 2023 Jeep Wrangler 4XE
There's a 2022 Jeep Wrangler 4XE custom-made for your adventure here at Miami Lakes Automall . Here at Miami Lakes Automall, we have all buying, trading, and leasing options to meet your purchasing needs. Our new vehicle inventory or certified pre-owned vehicles speaks to the volume Miami Lakes Automall holds to fit your desires. However, if you already have a beautiful baby needing some fine-tuning, you've come to the right place, and our service department is unmatched. Our service experts at Miami Lakes Automall are warmer than a fresh cup of coffee. Miami Lakes Automall has been here since 1982. So please stop by today to drive the car of your dreams.
Photo Source/Copyright: Mopar Insider
Previous Post Jeep Brand Wins 'Best SUV Lineup' for the Second Year in a Row Next Post The Jeep Freedom Edition Lives On!