Pokémon GO Cars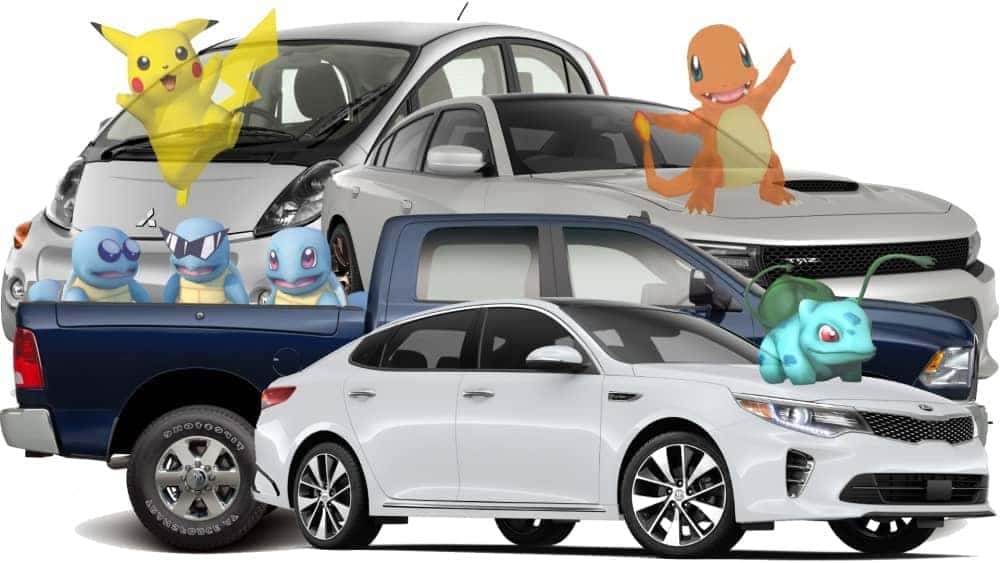 Pokémon GO has been out for a little over a week, and the whole world has fallen under an epidemic. People of all ages … are walking! The streets are flooded with hyped up players in search of Pokemon. So much so the sidewalks are almost unsafe for non-Pokemon playing pedestrians. So get your Pokéballs ready, because it's crazy out there.
One day in the near future however, people will return to their cars and start driving again. As a passenger, we can still play Pokémon GO while in the car, but it's highly advised not to do so while the driver. Actually the National Highway and Traffic Safety Administration (NHTSA) put out a reminder that people should not play and drive. Plus, you can't speed up the hatching of Pokémon eggs via car. Trust us, we know some people who tried.
However, all this Pokémon talk got us thinking. "What kind of car would a Pokémon drive?" Well, we thought, like people, Pokémon would pick a car that "speaks to them" as it were. What features would they like? Would they go by purely aesthetics? We thought about this, and decided to base our choices around the four starter Pokémon (yes four): Charmander, Bulbasaur, Squirtle, and Pikachu.
Charmander is a fire-type Pokémon , and what car doesn't have a little ignition? However, we thought a Pokémon with attitude (wait for those teenage Charmeleon years) would want something feisty. With a 900HP Dodge Challenger Hellcat coming out, it was too good to pass up! With it's wide-body and additions from Prior-Design, this new Hellcat just screams "I'm a monster! RAWR!" Just what our little tyke Charmeleon needs before he leaves behind all that teenage angst and enters the adulthood of a Charizard.
The Kia Optima Hybrid isn't all electric and it isn't all gas either. It's one of the best green cars out there, and of course a leaf-type Pokémon would be all about eco-friendly cars. Powered by a 2.4L 4-cylinder engine and a 35kW electric motor (just enough to keep electric types away), the combined horsepower is 199 with 235 lb-ft of torque. Hybrids are becoming more the norm these days, and Kia has been boasting its eco-platform for quite some time now. Plus, with Bluetooth wireless/hands-free technology as a standard feature, it's time for a Pokémon road trip!
Water-type Pokémon love to be by the water, it's their nature. If you've seen Squirtle, you know he's a bit of a showoff, sporting those stunner shades with the Squirtle Squad. The big boss likes to take his little buddies to the beach now and then, but more often than not he goes to the boat ramps to take the boat out. And what brand is best for boat towing? Ram trucks. When sailing solo or when going with the whole squad, Squirtle knows the Ram 2500 gets the job done. With the Laramie's maximum towing capacity of 17,400 lbs, it'll be no problem to tow a party boat.
Pikachu is the most lovable electric-type Pokémon out there, and you just know he's going to want an all-electric car. Luckily, the Mitsubishi i-Miev is 100% electric! With a range of 62 miles, Pikachu can get where he needs to go as fast as 80 mph with the i-Miev 16 kWh lithium-ion battery pack. For those of us who have been watching from the 1st generation (the only good one cough cough) then we know Pikachu doesn't chill in a Pokéball. He much rather the roomy interior with a little luxury, such as the i-Miev's heated seats and 6-speaker audio system.
There you have it. We think the starting Pokémon would like these choices for their next car, but what do you think? Would an Evee be happy with these choices? What kind of car would a ghost-type Pokemon want? Let us know on our social media.
Photo Sources
**Dodge Hellcat – Chrysler Marketing Planner
* Kia Optima – Kia Marketing Planner
* *Ram 2500 – Chrysler Marketing Planner
* *Mitsubishi i-Miev – Mitsubishi Marketing Planner
* *Charmander – KC-MM
* *Bulbasaur – Behance.net
* *Squirtle Squad – Polycount.com
* **Pikachu – Fantendo
Pokémon and Pokémon character names are trademarks of Nintendo.
Previous Post Is Your Truck Lease Up Soon? Lucky You! Next Post Best Car Brands To Buy Used