Go Mudding with your Ram 1500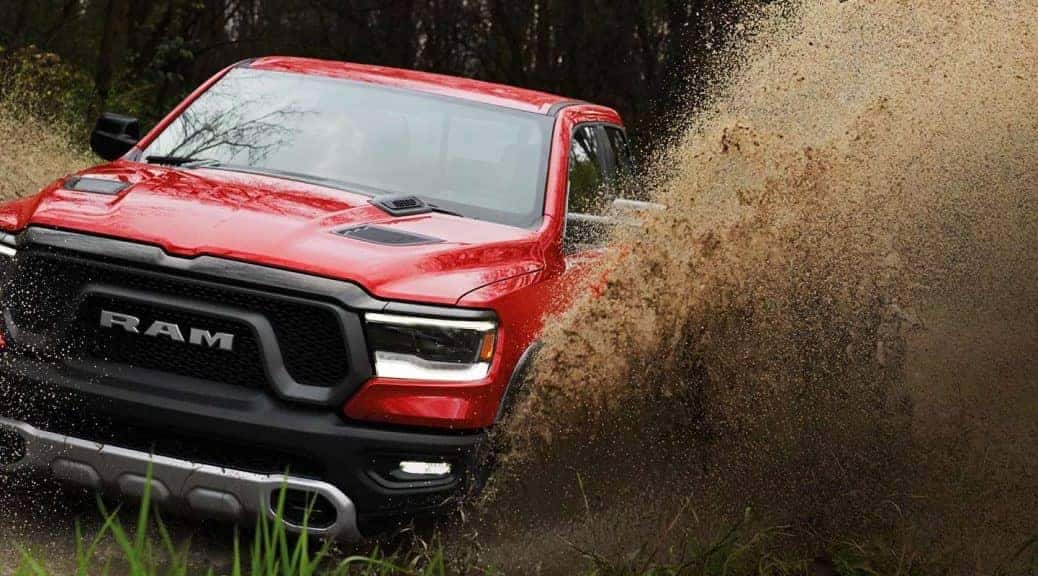 Mudding and water-fording are terms known mainly by Jeepers. Vehicles like the Jeep® Renegade, Jeep Wrangler, and even the Jeep Compass are made to go off-road, and they are able to handle varying terrain or the occasional rock crawling. Now that the 2019 Ram 1500 has been unveiled and it has new off-roading features, the light duty Ram truck can also play in the mud and get a little dirty. But first, there are some modifications one should look into before turning their pickup truck into a mud monster.
Keeping Stable
When going mudding, it's a good move to make sure one's vehicle can handle deep mud or water. The 2019 Ram 1500 is available with several wheel options, and they range from 18 to 22 inches, but when it comes to off-roading, tires matter more than the size of the wheels . To really improve the mudding or off-roading experience, make sure the truck is fitted with tires that match the activity, such as multi-terrain or all-terrain tires made for rocky terrain and going off-road, or swamper tires made for getting out of a nasty mess.
To keep those wheels turning, beadlocks are also a good addition. Beadlocks help keep the tires in check when going off-road and mudding, and although some drivers lower the air pressure in their tires for better traction and sidewall flexibility, beadlock wheels mechanically lock the tire bead to the rim. This takes the decrease of tire pressure for better traction out of the equation and helps ensure that the tires remain in place no matter how wild one may maneuver their Ram truck while out on the trail.
Need a Lift?
Before we talk about the mods, let's not forget the Ram truck has always had some off-road capability, and the 2019 models are the most capable. The available off-road package offered on the 2019 Ram 1500 includes a one-inch suspension lift, with or without the available four-corner air suspension, an electronic-locking rear differential, robust skid plate protection (transfer case, steering, engine and gas tank), tow hooks, hill-descent control for added off-road capability, and 32-inch on/off-road tires on (standard) 18- or (available) 20-inch wheels to provide additional grip.
For more height, a lift kit is a good idea to increase ground clearance as well as breakover and departure angles . Improving the shocks are the next step, especially when increasing the lift of a vehicle. Installing some heavy-duty shocks and shock absorbers do a lot to keep an automobile comfortable and ensure a smooth ride – just be sure to do some research, as not all are designed for mudding.
Adding on Some Extras
While light isn't a factor when going off-road during the day, sometimes night time can sneak up on people having fun, and off-roading or mudding in the dark is dangerous. To avoid any problems in case you find yourself in the dark, aftermarket off-road lighting adds great visibility and provides a further and wider field of vision. Standard halogen headlights are great lights, but LED lights are becoming more popular these days, and Ram knows this.
A winch is also a good idea when going off-road and mudding. No one wants to get stuck, it's a nightmare. Having a winch connected will help a stuck Ram 1500 get pulled out via a tow truck or another off-road warrior around. We have more tips on what to do if you get stuck off-road , just in case.
If interested in other accessories and modifications for the 2019 Ram 1500, check out the new Mopar Ram catalog.
All that's left is cleaning. Many truckers and Jeepers say "mud is like a badge of honor" on their vehicle. However, caked on dried mud is a pain to remove, and the longer one waits to clean it off, the harder it is to do so. Pressure wash that beauty as soon as possible, get in all the corners and crevices, wash it down and give it a good scrubbing, then put some wax on the body to help keep it clean(er) next time.
*
Mudding can be fun, whether in a Jeep or the new 2019 Ram 1500. Just be smart and get the right mods before you do. Have any great pics of mudding? Send them our way on Miami Lakes Ram social media . *
* Photo Source/Copyright: RamTrucks.com *
Previous Post Three Unique Ram 2500 Trims Next Post Three Amazing Off-Road Ram Trucks