Three Amazing Off-Road Ram Trucks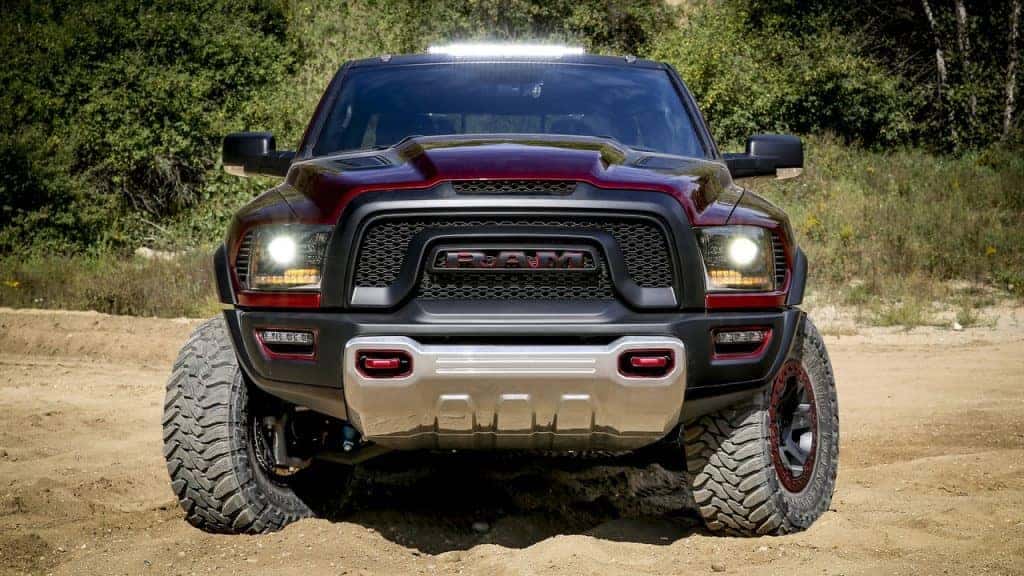 With the 2019 Ram 1500 having recently debuted and going into production, it's a perfect time to take a look at some of the most powerful trims Ram has in their pickup truck lineup. It's not easy to pick out the toughest Ram truck models, especially with the larger vehicles like the heavy duty 2500, 3500, 4500, and 5500 models, so we're just going to focus on three Ram truck trims designed for off-roading. The three best off-road Ram truck trims are the Ram 1500 Rebel, the Ram Power Wagon, and the upcoming TRX series.
2018 Ram 1500 Rebel
Standard on the Ram 1500 Rebel is the 3.6-liter V6 engine, optimized with variable valve timing (VVT) technology to increase its performance. With this engine, the Ram 1500 Rebel can generate 305 horsepower and 269 lb-ft of torque. If looking for more power when going off-road, then consumers will also want more torque. With that comes the 5.7-liter HEMI V8 engine and it is able to generate 395 horsepower and 410 lb-ft of torque.
Only able to be configured with a crew cab and a 5'7" truck bed, some may think that's a little limiting to the trim. However, this pickup truck isn't designed for work – it's designed for off-road adventure. Besides, with the 5.7-liter HEMI V8 and a higher gear ratio option, consumers can get a towing capacity of 10,140 pounds from the Ram 1500 Rebel. Riding on 17-inch wheels, built with an exclusive air suspension lift kit integrated to raise the ridge height by an extra inch, Bilstein shocks, tow hooks, and a front skid plate the design is as rough as its capability.
Ram Power Wagon
Introduced as the Ram to take on the Ford F-150 Raptor, this pickup truck is made for off-road mayhem! Powered by a roaring 6.4-liter HEMI V8 engine that generates 410-horsepower and 429 lb-ft of torque, the Ram Power Wagon has best-in-class horsepower and torque. Paired to a 6-speed automatic transmission, there'll be plenty of power being sent to the truck's four 17-inch wheels. Wrapped around those wheels are 33-inch Goodyear all-terrain tires, and with heavy-duty rear axles and Bilstein shocks for better suspension and off-road driving, and a 14.3-inch ground clearance, the Ram Power Wagon already has many other trucks bested for going off-road. And don't forget about the unique Ram "Articulink" front suspension system and sway-bar disconnect system for additional flexibility and axle articulation when going up hills, over rocks, or just crossing uneven terrain.
To match its power, the Ram Power Wagon also has some rugged and aggressive style with blacked-out headlights and an all-new grille and hood decals exclusive to the Power Wagon name. If worried about all of the goods going to off-road capability and style, have no fear. The Ram Power Wagon can haul a total of 12,000 pounds.
Ram Rebel TRX Series
Coming to the auto market soon is the Ram Rebel TRX, or "T-Rex." Available in two trims, the TR and the TRX, both are powered by a V8 engine. The Ram Rebel TR will be powered by a new, bored-out version of the 6.4-liter Hemi V8 called "Banshee." Naturally aspirated and displacing 7.0 liters, the engine is rumored to produce 520 horsepower and 525 lb-ft of torque.
Then there's the Ram Rebel TRX. The name might change come production, because the Ram Rebel TRX is shaping up to be the Ram's response to the Dodge Challenger SRT Hellcat, just like the Jeep Grand Cherokee Trackhawk. Heck, it's powered by the same 6.2-liter supercharged V8 from the Dodge Charger and Challenger Hellcat trims. Generating 707 horsepower, like the Jeep Grand Cherokee Trackhawk, Ram truck engineers will have to strengthen the truck's various driveline components so that the truck can handle the full power of the Hellcat engine.
At the moment, the Fiat Chrysler Automobile Group is trying to keep as many new details about the Ram Rebel TRX out of the spotlight. Information is very tame, but everyone's talking about it. Keep in touch with us on Miami Lakes Ram social media for more.
Photo Source/Copyright: Motor1.com
Previous Post Go Mudding with your Ram 1500 Next Post Tips for Loading a Trailer and Connecting it to Your Truck