Three Unique Ram 2500 Trims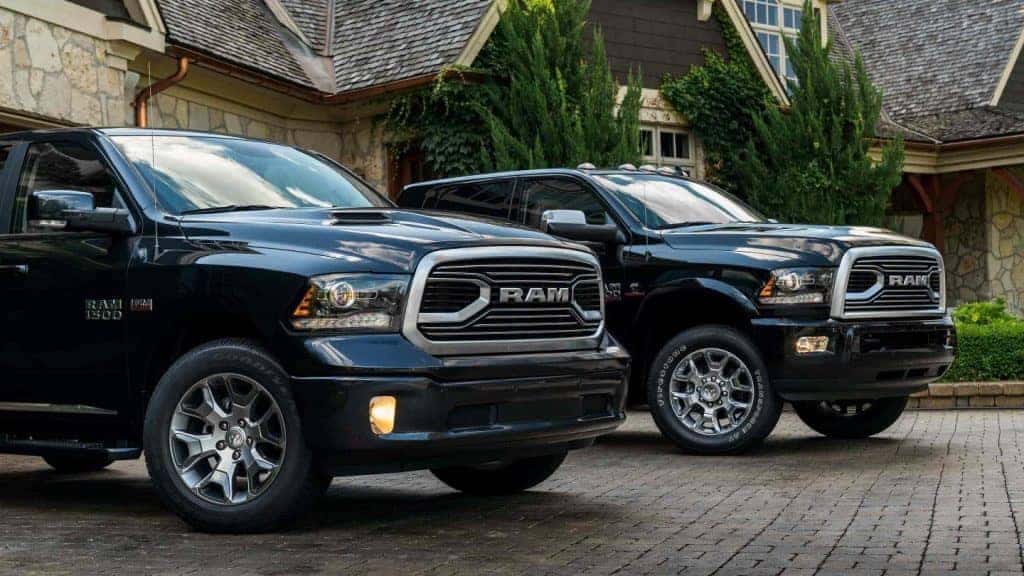 Now that the 2019 Ram 1500 has debuted, other Ram truck models will start to debut as well. Most likely, the Ram 2500 and 3500 will get updates soon enough. Although there hasn't been a whole lot of news surrounding 2018 Ram 2500 or the Ram 3500, both trucks shine on their own. So much so, that Ram incorporated the heavy duty trucks into several limited edition packages over the course of 2017 for the 2018 model year.
Ram 2500 and 3500
Able to powered by one of three engines for the 2018 Ram 2500 and two engines for the 2018 Ram 3500, both heavy duty pickup trucks have the powerful and legendary 6.7-liter Cummins Turbo Diesel Inline-six cylinder engine in their arsenal. Able to generate up to 370 horsepower and 800 lb-ft of torque on the 2018 Ram 2500, 385 horsepower and 930 lb-ft of torque on the 2018 Ram 3500, this engine provides some incredible towing power. Properly equipped, the 2018 Ram 2500 can tow up to 17,980 pounds and carry a payload of 3160 pounds. The 2018 Ram 3500 heavy duty pickup truck recently recorded a best-in-class fifth-wheel towing capacity of 30,000 pounds!
Made available in 2017 for the Ram 1500, this special edition of the Ram truck also spread over to the Ram 2500 and 3500 heavy duty pickup truck lineups. The Tungsten Limited Edition is designed for a sophisticated or luxurious lifestyle on the road with upscale materials and style. For the first time ever on a truck segment, consumers will find a Light Greystone suede headliner and ultra-premium leather throughout the cabin, including "Natura Plus" Frost and Indigo-colored accents along the seats, Indigo-colored carpet with rubber floor mats and snap-out Frost and Indigo carpeted inserts, and real wood interior components. For a little entertainment, several luxury features can be found around the cabin, such as Uconnect® 4C with an 8.4-inch touchscreen with Apple CarPlay® support and Android Auto™. The Ram Limited Tungsten trim is offered Ram 2500 and Ram 3500 single- and dual-rear-wheel; Crew Cab and Mega Cab (Heavy Duty); four-wheel drive and two-wheel drive; and short- and long-wheelbase models.
Also having expanded to the 2018 Ram 2500 and 3500 lineup was the 2018 Ram Harvest Edition. Built and designed to ease the daily chores of hardworking American farmers, this special edition comes with several features to meet harsh standards. To get around the field, the 2018 Ram 2500 and 3500 get nine inches of ground clearance and ride on on/off-road tires standard. Some farm-life essentials can also be found around and inside the heavy duty pickup trucks, such as black tubular side steps, a durable spray-in bedliner, fold-out bumper step, mud flaps, and rubber floor mats.
Farmers would be able to monitor the weather with available up-to-the minute weather maps and forecasts customizable to any location the consumer is farming, all year long, during every season. There is also a little entertainment to spice up the daily grind with Uconnect 4C that comes with navigation, 4G WiFi, Apple CarPlay, and Google Android Auto, all standard. The Harvest Edition was made available for 2500, and 3500 lineups in all four-door Quad, Crew, and Mega Cab configurations, all box lengths, and all powertrains, including 5.7-liter Hemi V-8, 6.4-liter Hemi V-8, and 6.7-liter Cummins Turbo Diesel. The starting MSRP for these Heavy Duty models starts at $46,235 (plus destination fee).
2017 2500 and 3500 Night
Although not a 2018 model package, it is worth noting that the blacked-out package available on select Ram 1500 light duty truck models was recently extended to the Ram 2500 and 3500 heavy duty trucks. Due to the heavily dark theme, the package is known as the "Night Package" and features blacked-out wheels, a sharper-looking black grille, a blacked-out "RAM" head grille badge, a flat black Ram (2500 or 3500, respectively) Heavy Duty door badge, a flat black 4×4 tailgate badge (if applicable), and flat black powertrain door badging. If looking for a little contrast, both the 2017 Ram 2500 and 3500 are available in a variety of colors, but consumers can also blackout the entire truck with a darker paint job.
The 2017 Ram 2500 and 3500 Night packages were made available on single rear-wheel crew cab configurations with a 4×4 or 4×2 drivetrain and any powertrain combination (5.7-liter Hemi V8, 6.4-liter Hemi V8, or 6.7-liter Cummins I-6). Luxury features found inside the cabin included heated cloth or vinyl 10-way adjustable bucket seats and convenient features like automatic dual-zone climate/temperature control. These new special edition heavy duty trucks start at an MSRP of $46,840.
* Feel free to check out our inventory of heavy duty Ram pickup trucks , contact us about special editions, and follow us on Miami Lakes Ram social media to discuss what's coming up next for Ram. *
Photo Source/Copyright: RamTrucks.com
Previous Post The 2019 Ram 1500 Pricing Announced Next Post Go Mudding with your Ram 1500