Mopar and Ram Presentation at 2018 Chicago Auto Show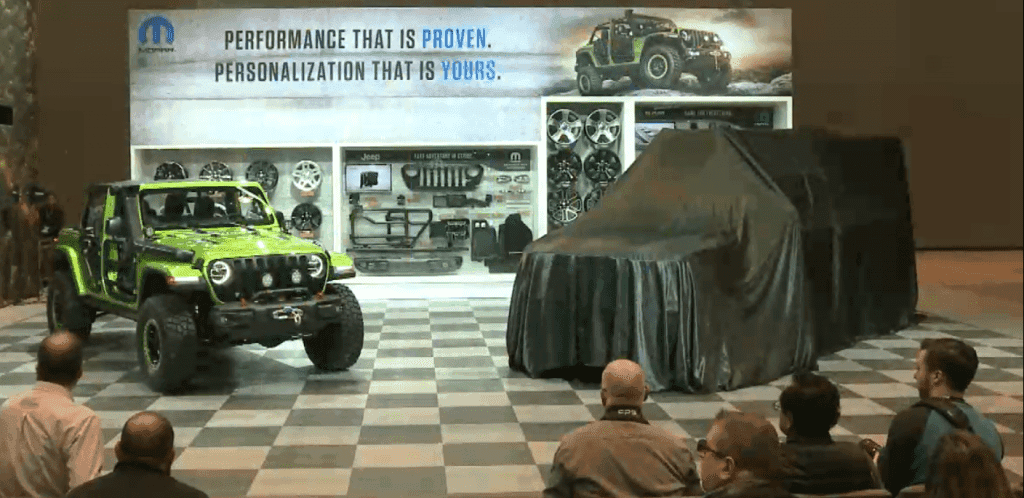 During the 2018 Chicago Auto Show, Ram and Mopar teamed up for an all-new product presentation. Many thought Mopar was going to announce a Mopar '18 Ram 1500, but as it turns out, they've done something completely different. Instead of creating a whole new Mopar-ized Ram 1500, Mopar has actually gone a pure accessory route, opening a whole new catalog like the ones they have for Jeep and Dodge.
Wrap up
Let's take a quick look at Mopar over the years. Having hit its 80 Years Anniversary in 2017, a lot of celebrations took place throughout the year. What started out as an automotive products and accessory store, Mopar was simply a combination of "MOtor" and "PARts". As time went on and technology opened all sorts of new possibilities, Mopar grew and expanded into other industries. Soon enough, Mopar went from a parts and accessories store to a shop that specializes in customizing and modifying automobiles.
Mopar was the first to…
– Develop vehicle-information apps for smartphones that let drivers know about the condition of their vehicle remotely
– Design a new interactive vehicle tracking device that could monitor a vehicle's speed and location, much like the many copycat products out there today
– Put Wi-fi wireless hotspots in vehicles
– Go paperless with owner's manuals, introducing a new age of digital forms that one can view on their smartphone
– Create the wiADVISOR, a tablet-based service lane tool for faster automotive service for FCA vehicles via dealership service departments
With all that under their belt, Mopar decided to take one of its most loved car brands and modify it as much as they could for their 80th anniversary. In 2017, Mopar designed and produced two Dodge Challengers with custom two-tone paint jobs done by hand, added on a Mopar 392 logo, 20-inch aluminum wheels, Dodge Challenger SRT Hellcat black exhaust tips, put a 6.4-liter 392 HEMI under the hood, boosted performance with a cold air intake system, modified strut tower braces and caps for increased rigidity and handling, four-piston Brembo brakes to provide exceptional stopping power, trimmed seats in tungsten leather, and more. Only 80 units were made and all 80 were sold out before the year's end.
Following this, Mopar opened three new parts distribution centers, two of which were built in the U.S., to provide better service and availability to their many customers. In conjunction with this, Mopar opened their 1300th Mopar Express Lane to provide quick service for consumers of FCA vehicles. Mopar also developed a protection plan, known as the Mopar 360 Protection Plan, and have sold 3.5 million plans in total since its conception.
Over the past 80 years, Mopar has customized over 300,000 vehicles in Mopar Custom Auto Shops. They do this because they know how much it means for people to be able to customize their vehicles. Not only does it add support and add value to automotive brands, but it creates an emotional connection between car and driver. So when their 80th Anniversary rolled around, they went with the most customized vehicle in the Mopar portfolio – a Dodge Challenger. On average, customers have been known to spend over $1k in mods or accessories when customizing their Dodge Challenger muscle car.
On a global scale, the most customized vehicle is the Jeep Wrangler, named the hottest 4×4 SUV at SEMA for the past 8 years. 98% of Jeep Wranglers are customized with at least one Mopar accessory, and recently, Mopar launched a new portfolio with 200 accessories for the Jeep Wrangler. Many of those accessories showed up on the Wrangler at the Chicago Auto Show (seen below).
What's Ram Have to Do with It?
By the end of 2017, Ram had its best year ever, in sales _ and _ market share. When the 2019 came out, Ram had changed how truck buyers look at strength, performance, efficiency, technology, and luxury. The 2019 Ram 1500:
– Has the strongest frame of any Ram truck before, made with 98% high-strength steel for maximum durability
– Implemented the eTorque system in the V6 and HEMI V8 engines, able to add another 130 lb-ft of torque to the already 410 lb-ft of torque generated by the HEMI V8
– Developed and installed new technology – (1) a 360 surround view camera, and (2) a blind spot system with trailer coverage, able to detect how long and wide one's trailer is while on the road and around turns
– Installed the 12-inch touchscreen, a first for trucks everywhere, coupled with Sirius 360L on-demand technology that learns what people listen to and makes Sirius available virtually anywhere
– Uses new luxury materials in the interior, specifically for the 2019 Ram 1500 Laramie Longhorn and Limited trims, made with an extensive use of authentic wood, leather, and metal materials. The interior was said to be the "Best in the Detroit Auto Show", but no awards showed up for that one
– Has extra wheel base space with 4" added to the cab and more space in the rear. The increased interior cabin space not only improves ride quality, but Ram also added a reclining rear seat in the cab for more leg room
– Is capable of hauling a 2300 lbs payload and/or towing 12,750 lbs when powered by the HEMI V8
– Has a total of six trims in the new 2019 lineup, all of which vary in personality and (optional) looks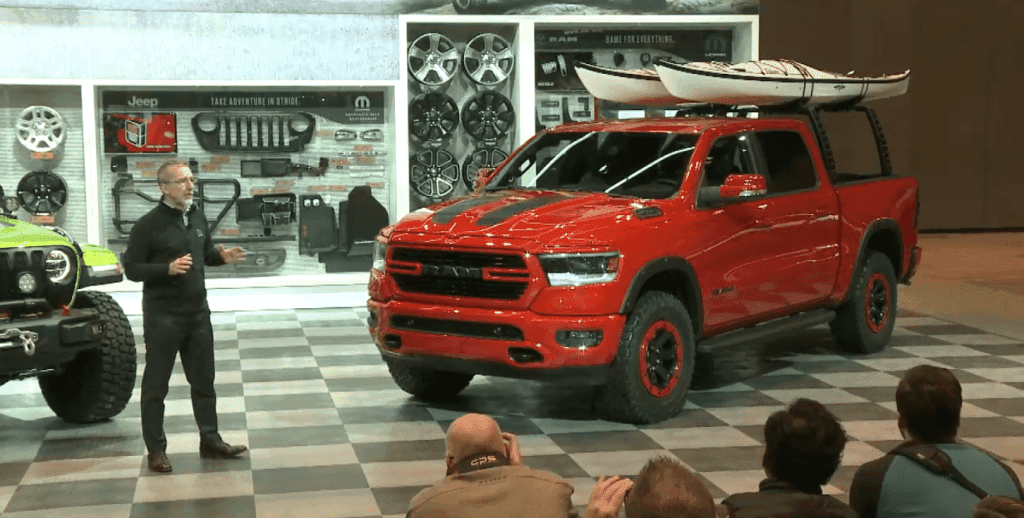 Mopar and Ram
Following its debut, Mopar opened a new catalog featuring 200 plus accessories produced specifically for the Ram 1500. Between the catalog for the Wrangler and the Ram 1500, 200,000 hours were invested into the design, testing, and validation of those 200 new parts. 80,000 hours of the 200,000 was dedicated to the Ram 1500. Going forward, consumers will have over 200 pieces for customizing the new 2019 Ram 1500 to make them unique for different wants, needs, and lifestyles.
To showcase this, Mopar made a 2019 Ram 1500 with an active outdoorsy lifestyle. The new features and capabilities start in the back with an all-new Ram-rack, a fully adjustable system that attaches to rails in the truck bed and can carry oversized cargo that can't fit with the length of the bed. Mopar also added:
– A Mopar 2" Lift kit
– Beadlock capable wheels
– BFG KO2 35"tires for additional grip
– New truck bed rails
– All new Off-road running boards tucked up close to the body for maximum ground clearance, covered with spray-on bedliner material for extra grip
– Mopar's Ram airflow cold air intake system under the hood of the 2019 Ram 1500
– A Katback exhaust system with black chrome tips
– Katzkin leather for the upholstery
– Stainless steel door sill guards
– and Bucket style floor mats
* That's all we learned from the webcast this morning, but we're sure more information will be released as the Chicago Auto Show continues and 2018 keeps chugging along. What do you think of all the new goodness Mopar offers? Let us know on * Miami Lakes Automall social media * . Interested in getting a new Ram 1500 ? They'll be going into production and showing up in our inventory soon enough. *
* Photo Source/Copyright: Mopar Press Conference/livestream; Shutterstock.com/ * Steve Lagreca
Previous Post Ram and Mopar at the 2018 Chicago Auto Show Next Post 2019 Ram 1500 Lone Star Trim in Dallas