Mitsubishi Motors Small Batch Joins the Community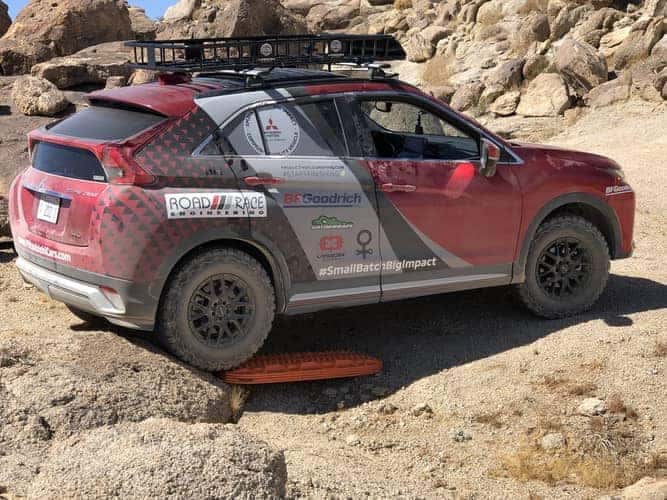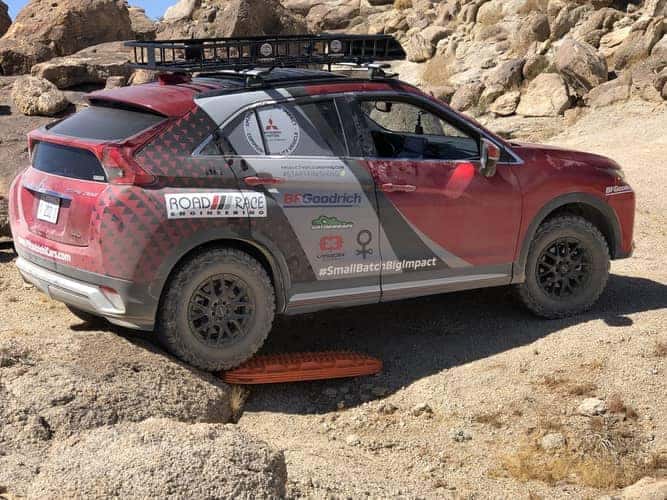 When a company gets involved with a community, it's always nice to see that the head honcho cares more about the community than counting their money and making sales . It's also a great way to score brownie points with the locales, but you know, altruism isn't truly dead just yet. That's why automaker Mitsubishi Motors is gearing up this year with their "Small Batch" initiative . Through this, they're also getting involved with the Rebelle Rally, the first all-women's off-road rally and the longest-running competition of its kind in the lower 48 states of the United States. This year, seven-year U.S. Air Force veteran Karah Behrend and Rachael Ridenour, a U.S. Army combat veteran with 31 years of service, are getting behind the wheel to make history. Behrend will become the first disabled athlete to compete in the Rebelle thanks to Mitsubishi Motors and a minimally modified 2018 Mitsubishi Eclipse Cross equipped with hand-controls.
Rachael Ridenour was deployed to Afghanistan, Iraq and Pakistan, and later got the idea for Record the Journey when facing the challenge of coming back to civilian life. Record the Journey utilizes photography as a therapy modality for veterans and their families. Karah Behrend had to medically retire after losing the use of her lower extremities and parts of her hands to a degenerative neurological disease. Together, they're competing in the 2019 Rebelle Rally.
The 2019 Rebelle Rally is a 2000-kilometer race across the wild, beautiful and remote terrain of Lake Tahoe to San Diego. Getting through the off-road obstacles can be a challenge, and that's why driving teams are made up of a driver and a navigator. Ridenour is the charity founder and team navigator of team Record the Journey, and with Behrend behind the wheel, the two will get through the race with a map and compass as the only means of navigation.
Mitsubishi Motors continues to expand its "Small Batch – Big Impact" initiative with the transformed Eclipse Cross crossover, now known as a "Community Utility Vehicle". Following the 2019 Rebelle Rally, Rachael and Karah plan to use the modified Eclipse Cross, nicknamed "Rosie the Riveter", as support vehicle for charity programming with other veterans and their families. In addition, Mitsubishi will start up the "Community Utility Vehicle" program, where the automaker will create a series of vehicle loans to small nonprofits and start-up social benefit corporations to help support their local communities.
"'Small Batch' is our new marketing vision, and we said at the outset that it would go beyond advertising to influence every aspect of our business in the U.S….'Small Batch – Big Impact' is a new aspect of that philosophy, and we couldn't have found a better nonprofit to receive our first 'Community Utility Vehicle' loan than Record the Journey. The work they do to help veterans process their military and combat experiences and successfully transition to civilian life shows how large an impact such a small organization can have. Rachael and Karah are ensuring this partnership gets off to an inspirational start by blazing a trail for adaptive athletes in the Rebelle Rally." – Kimberley Gardiner, vice president and chief marketing officer, MMNA
The 2019 Rebelle Rally runs October 10-19, 2019. It will conclude with a public awards ceremony from 10 a.m. – 2 p.m., Saturday, October 19, on San Diego's Broadway Pier. Following the awards ceremony will be a private gala held at Coasterra restaurant. Currently going on, the 2019 Rebelle Rally has live tracking, updated scoring, and daily live webcasts available at RebelleRally.com. Follow the race and chat with us on Miami Lakes Mitsubishi social media .
Photo Source/Copyright: Mitsubishi Media
Previous Post Mitsubishi Motors Aims to Change Our Views of Plug-in Hybrids Once Again Next Post Mitsubishi Electric Steps Up Their Self-Driving Vehicle Game with the xAUTO