Mitsubishi Motors Develops EPA Disinfectant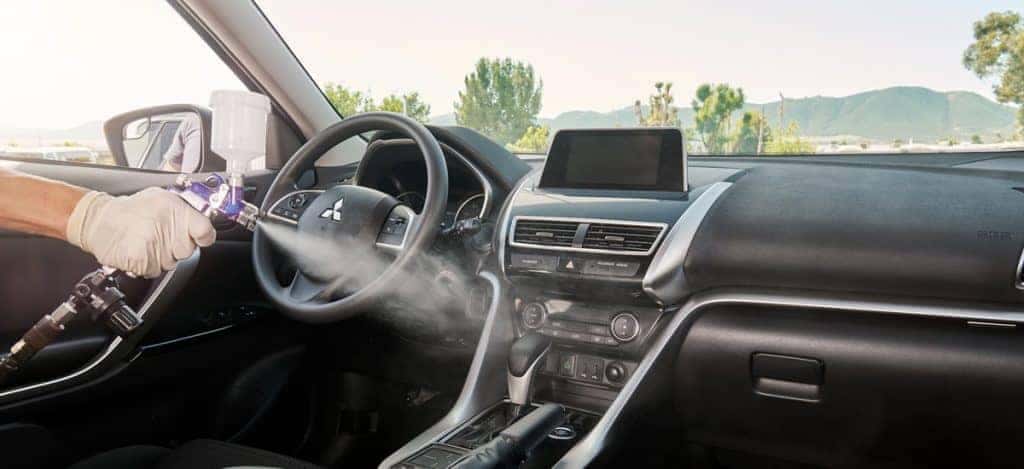 The automotive industry, and let's face it, the economy as a whole is trying to bounce back after the Coronavirus pandemic shut down factories, office buildings, and entire businesses world-wide. Over the spring and summer, the automotive industry turned the lights back on in manufacturing plants and went to work, and not just to produce automobiles. Automakers from all over the world came together to provide supplies for healthcare and front-line workers most susceptible to being infected by COVID-19. Some automakers also got involved with local communities, like Mitsubishi Motors North America ( MMNA) helping with Nashville Disaster Relief . Automakers have also been looking at new ways to design and build vehicles for a post-pandemic world. They say, "necessity is the mother of invention," and automakers are racing to make the next product to keep their consumers safe. Mitsubishi Motors may have just taken a leap to the front with its EPA-approved Diamond Premium Care™ disinfectant (also known as the CLOROX360 program at some dealerships).
Why worry about designing a new vehicle and investing in what could be a short-lived necessity? They're currently working on a vaccine – I mean, I have no urge to inject a dead version of COVID-19 into my bloodstream – but there are people currently partaking in human trials. If by next summer the world is free of the Coronavirus, then investing in a vehicle designed to handle the virus would be more of a loss than a gain. Wouldn't it be easier to design a simple, non-abrasive, antimicrobial, no-contact disinfecting and deodorizing spray that kills SARS-CoV-2 virus on contact?
"Diamond Premium Care is a rare tool in the fight against COVID-19. It offers peace of mind to the driver of any vehicle, but it's especially valuable to those with added exposure, whether that comes from regularly sharing their vehicle with others or from the direct risk of on-the-job exposure to COVID-19…MMNA and our dealer partners are proud to be able to offer this first-of-its-kind, EPA-approved service to everyone during these challenging times." – MMNA Vice President of Aftersales, Scott Smith
On a national level, Mitsubishi Motors is the first and only OEM deploying this service when bringing a vehicle in for maintenance at a Mitsubishi Motors dealership. Curious how it works? For interior application, the Diamond Premium Care is a dye-free treatment that can be sprayed directly onto vehicle surfaces. To keep air circulation clean, the spray also has HVAC application, sprayed through the outdoor air intake vent to circulate through the HVAC system and cabin interior, killing 99.9% of viruses and bacteria along the way. If this spray were to be used in a standard-size vehicle, the treatment process can be completed in as little as 10 minutes – not a long time to wait for a little peace of mind and a safe, virus-free car.
The technology behind the Diamond Premium Care™ spray-on treatment was developed by a Texas-based vehicle disinfecting solutions provider, BioPledge®. If interested in finding the EPA approval, look for EPA registration number 91691-1 on epa.gov pesticide registration. Want to keep up with what Mitsubishi Motors is doing to build a better automotive future? Follow us on Miami Lakes Mitsubishi social media .
Photo Source/Copyright: Mitsubishi Media
Previous Post Easy Thanksgiving Recipe for 2020 Next Post The Mitsubishi Mirage is a Vehicle to Love