2014 Mitsubishi MiEV vs. 2014 Nissan Leaf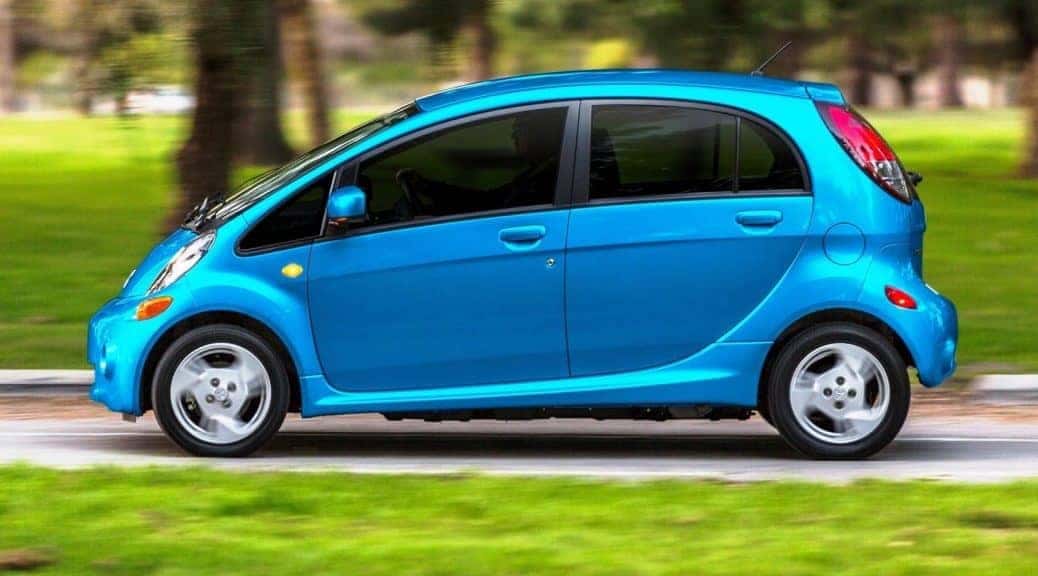 Although they have grown in popularity, even while shrinking in size, the once-niche market of electric cars has become increasingly affordable.
More automotive manufacturers are releasing their own tiny, tech-savvy versions, featuring new innovations and upping the competition.
When it comes to affordability and efficiency, Mitsubishi's one-hundred percent electric 2014 i-MiEV blows the competition, including its leafy rival, away.
Pint-sized, yet posh, this is the perfect car for zipping around busy and bustling cities while making an impression that is both stylish and socially-responsible.
Take a peek at the inventory of Mitsubishi i-MiEVs at your Mitsubishi dealer in Miami .
Don't let it's small stature fool you. This car is a big deal.
Unbeatable Affordability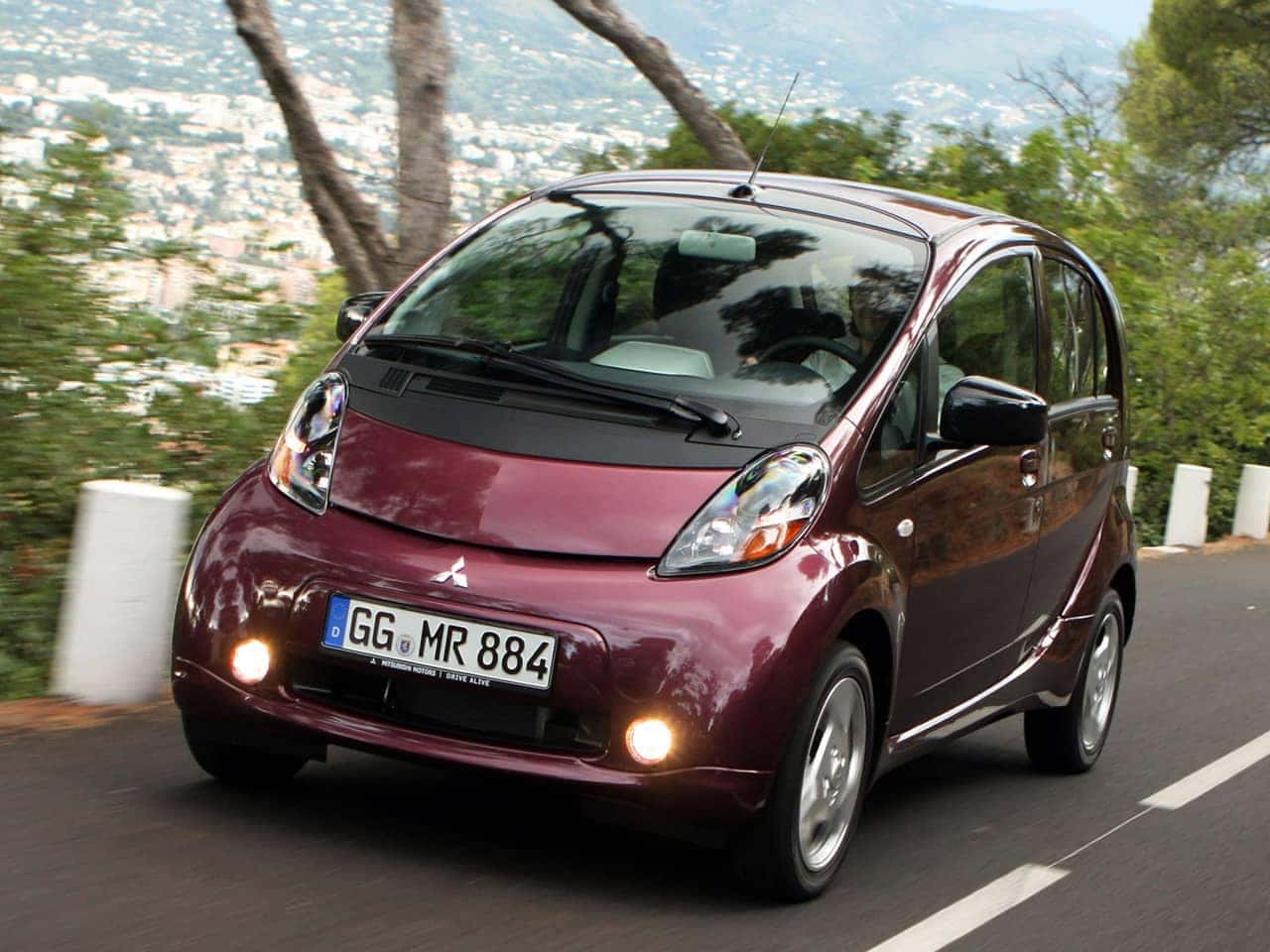 Mitsubishi knows that those of us shopping for a new car are looking to get the most bang for our buck.
The designers delivered, successfully introducing an all-electric vehicle without sacrificing safety, style, or consumer savings.
With a starting price of $22,995, the 2014 Mitsubishi i-MiEV is the least expensive electric car on the market today. Even now, nearly two years after its release.
This offers an instant six thousand dollar savings over its 2014 Nissan Leaf counterpart, which starts at the base price of $28,980.
And don't forget, since it's one hundred percent electric, the 2014 Mitsubishi i-MiEV qualifies for a federal tax credit of $7,500, knocking the initial base price to $15,495.
Plus you'll save money on gas since you won't need any, oil changes, ditto, and transmission overhauls (there isn't one).
In a fuel-cost comparison, after five years or 75,000 miles of driving, the 2014 Mitsubishi i-MiEV cost an average $2,700 to power, while an average subcompact car cost $8,500.
So, compared to the non-electric option, the all-electric i-MiEV represents sustained savings. In this case, a total savings of nearly $6,000.
Hey, that matches six thousand you'll save just by purchasing an i-MiEV instead of a Leaf!
Also, most states offer additional incentives for driving an electric vehicle, either in the form of tax incentives or exclusive access, like being able to travel in the carpool only lane and bypass traffic congestion in states like California and Georgia.
So, if sticking to a budget is a priority for you, along with driving a green vehicle with added perks, the 2014 Mitsubishi i-MiEV has your name all over it.
It is * *Easy Being Green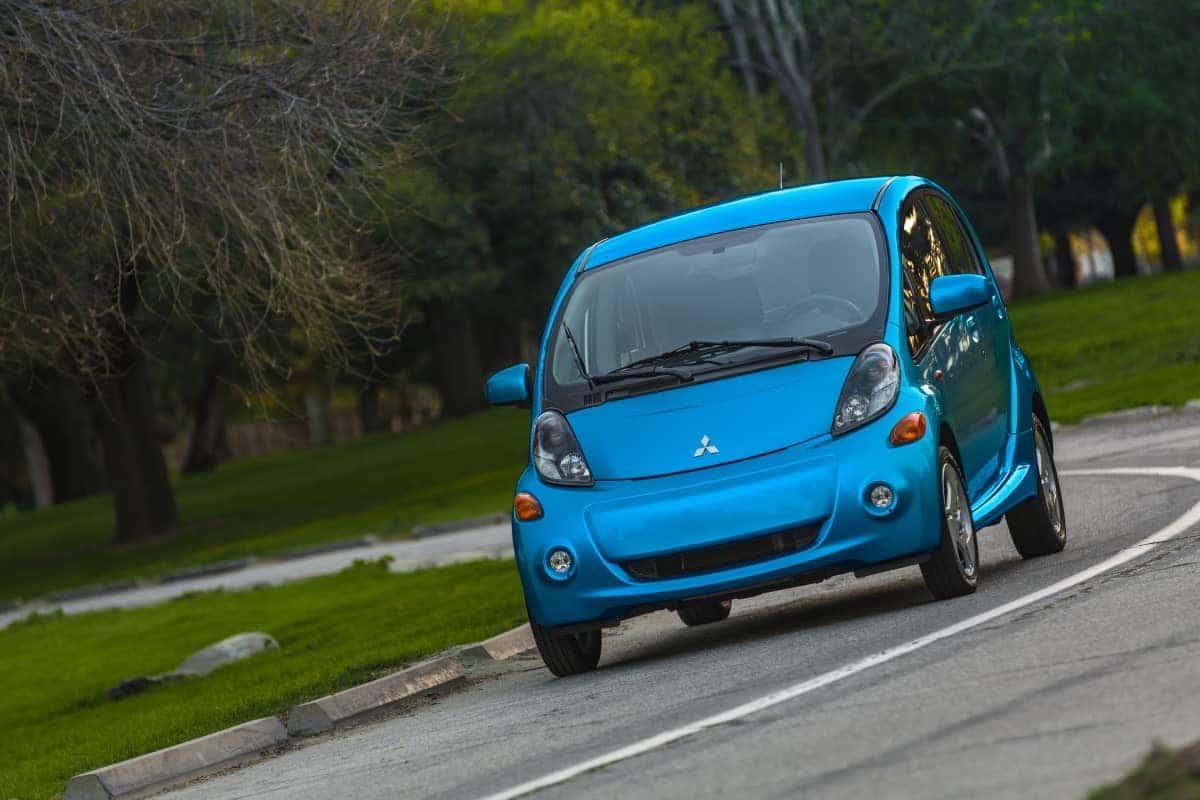 When it comes to the environment, the 2014 Mitsubishi i-MiEV is doing its part. And everybody else's too, it seems.
With its EPA efficiency rating of 112 MPGe, the all-electric i-MiEV is among the most energy-efficient cars available for purchase in the United States.
Just to clarify, MPGe stands for Mile Per Gallon Equivalent, meaning the measure of the distance an electric car is able to travel electrically on the same amount of energy offered by one gallon of gasoline.
To be more specific, the 2014 Mitsubishi i-MiEV gets 126 MPGe in the city and 99 MPGe on the highway for the combined EPA estimated 112 MPGe.
Lighter than the 2014 Nissan Leaf's 3,526-pound curb weight, the i-MiEV weighs in at 2,579 pounds, and sits poised on aluminum wheels, compared to the Leaf's heavier steel wheels.
Able to get 66 horsepower at 3,000 rpm, the 2014 Mitsubishi i-MiEV reaches the top speed of 81 mph.
Okay, so it's not super-speedy, but it's not like you were planning on drag racing through your city anyway.
Going the Distance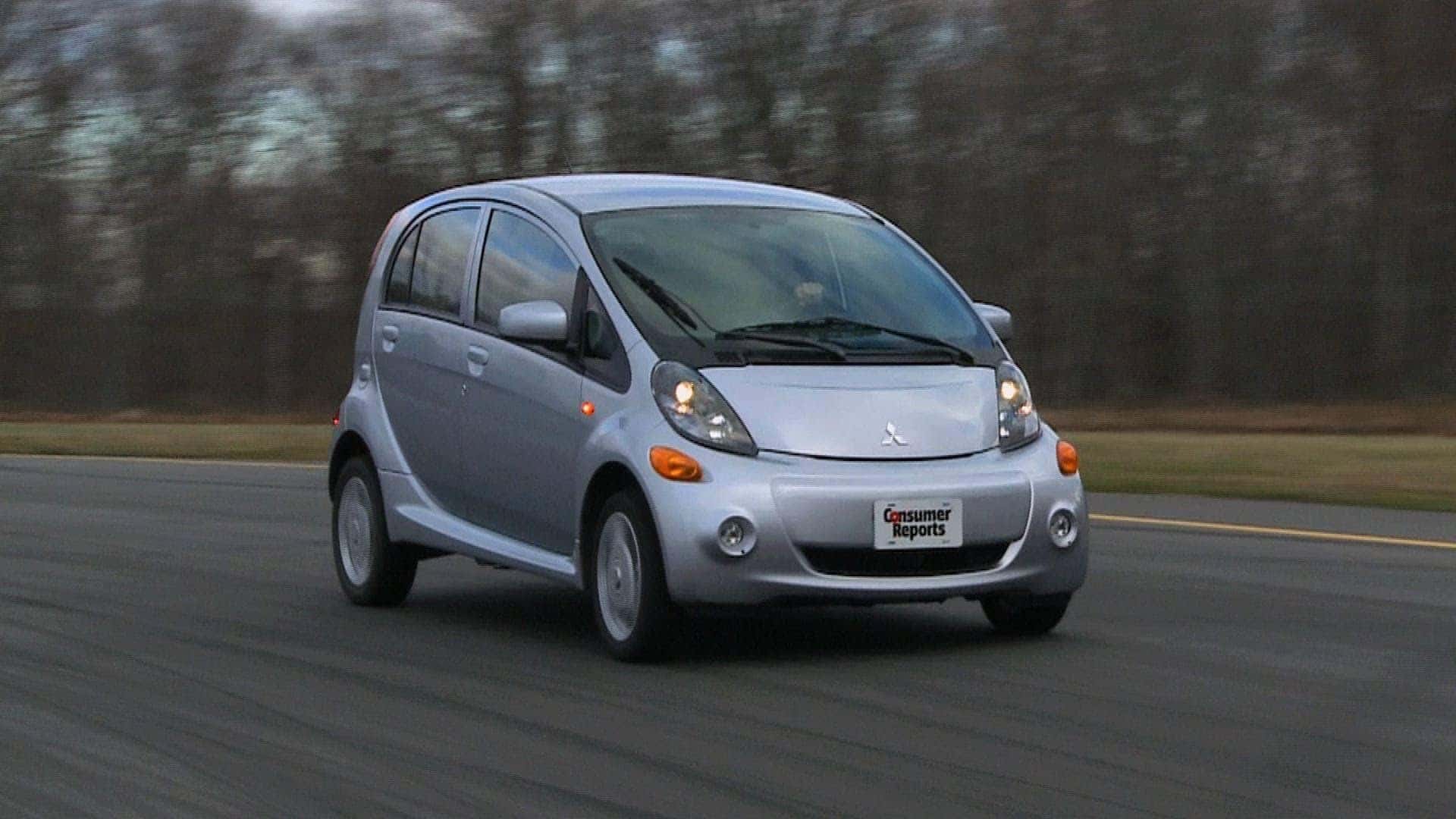 Powered by a 49-kilowatt electric motor and 16-kilowatt-hour lithium ion battery pack, securely stored in the floor under the rear seats, the i-MiEV has an impressive battery range of 155 miles, eliminating any range anxiety.
Range anxiety, the fear of being stranded somewhere between your departure and destination, is commonly experienced by Nissan Leaf drivers, as they only have 75 miles of battery range at their disposal, less than half of the i-MiEV's.
Depending on the climate, the Nissan Leaf is susceptible to additional mileage loss.
Cold weather kills range, so this car is not ideal for wintry excursions.
With its cramped rear seating, the Nissan Leaf isn't ideal for lengthy excursions of any kind.
Although it shares the Leaf's hatchback body style, the 2014 Mitsubishi Leaf comfortably accommodates four adult passengers.
The 2014 model year brought with it the addition of extra creature comforts, like driver and passenger heated front seats, heated door mirrors, and a leather covered steering wheel and shift knob.
For rocking out on road trips, the rear doors are also equipped with speakers.
Why bother going the distance if you're uncomfortable?
Whether you're driving or along for the ride, the 2014 Mitsubishi i-MiEV allows you to cover serious ground in a cozy cabin.
And for extra peace of mind, Mitsubishi backs its electric power source with a transferable eight-year, or 100,000-mile warranty.
Mitsubishi warranties are consistently among the best across the entire automotive industry.
Clever and Convenient Charging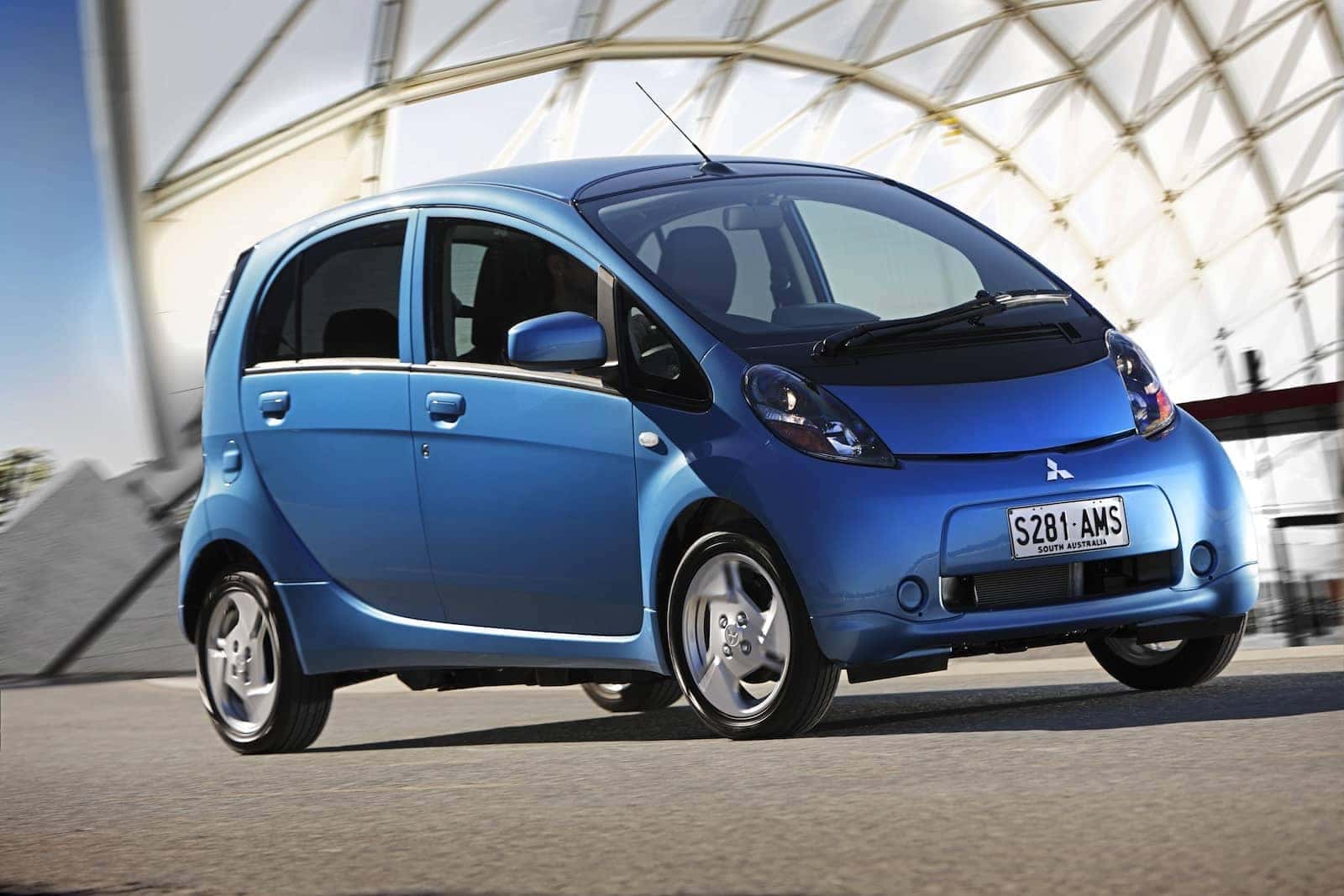 Who has the time or patience for inconvenience?
With the 2014 Mitsubishi i-MiEV we needn't waste time worrying about that answer.
Standard-equipped with a portable charging cable, able to plug into a dedicated 15 amp 120-volt household outlet, which can be converted to 8 or 12 amps, the car can produce a full charge from empty in approximately fourteen hours.
Don't have that kind of time?
Try the AeroEnvironment or Eaton home charging system, which will get you from empty to fully charged in six hours.
In case that's not convenient enough to meet the demands of your busy life, Mitsubishi took convenience to a whole new level by equipping all i-MiEVs with a public quick-charging port able to connect to the CHAdeMO Level 3 public chargers, giving your battery an eighty-percent charge in approximately one half hour.
Nighttime charging is easily illuminated by the lamp contained within the charging port, so you don't have to be afraid of the dark.
Classy or Cute
Your car is an extension of your identity, your personality.
With that in mind, Mitsubishi offers the 2014 Mitsubishi i-MiEV in four color choices that reflect your desired image.
Looking to project a polished and professional demeanor, consider one of the two the classic shades of Diamond White or Labrador Black.
If you'd rather make a fun and fierce entrance, try the Cool Silver or Aqua Marine Blue, both are eye-catching and youthful.
Optional packages include the Cargo Package and LED Illumination Package.
No matter how you customize your Mitsubishi i-MiEV, you can feel confident that for as good as it looks, it is also a safe vehicle.
The National Highway Traffic Safety Administration gave the i-MiEV it's Four Star Safety Rating, and Kelley Blue Book listed it as one of its Ten Best Green Cars.
Timing is Everything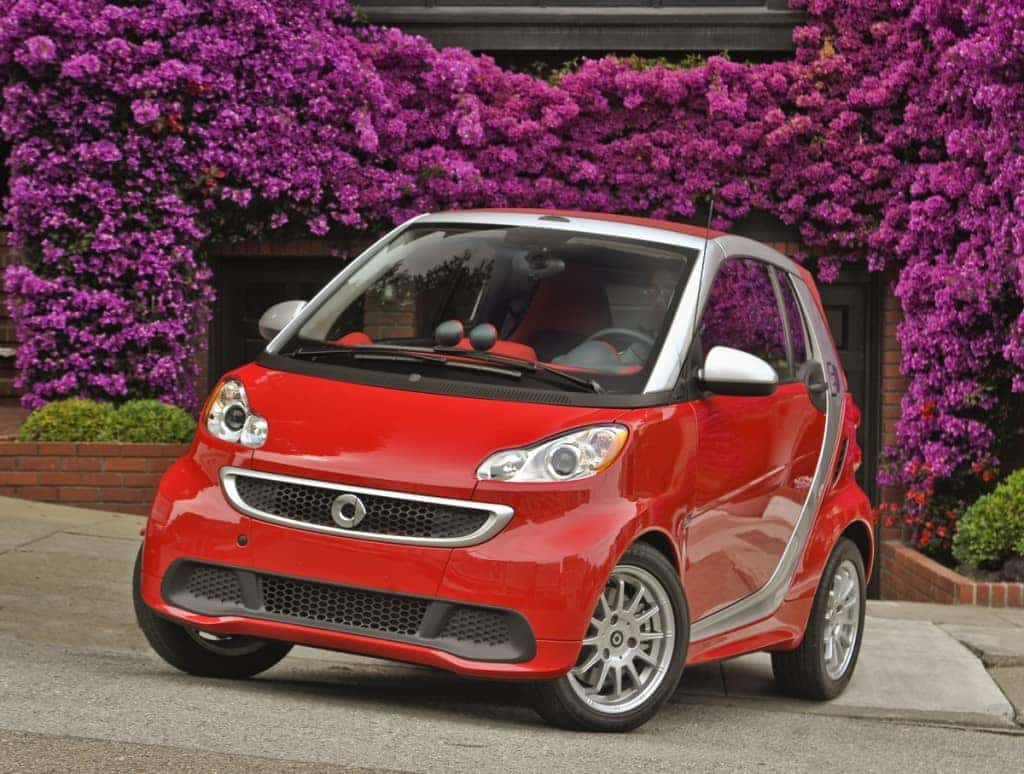 Right now is the right time to take advantage of some generous purchase and leasing options from Mitsubishi.
If you're interested in purchasing the brand new 2016 Mitsubishi i-MiEV, Mitsubishi is offering 0.0% APR for 60 months with 60 monthly payments of $16.67 per $1,000 financed at 0.0% APR.
Like leasing better? You're in luck.
The 2016 Mitsubishi i-MiEV is able to lease for a monthly payment of $189 for 36 months with $3,388 due at lease signing.
Both of these offers expire by the end of the month, so do hurry.
No matter how you finance your new set of electrically-powered wheels, this car is waiting to help you find new roads, free from gas-guzzling guilt.
Previous Post The 2015 Mitsubishi Outlander GT S-AWC Impresses, Inside and Out Next Post The Chicken Tax and the 2015 Mitsubishi Triton, Explained