The Kia Stinger is Becoming a Police Cruiser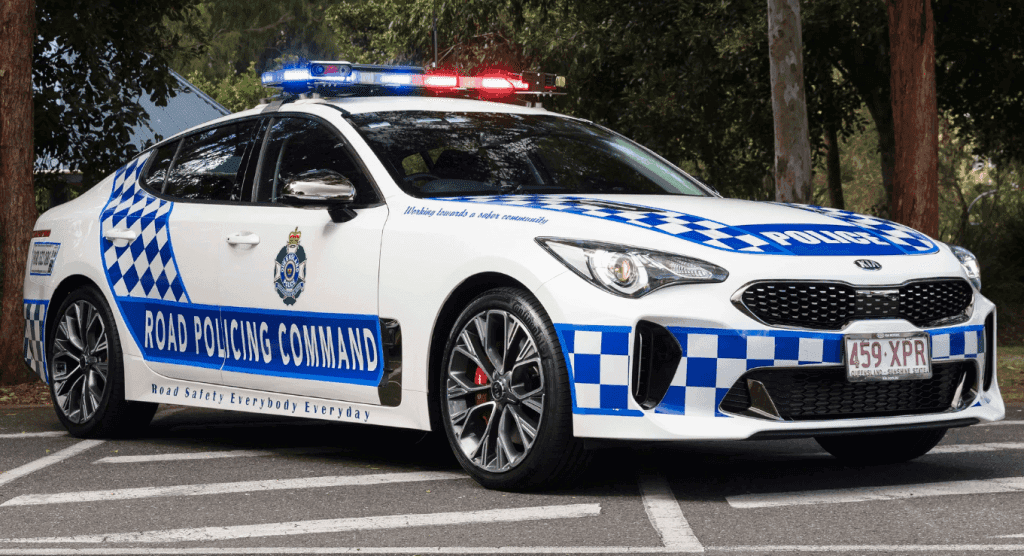 First it was the Dodge Charger Pursuit made for Law Enforcement Officers (LEOs) looking to get a one up on criminals that think they can outrun the boys in blue. Then came the 2018 Dodge Durango Pursuit immediately followed by the 2019 Dodge Durango Pursuit . It was only a matter of time before the POs decided to look at other automakers and the fast vehicles they're producing. Assuming no one wants to beat up a Chevy Corvette, the best choice for a sports car to get a badge is the one and only Kia Stinger.
There is no official name for the fleet of Kia Stinger police cruisers, but when it comes to the Queensland Police Service (QPS) in Australia, they surely won't have any trouble catching up with the bad guys. Although the Kia Stinger GT trims are more powerful, to start, the Queensland Police will be putting 50 units of the 365hp 3.3-liter twin-turbo V6 Stinger into service this year alone. Seems police forces around the world are starting to discover the potential of Kia Motors.
There's no word yet on what kind of modifications one would see on a Kia Stinger police cruiser. It could take some cues from the _ West Coast Customs _ modified 2018 Kia Stinger for a power boost and mods for better handling in tough road conditions. It would be wise to grab a few ideas from the current Pursuit vehicles in America, such as special door panels made from high-grade kevlar and able to withstand gunfire from a 44 Magnum and lower, performance-tuned suspension, larger brake rotors, high-performance tires, and the QPS may want to look into a couple of safety add-ons. The 2018 Kia Stinger V6 trims may come with a rearview camera with dynamic guidelines, and a front and rear park assist system, but for the Dodge police cruisers, these were upgraded to also warn the police officer if someone is approaching the vehicle and then engages safety protocols for maximum security.
We're also curious why the Queensland Police Service didn't splurge on the high-end trims of the Kia Stinger. The GT2 may be a little on the costly end of the spectrum, but the Kia Stinger GT has a starting MSRP of $38,350 (plus destination fee), and is as fast as it is affordable. That's a good thing by the way – the Kia Stinger GT out races some of the most expensive and "fast" vehicles on the market today. Either way, the POs in Australia sound happy.
"This is a very important day for us…We needed a special product to do a job for us, and that is what we have here. A wonderful product." – Queensland Police Service Commissioner Ian Stewart.
Queensland Police Minister Mark Ryan added, ""It was not a big step at all once we had begun the investigation process…You often hear Police Ministers talking about providing the best equipment for those at the coal face. In this case I truly believe we have been able to do that."
* Other police departments across Australia are already looking into the Kia Stinger, and a Dodge Durango Pursuit clone may also show up soon with investigations into the possibility of a Kia Sorento SUV police cruiser. We won't see these suped-up models in North America or even available to the public. However, consumers can find the Kia Stinger and Kia Sorento at Miami Lakes Automall anytime. *
* Photo Source/Copyright: CarScoops.com *
Previous Post Kia Motors Leading Auto Brand in 2018 Next Post Kia Motors Has Style, Power, and Now, Safety in the Bag