2019 Dodge Durango Pursuit Debuts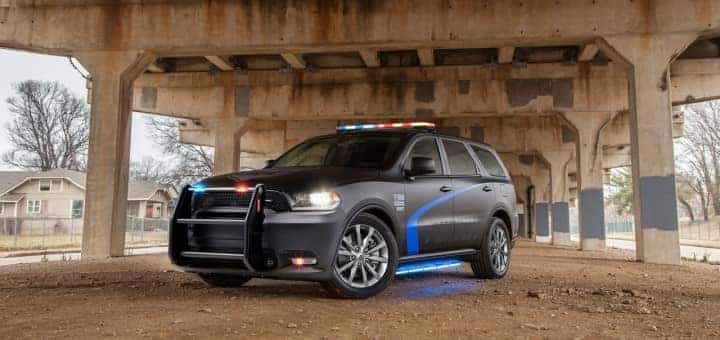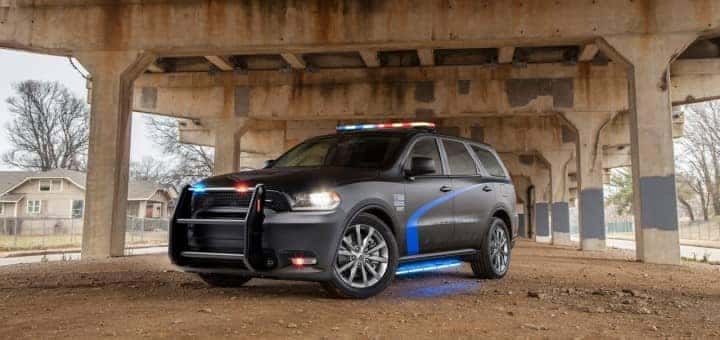 ** The 2018 Dodge Durango Pursuit was unveiled not too long ago, May 2018, and it was another welcomed vehicle by police and law enforcement officers (LEOs). Like the Dodge Charger Pursuit, the Dodge Durango Pursuit was tailored as a vehicle for the police force. Evildoers will want to think twice about their next high-speed chase – Powered by a HEMI V8 engine, the Dodge Durango Pursuit may as well be a battering ram. Now, with 2019 details having been leaked for the Dodge Challenger and Dodge Charger, Dodge debuted the 2019 Dodge Durango Pursuit at the National Sheriffs Association Show.
For the 2018 and 2019 Dodge Durango Pursuit models, the powertrain is made up of a 5.7L HEMI® V8 engine paired to an eight-speed automatic transmission. Both model years also come with the same standard all-wheel drivetrain (AWD) to handle all types of terrain. If things get a little bumpy, the 2018 and 2019 Dodge Durango Pursuit are outfitted with a two-speed transfer case for true low-range off-road capability. The 2019 Dodge Durango Pursuit also offers a 3.6L Pentastar V6 engine option for 293 horsepower and 260 lb-ft of torque and a highway fuel economy of 25 mpg versus 22 mpg on the highway with the 360hp 5.7-liter HEMI V8 engine.
The body and chassis of the Dodge Durango also received modifications for its entrance exam into the police academy. For instance, the 2018 Dodge Durango Pursuit includes the segment's longest wheelbase (119.8 inches) to provide added stability and improved handling, 8.1 inches of ground clearance, and larger, heavy-duty anti-lock brakes. Assuming these changes carry over to the 2019 model, the 2019 Dodge Durango Pursuit has a pursuit-rated brake package that features 13.8-inch rotors up front and 13-inch units in the rear for impressive stopping power. **
* Some style changes have taken place along the exterior of the 2019 model for an upgraded look and operation. The new-and-improved Durango Pursuit crossover boasts a revised front fascia with inlets that feed into brake-cooling ducts so that the hefty crossover's calipers, pads, and rotors can continue to perform under pressure, as well as a performance-tuned, load-leveling suspension system to maximize handling performance. More features have also debuted for the 2019 Dodge Durango Pursuit, including a spot-lamp wiring prep package, red-and-white auxiliary dome lamp, and a 220-amp alternator up to the task of powering police computers, radar detectors, and other law enforcement equipment. In addition, a heavy-duty oil cooler and water pump help keep the engine within operating temperature, despite how demanding the daily life of a cop car may be. We assume the ParkView rear backup camera with ParkSense distance sensors will also return, along with the class-exclusive, K-9 friendly tri-zone interior temperature control for the puppies. *
* "Dodge already leads the police pursuit sedan business with the proven Charger Pursuit, and we believe the 2019 Dodge Durango Pursuit SUV will expand our appeal to an even broader audience and take our game to the next level in terms of performance … The Durango gives law enforcement agencies even more of what they want: a more spacious interior room, a higher ride height, Hemi V-8 performance and efficiency." – FCA Head of Passenger Car Brands Steve Beahm. *
** The new 2019 Dodge Durango Pursuit debuted at the National Sheriffs' Association Show in New Orleans. Each year, the National Sheriffs' Association Show holds an annual conference for Sheriffs, deputies, and other law enforcement professionals to gather and discuss current law enforcement issues that need to be addressed. These usually lead to debates, but that's not the only purpose of the conference. There are also sheriff and police training exhibits, networking opportunities, and over 60 seminars and workshops that covers the duties and responsibilities for a sheriff's office or sheriff department.
If wondering how Dodge plays a role in this, the annual conference is also held as an exhibition to display products and equipment relevant to every facet of police work, jails, prisoner transport, and courtroom security. These exhibitors, in conjunction with seminars and workshops, help insure that the conference is a success every year. Here's to everyone learning something new this year.
The 2019 nor 2018 Dodge Durango Pursuit are not available to the public, but consumers can still find the 2018 Dodge Durango at Miami Lakes Automall. Looking for Pursuit speed? Do even better and get the Dodge Durango SRT , powered by 6.4-liter HEMI® V8 SRT engine with a multi-displacement system (MDS), capable of generating 474 horsepower and 470 lb-ft of torque, and able to accelerate from 0-60 mph in 4.4 seconds. Only starting at $62,995 plus destination fee. **
Previous Post Next Generation Dodge Challenger, Viper, and Chevrolet Corvette Next Post Dodge Grand Caravan: the Ultimate Tailgating Party Vehicle