Kia Niro EV Comes to the US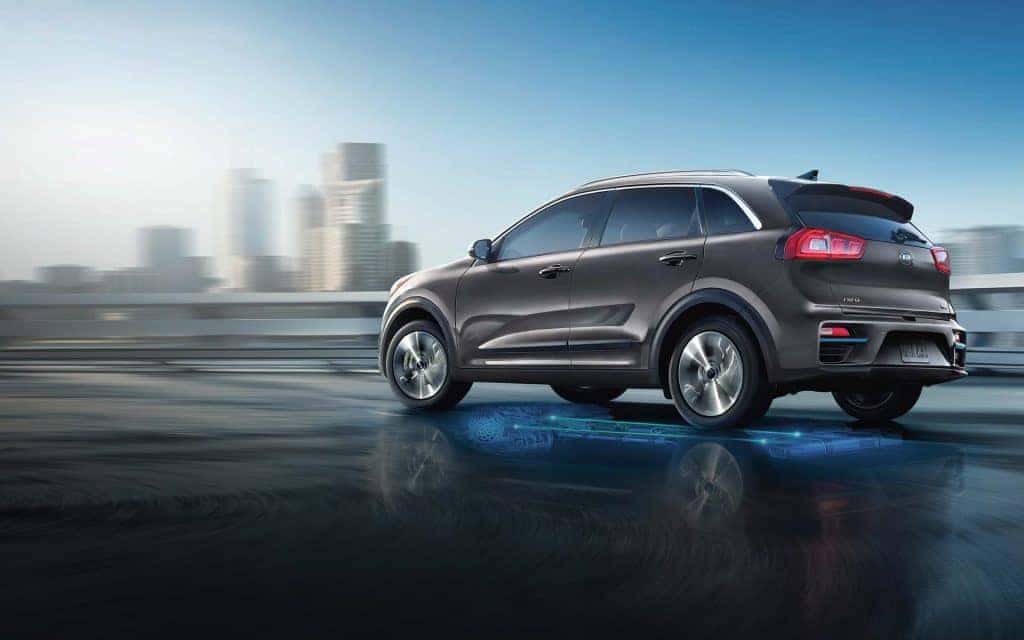 Whenever Kia Motors adds a new model to the lineup, they have a pattern of always improving upon what works. It's one of the reasons the Kia Soul EV, Kia Optima Hybrid, Kia Optima Plug-in, and Kia Niro Plug-in ever had a shot. Their predecessors were so popular, Kia Motors was confident they couldn't lose by also adding a more green option to the market. Now, with the continuing success of the Kia Niro hybrid crossover and its plug-in compatriot, the Kia Niro EV is joining the lineup after a successful debut overseas. Yes, that's right. The Kia Niro EV is officially on sale in the North American auto market.
During its 2019 debut in January overseas, the Kia Niro EV, known as the "e-Niro" in the European market, delighted consumers and journalists from across the country. _ What Car? _ , a United Kingdom-based consumer magazine and website, named the Kia e-Niro the "Car of the Year", making the Kia Niro EV the first Korean car to win the prestigious award. The e-Niro had so much success, that even with a total shipment of 10,000 units delivered overseas, all 10,000 have already been sold.
What could possibly make it so great? Well for one, the 2019 Kia Niro EV comes with plenty of style. Made up of two trims, Kia Motors fills the Niro EV EX Premium (that's a long name), with 8-inch touchscreen, LED headlights, an 8-speaker Harman/Kardon audio system, heated steering wheel, mood lighting, parking distance warning system, and a deluxe scuff plate. The standard trim, EX, comes with a 7-inch touchscreen with a six-speaker system, but both come with Apple CarPlay and Android Auto capabilities.
The outside of the Niro EV certainly looks more like a sporty vehicle with a new air intake, arrowhead-shaped LED daytime running lights and a flush-mounted closed-off grille that houses the vehicle's electric charging port. Riding on Bespoke 17-inch "Aero" wheels and an available blue and black high-tech "holographic" graphic door trim definitely change the mood of an electric crossover. Consumers can also personalize the interior cabin with that customizable "mood" lighting mentioned above.
Safety has also become a large part of Kia Motors with their new Kia Drive Wise safety package . Usually, consumers will have to opt-in for the package to get all the goods, but the 2019 Kia Niro EV comes standard with a handful of the most popular safety features. These include Forward Collision Warning (FCW), Automatic Emergency Brakes, Lane Keeping Assist (LKA), Blind Spot Collision Warning (BSW), and Adaptive Cruise Control. If consumers do opt-in for the "Drive Wise" package, they will also get Lane Departure Warning (LDW), Driver Attention Warning (DAW), Smart Cruise Control with Stop & Go, Rear Cross-Traffic Collision Warning, and Parking Distance Warning with Forward and Reverse functionality.
All of this on an electric crossover that can drive a total of 239 miles, give or take depending on speed and regenerative braking. Featuring a 65-kWh battery pack, the only option offered in the U.S., that's probably better for those of us who have a long commute from home every day. Overseas, a smaller battery pack was offered for driving around the city versus long stretches of highway.
The 2019 Kia Niro EV has a starting MSRP of $38,500 (plus destination fee). Keep up with us on Miami Lakes Kia social media to find out when we get the Kia Niro EV ion the lot .
Photo Source/Copyright: Kia.com
Previous Post Kia Launches New Campaign of Change Next Post Kia Telluride Gets Street Cred in Texas