Why You Should Get the Kia Drive Wise Package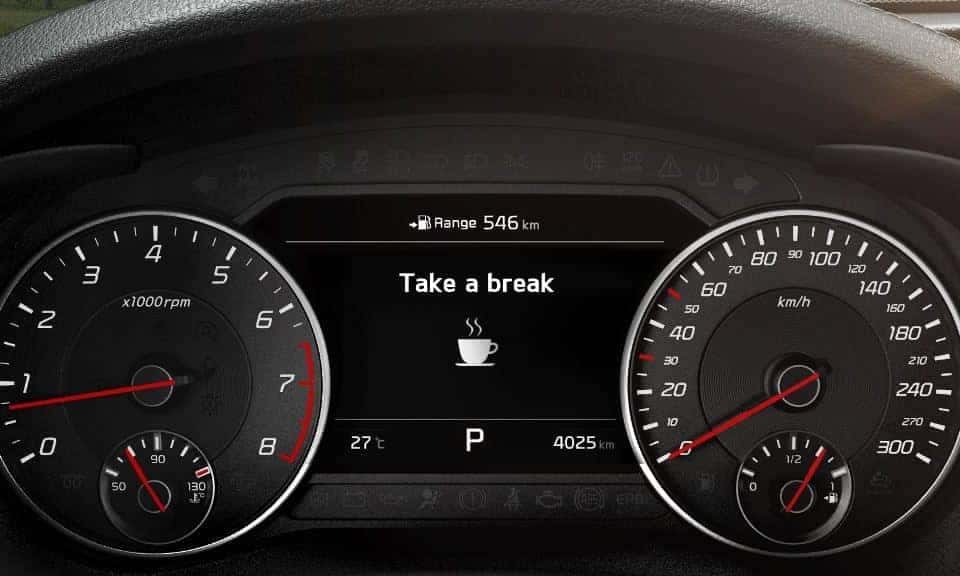 When the 2018 Kia Stinger was first unveiled at the 2018 Detroit Auto Show , many people were impressed by the sports car. "Sporting" a couple of firsts for Kia, the Stinger was the first vehicle to resurrect the Lambda engine (first having popped up in the 2005 Sorento), was the first Kia sedan to come with all-wheel drive (optional), and introduced Kia's Driver Attention Alert (DAA) system to help combat distracted/drowsy driving. With that in mind, the Kia Stinger was also one of, if not the first Kia vehicle, to receive the Kia Drive Wise Package. Filled with an assortment of advanced safety features, for a driver that wants eyes in the back of their head and a little clairvoyance, this is the package to get when shopping with Kia Motors. Here's what the Drive Wise Package includes.
Forward Collision Warning (FCW) and Forward Collision Avoidance (FCA) – A system designed to alert the driver of an impending collision with a slower moving or stationary vehicle/object via a sensor-operated chime. If an FCA, the system will also apply pressure to the brakes if driver input is not detected following the primary alert.
Blind Spot Collision Warning (BCW) with Lane Change Assist – A sensor that detects other vehicles located to the side and rear of a vehicle, and displays a graphic or turns on a small light in the side mirror if a vehicle is detected. The system also assists the driver by letting them know of approaching traffic in their blind spot so they can make a safe merge into the other lane via Lane Change Assist.
Rear-Cross Traffic Collision Warning (RCCW) – Like blind-spot detection, RCCW alerts the driver when backing out of a parking space where traffic is present or approaching from either side.
Lane Departure Warning – A system designed to alert the driver when it detects the vehicle is deviating from their traffic lane (unless the turn signal is on in that direction).
Lane Keep Assist – This system will go beyond alerting the driver and will attempt to steer the vehicle back on course if leaving the original lane without a turn signal on.
Advanced Smart Cruise Control (ASCC) – This is the system we all wish we had for cruise control. Activated when cruise control is activated, if a sensor detects a slower moving vehicle ahead of its respective vehicle while in cruise control, the vehicle's speed will be reduced accordingly, and attempt to bring the vehicle to a stop if necessary. Also comes with stop and go tech for saving fue
Kia's Driver Attention Alert (DAA) – Designed to help combat distracted or drowsy driving, if a variety of driver and vehicle inputs suggest the driver has reduced attention level, a warning chime will sound and a graphic suggesting to take a break will be displayed in the instrument binnacle.
High Beam Assist – Forget your manners when driving at night? High Beam Assist turns down the high beams when approaching another vehicle or a source of light that provides enough visibility.
Electronic Parking Brake – Just an electronic parking brake that immediately turns off once a car is turned on. Much easier to work with than the stick parking brake many subconsciously mistake for the gear shift and then drive with the emergency brake still engaged – ouch.
Rain Sensing Variable Intermittent Windshield Wipers – Windshield wipers that automatically turn on/off and alter their frequency in the presence of rain and how rapid rainfall occurs.
Some of these are just convenient. Others could save a life. No wonder Kia Motors is the safest brand in America . Check out these features on the Kia Stinger , or other great Kia Motors vehicles at Miami Lakes Automall .
Photo Source/Copyright: Kia.com
Previous Post Kia Motors VS Porsche and BMW Next Post What's Coming for Kia Motors