Kia Launches New Campaign of Change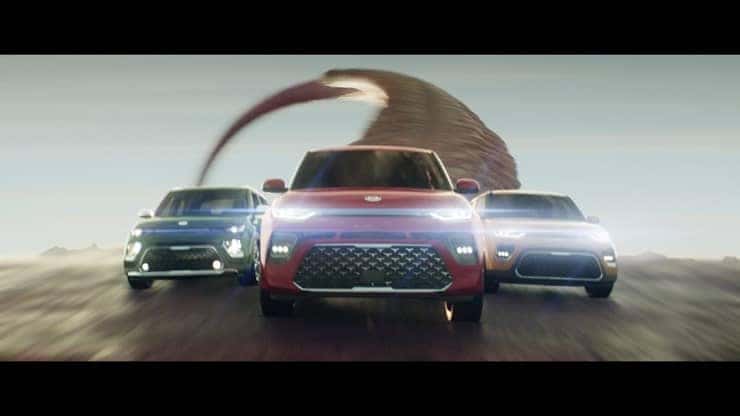 It's that time of year again. Kia Motors has produced a new marketing campaign for the third generation of the Kia Soul hatchback. With a newly expanding lineup on a global scale, Kia Motors America launched a marketing campaign that builds upon the brand's new mantra: Give It Everything. Calling the new Kia Soul the "most adaptable version ever of the brand's iconic urban runabout", the new campaign is about the automaker's ability to adapt to change. A lot of this can be clearly seen in their expanding alternative fuel lineup and their claims to become an all-electric automaker . The new campaign shows that they can still deliver to every kind of consumer while moving forward.
"We have taken the Soul to an entirely new level by giving it even more of Kia's 'Give It Everything' credo. With the expanded lineup offering more style, utility, technology, comfort, and adaptability than ever before, it's a whole new species of Soul…While nearly everything about the Soul is different, this campaign continues the fun and irreverent attitude that turned Soul into an icon over the last decade." – Saad Chehab, vice president, marketing communications, Kia Motors America
Back when the 2020 Kia Soul was first unveiled at the 2018 LA Auto Show , we heard of two distinct trims that were being added to the lineup. They went by the name of "GT" and "X", for the respective model lines Kia Motors has been putting together, starting with their new Kia GT Line . The 2020 Soul GT was defined by a sportier exterior featuring black side mirrors, red accents, narrow headlights, and a grille that has a more angular design, leaning into its sports car mystique. The X-line, however, offers a more rugged look with fog lights, a rounded grille, unique wheels, and a roof rail – all hallmarks of an off-road vehicle. We saw both of these in the new marketing campaign, entitled "The New Species of Soul", but another model line also entered – the EX Designer, part of the new EX Designer Collection Package.
The commercial ends with a chameleon, further playing up the "ability to change and adapt" theme. To capitalize on this new marketing campaign, Kia Motors also returned to Mom 2.0 this year for the fifth consecutive year as a Premier Sponsor. If unheard of, that's because it's a Texas-based organization, but it's also the nation's leading organization for influential mom content creators and female entrepreneurs.
Kia and Mom 2.0
Mom 2.0 started in the fall of 2008 to facilitate conversation between mom influencers and marketers working in online marketing and social media. The conference gathers professionals whose expertise span a variety of categories, including parenting, entertainment, food, politics, business, marketing, technology, social change, travel, and design. Ever evolving, the 2019 Mom 2.0 focus is on the expanding definition of what it means to be a mother or even a woman in the world today, and what that means for media, entertainment, marketing, and storytelling. As a Premier Sponsor, Kia will be hosting a special panel discussion.
Entitled "Give It Everything: Make a Plan to Defy Odds and Exceed Expectations in your Family Life, Career and Craft", the panel will be hosted by Natasha Nicholes @natashanicholes, Amy Mascott @teachmama, Michelle Garrett @DivaMDGarrett, Miranda Wicker @caffeineandcab, and LayToyia Dennis @LaToyiaDennis. Not much detail is given, but a PR by Kia Media states the panel will focus on "helping attendees avoid burnout, [how] defy odds and exceed high self-expectation". Now that's putting your money where your mouth is.
Stay up to date with Kia Motors and learn more about the upcoming GT, X, and EX Designer collection when you follow Miami Lakes Kia social media .
Photo Source/Copyright: Kia Media
Previous Post Kia Debuts HabaNiro at 2019 NAIAS Next Post Kia Niro EV Comes to the US