Kia Debuts HabaNiro at 2019 NAIAS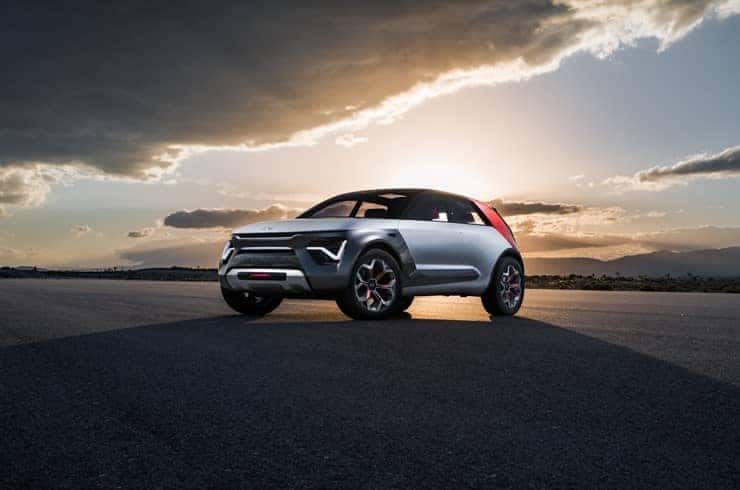 Ladies and Gentlemen, welcome to the future! It's the future of automobiles at the 2019 New York International Auto Show, having just started and running from April 19 to April 28, 2019. Many automakers have been tight-lipped before debuting any concepts this year at NAIAS, but Kia Motors was quick to start making noise a week before, and now we know why. Along with the reveal of their Kia Stinger GTS Limited Edition , Kia Motors has debuted a concept that could change the auto industry forever. Of course, like other autonomous vehicle concepts, that could be a long ways away.
The Kia HabaNiro
Although "Niro" is a part of the name as a play on words, Kia Motors isn't bringing us another rendition of the Kia Niro like they did with the many concepts of the Kia Telluride prior to its release. The Kia Niro EV, also known as the e-Niro in Europe, has already been a success. No, the HabaNiro is its own bread-and-butter design set to be an all-electric Everything Car or ECEV. Use it to commute, as a crossover, get rough like it's an SUV, go on an adventure, or have a state-of-the-art technology workroom. Yes, that last one hinges on an autonomous vehicle, and the HabaNro concept comes with level-five autonomy.
"We wanted this concept to be comfortable navigating city streets, carving turns on a coastal road and off-roading with confidence to remote wilderness adventure…We imagined a car for everyone and nearly everything. Then, when we saw the finished product, we were blown away by the imagination of the HabaNiro's creators and its laboratory of technology and we want it in our driveways." -Tom Kearns, vice president of design for Kia Design Center America (KDCA).
Although the HabaNiro may fall into the compact crossover segment, the design of the vehicle blurs the lines of them all. A four-seat wonder car with butterfly wing doors make for a spectacle, and its protective metallic grey cladding contrasted by bright "Lava Red" aero panel and roof create a sense of vibrant energy. We swear, we think there's a spy in the auto industry or automotive designs are starting to mesh together because the below image looks a lot like the Mitsubishi e-Evolution concept.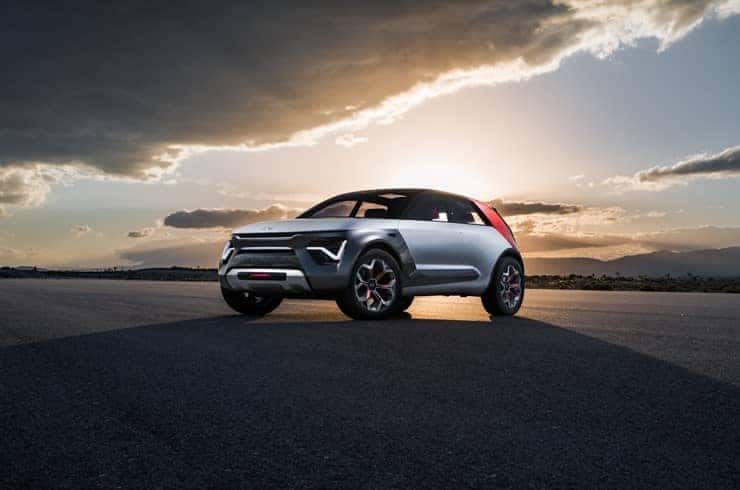 The signature tiger-nose grille looks more like a shark's snout, with a front-fascia made of gloss black aluminum "teeth"-shaped cooling blades like those found on high-end electronic equipment. The HabaNiro is a fully-electric vehicle after all and may be the platform Kia Moros promised with its _ Imagine by Kia _ presentation and touting that it will become an all-electric automaker . With all-wheel drive and an All Electric Range (AER) of more than 300 miles, that powertrain will need some cooling.
Keeping up with style although out, satin aluminum skid plates, milled billet aluminum tow hooks, anodized Lava Red aluminum accents, and the embossed HabaNiro name all keep up the energized feel of the HabaNiro concept. Inside, a Lava Red interior suggests passion and vibrancy, and the bouclé fabric-trimmed front seats appear to float through the cabin. A full-width front windshield Heads-Up Display (HUD) system is equipped with a large interactive touchpad display with Sensory Light Feedback (SLF) and Technical Option Sharing System (TOSS) allows users to swipe and move vehicle options across the HUD screen as though moving chess pieces. Sound familiar?
During 2019 CES, Kia Motors introduced its Real-time Emotion Adaptive Driving (R.E.A.D.) system . Introduced as an interactive future mobility in-cabin space that can be modified in real-time, R.E.A.D. can optimize and personalize a vehicle cabin space by analyzing a driver's emotional via artificial intelligence-based bio-signal recognition technology. Based on their emotional state, say anger, R.E.A.D. may alter conditions within the cabin to create a more pleasurable and safer driving experience. The technology also reads the driver's eye movements through HabaNiro's Eye Tracking System (ETS). Able to open up a 180° rearview video display, when the driver looks up to where the rearview mirror is usually located, the A.I. will activate the display to give the driver a better look at what's behind the vehicle.
There's a floating joke of R.E.A.D. being able to read hunger in one's eyes and place a floating order at a food stop the driver frequents, but that feels a little too invasive, not to mention spooky. There's a lot of information pouring in, and this leads us to believe that the HabaNiro may not just be a concept car. Keep up with all the latest updates when you follow Miami Lakes Kia social media .
Previous Post Kia Announces Special Limited Edition Stinger GTS Next Post Kia Launches New Campaign of Change