Kia Niro EV Named Car of the Year in Britain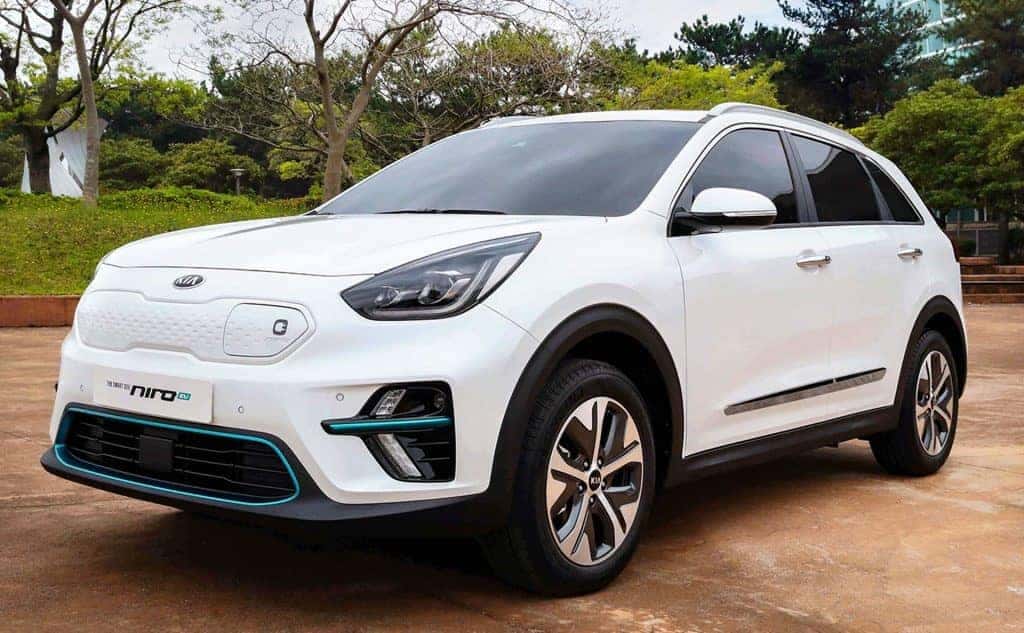 Kia Motors is currently blowing up with alternative fuel vehicles. Most recently would be the 2020 Kia Soul EV that shared center stage with the 2020 Kia Soul at the 2018 Los Angeles Auto Show . We've been hearing a whole heck of a lot of good news about the Kia Niro EV , also known as the e-Niro overseas, and are patiently waiting for it to be added to the North American lineup. Before that happens though, we've already received some more good news. Receiving the "Car of the Year Award" by consumer magazine and website _ What Car? _ , the Kia Niro EV is the first Korean car to win the prestigious award.
"Everyone at Kia Motors (UK) Limited and Kia Motors Corporation is honoured and delighted that the e-Niro is the first Korean car to win the What Car? Car of the Year Award…This marks an important milestone in the Awards as we approach the tipping point where every motorist will be seriously considering buying an electric car as their next car." – Paul Philpott, President and CEO of Kia Motors UK.
The competition took place in Britain, since the vehicle has yet to make much headway with Kia Motors North America just yet. Out of 23 competitors, including vehicles powered by gasoline, diesel, and even hybrids, the fully-charged zero-emissions Kia won out over all of them. Going on sale in the UK on April 1, 2019, a release date for American sales has yet to be released, but based on the cost in euros prior to the £3,500 taxpayer-funded plug-in grant subsidy for buyers of ultra-low emission vehicles, it comes out to around $$41,000. That feels a bit steep given the Niro Plug-in Hybrid has a starting MSRP of only $28,500 (plus destination fee).
Oddly enough, one of the reasons the Kia Niro EV (e-Niro) won Car of the Year was due to its relatively low cost compared to some of its more mainstream rivals, along with its impressive long-range. Having claimed 282 miles with zero tailpipe emissions, that's also a nice little bonus for the environment. There was no mention of the two battery packs mentioned earlier for the electric vehicle as options for the powertrain. Previously recorded, the high-capacity 64 kWh lithium-polymer battery pack option is the setup that can drive up 280 miles, give or take a few miles with regenerative braking. It's a whole 20-mile difference when compared with the standard setup, a 39.2 kWh battery system that can travel 150 miles emissions free.
The powertrain of the Kia Niro EV is a 203hp electric motor paired with a one-speed automatic transmission. It can accelerate from 0 to 60 mph in 7.5 seconds and can reach a top speed of 104 mph. _ What Car? _ mentioned that the driving range of the Kia e-Niro can differ according to driving styles and real world conditions, and this would lead us to believe that there is more than one style. One of which is an "ECO" setting that helps extend the range of throttle responses.
"The demand for electric cars has grown exponentially in recent years, and 2019 is shaping up to be the biggest year yet…Most of the leading manufacturers have plans for new electric vehicle and the fact that the Kia e-Niro was able to beat all its petrol and diesel rivals to win the 2019 What Car? Car of the Year Award shows how far this technology has developed." – Steve Huntingford, _ What Car? _ Editor.
We can't wait for the Kia Niro EV (e-Niro) to make it North American shores. What do you think? Is the world ready for an electric crossover? Tell us your thoughts on Miami Lakes Kia social media .
Photo Source/Copyright: Kia.com
Previous Post Kia Motors Connecting with a Younger Generation Next Post All We Know About the 2019 Kia Niro EV