Kia Motors' New Diesel Mild-Hybrid Powertrain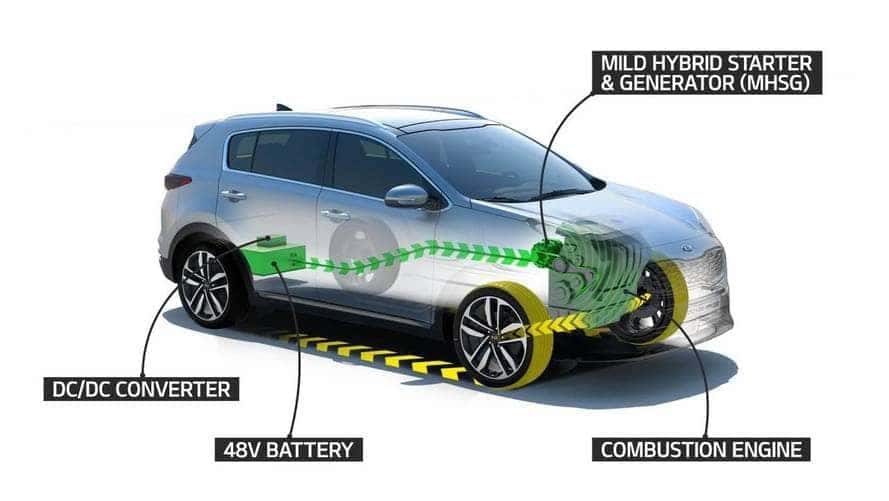 Kia Motors is really killing the alternative fuel vehicle scene. Nearly every time they make it big with a vehicle from their lineup, they turn it into a hybrid, then a plug-in, and if they're really looking to push the envelope, then an electric vehicle. They followed that pattern with the Kia Niro, currently in production for an all-electric variant, the Kia Niro EV . To follow up, Kia is looking into other forms of fuel, and with the Fiat Chrysler Automobile Group (FCA) having recently designed and produced the eTorque system, Kia Motors will _ not _ be outdone. Hence, they're about to launch their own mild-hybrid powertrain in 2018.
eTorque
The eTorque system is a new mid-hybrid system from the FCA that is currently placed in the new 2018 Jeep Wrangler JL and the 2019 Ram 1500 pickup truck. The eTorque system is called a "mid-hybrid" system because it offers hybrid capabilities, such as auto stop/start, electric power assist, extended fuel shut-off, transmission shift management, intelligent battery charging, and regenerative braking. Like all hybrid systems, it also has an electric feature to it that can replace various car components.
When it comes to the 2019 Ram 1500, the eTorque system is able to deliver its own electricity to the truck, nullifying the need for an alternator, and is able to keep the Ram 1500's original 12-volt battery charged as well as perform its hybrid functions. In addition, the eTorque system is actually a 48-volt system that can convert 12 volts into 48 without a prolific sweat. Kia Motors seems to be aiming for something similar if not the same.
Kia Motors Mild-Hybrid Powertrain
The full name for this new mild-hybrid powertrain from Kia Motors is actually "diesel 48v mild-hybrid powertrain." Can you already see the similarities? This year, 2018, Kia Motors will be introducing its first 48V diesel mild-hybrid powertrain, called a new 'EcoDynamics+' powertrain that will reduce CO2 emissions by supplementing acceleration with electric power from an additional 48-volt battery and extending combustion engine 'off time' using a new Mild-Hybrid Starter-Generator unit. Yep, lots of similarities there, but we won't fault Kia for getting in on the ground floor with what can easily become a revolutionary component for vehicles in the next few years (or decades, it's anyone's guess).
What's really great about this diesel 48-volt mild-hybrid powertrain (that definitely needs an acronym or short-name), is that the components are so compact in nature, the technology can be integrated into existing vehicle and powertrain architectures without impacting practicality or packaging (like the Chrysler Pacifica Hybrid taking out Stow 'n Go seating in the third-row seats to make space for the battery). The first model to offer the new EcoDynamics+ diesel mild-hybrid powertrain later in 2018 will be the 2018 Kia Sportage, as well as the third generation Kia Ceed (a model available oversea).
Next to putting artificial intelligence into vehicles and having consumers cars, homes, and phones all connected, Kia also has plans for a new fleet of all electrified vehicles, sixteen in total, by 2025. This new mild-hybrid powertrain is easily the technology that will be taking the first step towards making that a reality. With five new hybrids, five plug-in hybrids, five battery-electric vehicles, and in 2020, a new (hydrogen) fuel-cell electric vehicle , Kia Motors will become the first automaker to offer consumers hybrid, plug-in hybrid, battery-electric, and 48-volt technology across its model line-up.
Word is, this mild-hybrid technology powertrain will also be able to offer "motor" and "generator" modes. Featuring a compact 0.46 kWh 48-volt lithium-ion battery and a new Mild-Hybrid Starter-Generator (MHSG), the MHSG can be electronically controlled via an inverter and then seamless switch between the two modes. In "motor" mode, the MHSG provides up to 10kW of electric power assistance to the powertrain, reducing engine load and emissions. In "generator" mode, the system harvests kinetic energy from the vehicle during in-gear deceleration and braking and uses the power to recharge the batteries. The Mitsubishi Outlander PHEV system has a similar feature for charging its battery using the engine and then pressing another button to save that energy for a later time.
* There's still plenty more to cover, and we'll be sure to report on it as we get closer to the launch of this new diesel mild-hybrid powertrain. What do you think of it? Let us know on Miami Lakes Kia social media . You can also find many alternative fuel vehicles by Kia Motors here at Miami Lakes Automall . *
* Photo Source/Copyright: Motor1.com *
Previous Post Fast and Expensive Cars that Can't Match the 2018 Kia Stinger Next Post Kia Motors is Quickly Becoming the Safest Car Brand in America