Kia Motors Begins Production of 2021 Kia Sorento Hybrid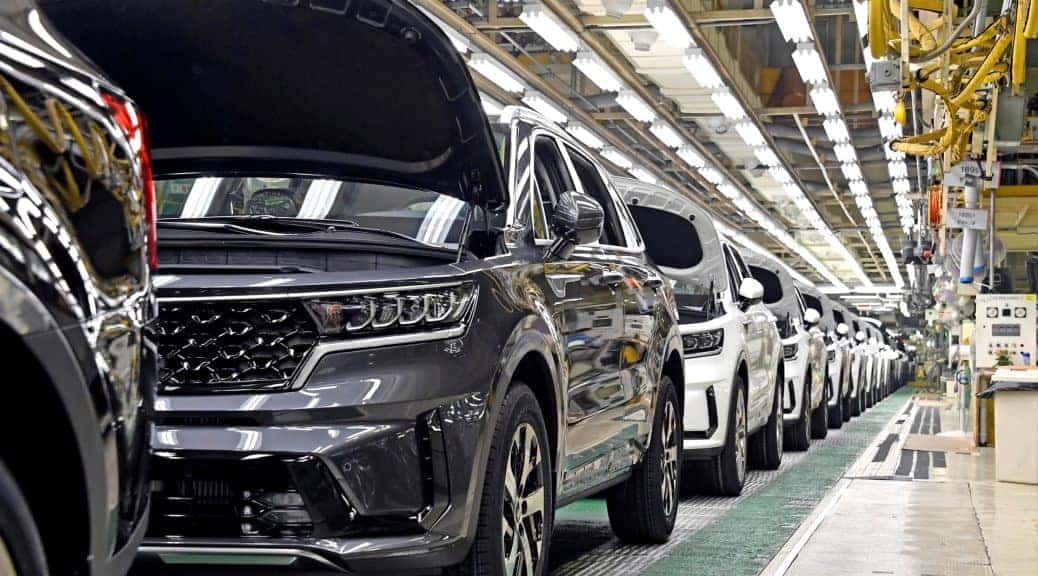 Kia Motors announced the arrival of its next-generation 2021 Kia Sorento SUV earlier this year, and alongside the new Sorento will be a new arrival for the lineup, a Kia Sorento Hybrid. That's right, the flagship SUV of the automaker is getting a little green gas this time around, with an engine tied to a small battery to feel things out. As always, Kia Motors will take a successful vehicle, add a hybrid version, and if that goes well, a plug-in hybrid is next and then maybe an electric vehicle, the world's first all-electric SUV? Maybe, Kia Motors is working on new electric vehicle (EV) concepts , after all. It's all coming together, and the Kia Sorento is next.
Production for the new Kia Sorento Hybrid is already underway, becoming the first of Kia Motors SUV lineup to make the move to a more green version of its predecessor. Alongside the new fourth generation Sorento, both are being manufactured at Kia's Hwasung production facility. The Kia Sorento Hybrid, like all hybrid cars, have a powertrain made up of the usual combustion engine and a battery pack that makes just enough of a difference to fuel economy and emissions that hybrid vehicles are still a good way to break into alternative fuel when testing the waters and consumer response. The Kia Sorento Hybrid comes with a new 'Smartstream' electrified powertrain to lower CO2 emissions without sacrificing performance.
Moreover, unlike plug-in hybrid electric vehicles (PHEVs) and EVs, hybrid vehicles require much less material to make the battery (or battery pack). The Sorento Hybrid powertrain is made up of a 1.6-liter turbocharged gasoline direct injection engine with a 1.49-kWh lithium-ion polymer battery pack that powers a 44.2-kW electric motor. Together, the Kia Sorento Hybrid can generate up to 227 horsepower and 258 lb-ft of torque, and all that power is sent through a six-speed automatic transmission and a transmission-mounted electrical device that allows for all-wheel drive.
Yes, the Sorento Hybrid is already outperforming its predecessor in some ways. So much so, that a plug-in hybrid variant was already rumored, but that was before COVID-19 hit. Then again, Kia Motors is pretty optimistic about bouncing back. When we'll see the new generation Kia Sorento or the Kia Sorento Hybrid is uncertain, but it'll definitely get here eventually. The first rounds of the Hybrid models will be going to the European market, like usual. Production for North America at Kia's West Point, Georgia, USA production plant has yet to begin.
In addition to a new powertrain, the new Kia Sorento Hybrid will also come with a larger body to accommodate the battery pack but also provide consumers with ample space for cargo, luggage, or what-have-you. The Kia Sorento has been known as one of the most versatile and spacious three-row SUVs on the road, with over three million Sorento models sold worldwide since it was launched nearly two decades ago (2002). Along with the electrified powertrain, consumers can look forward to great entertainment and technology options. A 10.25-inch touchscreen infotainment system with audio-visual navigation and Bose speakers is a high-probability, and the 2021 Sorento already comes with many advanced safety features. Available on various trim levels, consumers can get a little help on the road with a blind-spot view monitor, surround view monitor, blind-spot collision-avoidance assist, adaptive cruise control with stop and-go-function, and forward collision and avoidance assist.
Keep up with us on Miami Lakes Kia social media to find out when the 2021 Kia Sorento Hybrid is available.
Photo Source/Copyright: kianewscenter.com
Previous Post Kia Releases Smart Device Features for UVO Next Post Kia Unveils new Nightfall Edition for Telluride SUV