Kia EV6 Lands Guinness World Record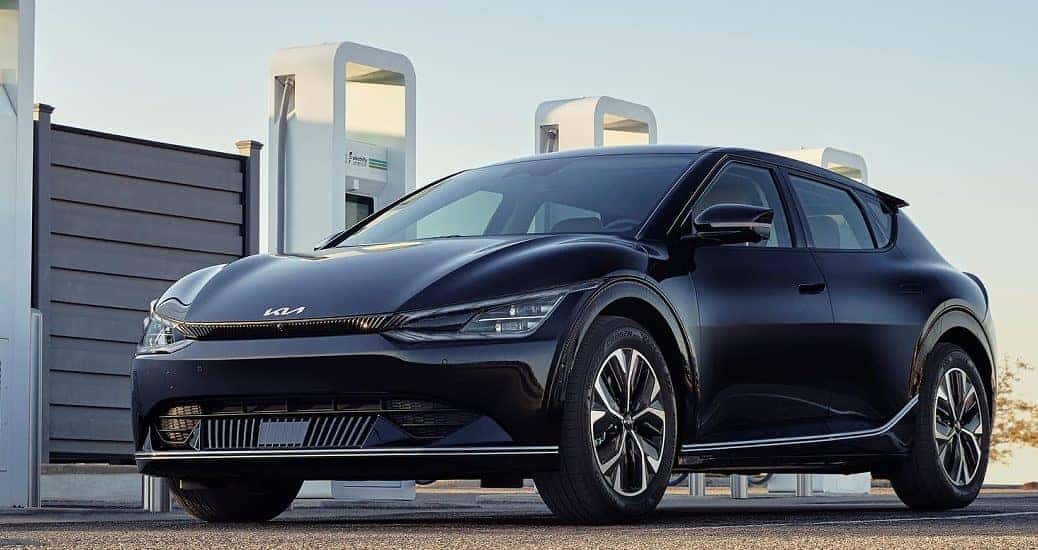 Since the reveal of the EV6 by Kia Corp, the all-electric hatchback has received awards and accolades. This isn't uncommon for Kia models, always taking the industry by storm. Back in 2019, Kia announced that it was going to become the next all-electric automaker. Kia Corp isn't just limiting the brand electric vehicles (EVs) and battery-electric vehicles (BEVs), because sports cars like the Kia Stinger and the Kia K5 are still growing and in demand. Recently, the Kia EV6 entered the book of GUINNESS WORLD RECORDS for the shortest charging time to cross the U.S. in an electric vehicle . We wonder how previous record holder Tesla is feeling right about now.
"The EV6's record-setting run is the latest signal that Kia will be a leader in the popularization of electric vehicles…All of Kia's world-class engineering and experience in electric vehicles will be applied in the move to electrification. The same attention to detail, design, quality, technology and driving dynamics that Kia has become known for will be found in every new electric vehicle we bring to market." – Russell Wager, vice president, marketing, Kia America
This wouldn't be the first Kia vehicle to enter the GUINNESS WORLD RECORDS book. All the way back in 2016 after the Kia Niro was released, this crossover wasn't just the world's first hybrid crossover, but also made history with its own world record. Making a name for itself, the Kia Niro earned the Guinness World Record title for the lowest fuel consumption driving across the U.S. from coast to coast in a hybrid car. The Niro will hold onto this title for now, whereas the EV6 has its own record without needing a drop of fuel.
Drivers took the all-new 2022 EV6 on a journey across the United States, travelling a total of 2,880.5 miles. Distance wasn't the factor, but how long this seven-day trek from New York City to Los Angeles would take, including charging time. The EV6 was only plugged in for 7 hours 10 minutes and 1 second across seven days of driving. This completely shatters the record set by Tesla, with charging times about six hours less in total. Jeez, excluding a good 8-10 hours of sleep, that's almost half a day. Consumers can kill 20-30 minutes with a bite to eat, but waiting any longer would sure be a problem for the average commuter.
Some of this can be attributed to the upgrades in power the EV6 benefits from its all-new E-GMP platform and various powertrains. The EV6 can come with two sizes of power units – a 58.0 kWh and 77.4 kWh battery powering an electric motor. For more power, consumers will want the EV6 GT. It comes standard with the 77.4 kWh battery pack, able to produce 576 horsepower with a 160kW front motor and a 270kW rear motor and all-wheel drive (AWD) standard. Wait, did we say GT? We did!
It may sound insane, but Kia Corp is also focusing on GT vehicles. Kia knows people love sports cars, especially high-performance vehicles. What better way to break the auto industry than with a high-performance electric vehicle (EV)? Sounds too good to be true? The Kia EV6 GT is able to accelerate from 0-60 mph in 3.5 seconds with a top speed of 161 mph. With a time of 1.85 seconds, another EV holds the record for speed, but we're sure Kia is just getting started. The Kia EV6 hits dealership showrooms in early 2022. Contact us at Miami Lakes Automall to find out how to order an EV6 for the holidays.
Photo Source/Copyright: Kia Media
Previous Post Kia Reveals All-New 2023 Kia Sportage Hybrid Next Post Kia EV6 Wins TopGear Crossover of the Year Title