Kia Corp Opens Kia360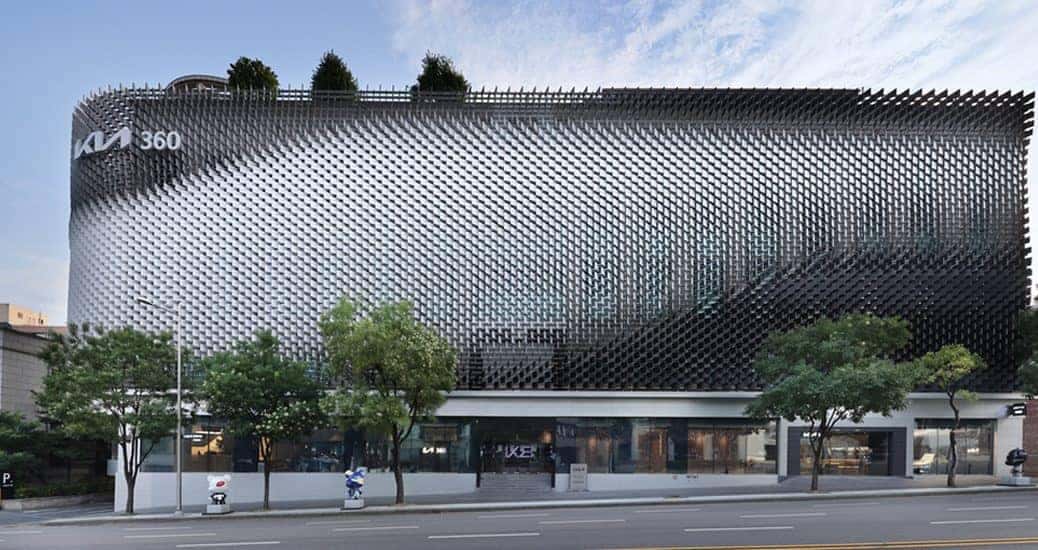 Mobility. A single word that means a lot. The ability to move, transporting oneself from one location to another, not always using one's feet. It can come in the form of machines, like automobiles or flying spaceships. Automakers want to make everyone mobile – after all, more people that can go mobile means more money. Not everyone can afford personal transportation though, and with the ever-growing ride hailing services out there, some automakers are looking for ways to make mobility an option for everyone, like Kia Corp. Kia recently opened a new public space for experiencing future mobility solutions and lifestyles in a more immersive way. The customer-centric brand-experiencing venue is called Kia360.
"Kia360 is a venue illuminating the purpose of Kia's new branding: Creating the space and time that inspire our customers to bring their ideas to real life…We invite visitors to immerse themselves in Kia360's interactive and communicative displays and catch a glimpse of Kia's new direction for providing clean and sustainable mobility solutions, as well as stylish mobility lifestyles." – Artur Martins, Senior Vice President and Head of the Global Brand and Customer Experience Division at Kia
Kia Corp has been in cahoots with many other businesses to create motion-centric projects and services. Possibly the largest, and currently most mysterious, is the MoceanLab created by Kia Motors and Hyundai , prior to Kia splitting Kia Motors in Corp, Kia America, and so on. Last we heard, the MoceanLab was being used to help the community during the initial phase of the COVID-19 pandemic. Kia and the Hyundai Motor Group as a whole also opened up the Ultimate Mobility Vehicles contract, where the automakers shook hands with New Horizons Studio to make – no joke – transforming automobiles. That's not as crazy as another contract with Uber to create a flying aircraft hailing service – or is it?
Then there is KiaMobility . This was pretty cool – Kia started a new mobility service that offered a whole new way of owning and renting vehicles. The service itself isn't anything new – it's currently available in many cities under many names – anyone ever heard of HyreCar? You own a car but can rent it out via the during certain time slots when you're not using it. That's pretty rad for anyone who works from home these days and doesn't have any errands to run. KiaMobility was the same premise, but strictly used Kia vehicles, of course.
On the outside, the architecture of Kia360 was designed to allow for various eye-catching lighting displays at any time of the day, as well as redesigned to the new brand-representative color scheme – Midnight Black and Polar White. A bit monochrome for an automaker that's currently exploding with creativity. Broken down into three zones, Kia360 gives guests the ability to visit various exhibits with digital and immersive experiences to engage with. The three zones are: the Brand & Design Zone, the EV Life Zone and the Kia User Zone.
With each zone connected to the other, the experience is seamless as visitors travel through the diverse exhibits in a sequence. The first, _Brand & Design _ , is all about the new look of Kia Corp – name, icon, and brand strategy. Broken down into three sub-zones, new Kia models are on display in the "New Journey" sub-zone, interactive digital media can be found in the "Inspiring Universe" sub-zone, and new concepts can be viewed at the "Opposites United" sub-zone.
All of the zones follow a similar pattern. The EV Life zone consists of a booth with information on various electric vehicles (EVs) and an EV charger, known as the "EV Charge" sub-zone. There is the "EV Ride", where hoverboard participants can "navigate" on a virtual circuit and an LED screen. Lastly, guests can check out the future of connected mobility and lifestyles in the "Connected House".
The Kia User zone is more user-related, as it says in the name, with customized consultancy for visitors who are currently in the market for a Kia vehicle. Using a digital three-dimensional configurator, the user can configure the options of the vehicle they choose. There is also an "EV Tap & Tip" sub-zone that offers visitors real-life information related to EVs. "AI Space" is probably the most interesting sub-zone, offering a virtual experience of advanced driver assistance systems (ADAS) and Kia artificial-intelligence technology.Now here's the catch. Kia360 is only available in Seoul, South Korea. Wah wah…It's still something to check out if international travel ever makes it to your to-do list. Otherwise, check out new Kia models at Miami Lakes Automall .
Photo Source/Copyright: Kia
Previous Post Kia EV6 Receives Carbon Measured Label from Carbon Trust Next Post MLAM Kia and HMG Launch EnableLA