Kia and Hyundai Invest in IONITY for a Holding Stake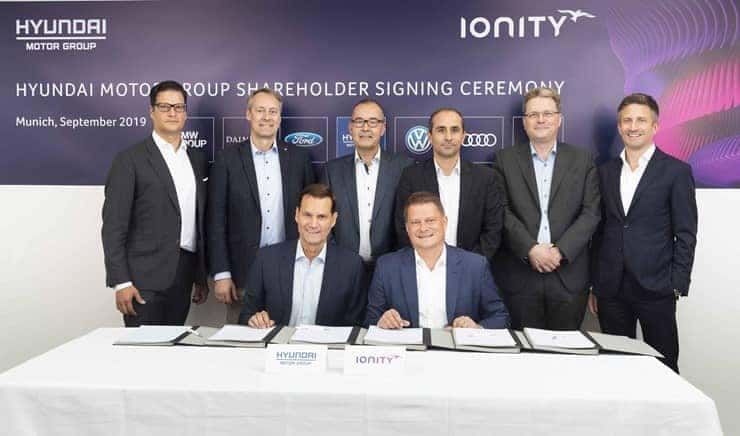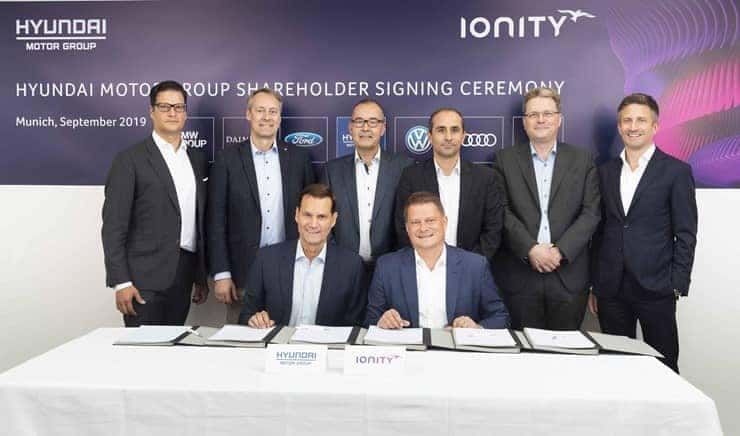 Just like many other automakers that have been making investments with companies that focus strictly on electric vehicle technology and self-driving autonomous car tech, Kia Motors and the Hyundai Motor Group also know a good investment when the opportunity arises, and their latest deals with a leading EV fast charging technology company based in Munich – IONITY. By making a strategic investment, Hyundai Motors and Kia Motors have secured a 20-percent stake in the company. Under the contract agreement, Kia and Hyundai, affiliated automotive companies for Hyundai Motor Group (the Group), will be able to play a key role in further enhancing the availability of EV charging stations as well as adding more benefits for EV consumers.
IONITY is a joint venture established in 2017 between BMW Group, Daimler AG, Ford Motor Company, and Volkswagen Group with Porsche AG. Since its formation, over 100 EV charging stations have installed in Europe, and 50 more are in construction this year (2019). IONITY is most well-known for its technological advancements, namely technology IONITY developed with a charging capacity of up to 350 kilowatts. Using technology already in place, a universal charging standard Combined Charging System, this technology has the widest possible compatibility across EVs.
With plans to expand their network and have 400 fast-charging stations by 2020, IONITY will need plenty of strong-armed partners investing in their objective. The goal is to have an average of at least one site every 120 kilometers (about 70 miles) along major European highways. With the Hyundai Motor Group joining this venture, the automobile group will have a large benefit. Starting in 2021, Kia and Hyundai EVs will be equipped with 800 volt charging systems that are compatible with IONITY's maximum charging power of 350 kilowatts. This will allow consumers to use IONITY's HPC facilities to significantly reduce charging times and improve the quality of long-distance travel with an EV.
"Our participation in this joint venture reaffirms the Group's commitment to future electromobility…I am confident that our work with IONITY will open a new era of high-power charging experiences, where charging will be seamless and easier than refueling for our customers." – Thomas Schemera, Executive Vice President and Head of Product Division at Hyundai Motor Group
Ain't that the truth? In the last decade, Hyundai and Kia together have sold one million HEVs . That's one million consumers that believe in hybrid electric vehicles (HEVs). Now check this out. On a global scale, the best-selling hybrid was the hybrid subcompact crossover by Kia Motors, the Kia Niro. This model has sold 318,917 units up to the first half of this year (2019) since its launch in 2017. It was so successful, a plug-in hybrid crossover followed the hybrid sibling, and next up is the release of the Kia Niro EV, known as the Kia e-Niro overseas.
Not only is Hyundai Motor Group and IONITY aiming to spread EV fast-charging stations, but the two are also making strides towards a low-carbon emissions society. Backing that is the deployment of 44 eco-friendly models by 2025. With the Hyundai Motor Group joining founding partners, BMW Group, Daimler AG, Ford Motor Company, and the Porsche AG of IONITY, the Group should have its work cut out.
Keep up with all the advancements coming from Kia Motors when you follow Miami Lakes Kia on social media . Interested in the best-selling hybrid crossover in the world? Check out the Kia Niro today .
Photo Source/Copyright: Kia Media
Previous Post Kia Motors Connects with Millions of eSports Fans Next Post Kia Motors Produces 3 Million Units in the U.S.