We're Moments Away From Jeep's First All-Electric SUV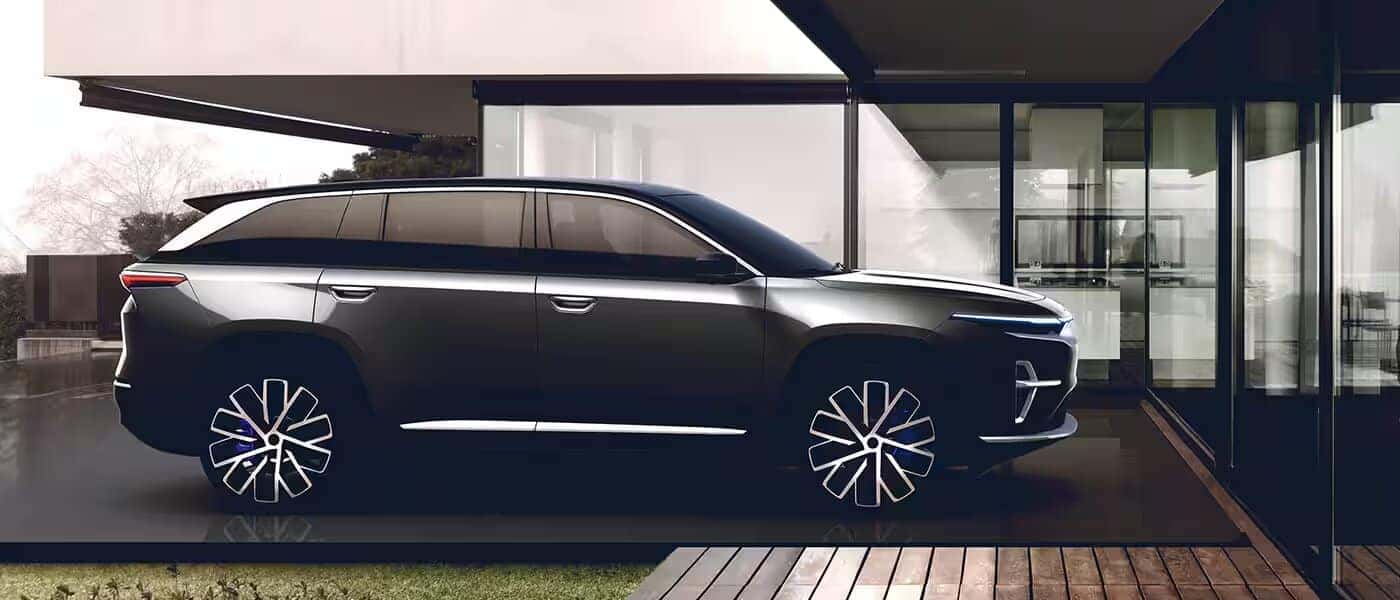 The Jeep Wagoneer S is a luxurious SUV with an impressive and captivating design. It seamlessly merges classic Jeep aesthetics with modern sophistication, resulting in a thrilling driving experience. Yet what's even more exciting, the Jeep SUV has a surprise in store—a new name that will further enhance its unique identity. 
One of the standout features of the Wagoneer S is its sleek and aerodynamic profile—the all-electric SUV detours from traditional Jeep vehicles with a distinctive sloping roofline. The roofline accentuates an elegant handle-like roof spoiler. The impending Wagoneer exudes a refined style that effortlessly balances timeless elements with modern conceptualization. For example, the illuminated seven-slot grille pays homage to the American automaker's rich heritage. At the same time, the front fascia presents a fresh interpretation of the iconic grille with an upright angle and breaks in its design. Stylish LED tracing lighting adds to the vehicle's dynamic and sophisticated look, along with the sleek and swept-back headlights. Overall, the Wagoneer S is a true masterpiece of design that will turn heads on the road.
Jeep's first all-electric luxury SUV is built on STLA's cutting-edge Large architecture, delivering exceptional performance to match its stunning appeal. The SUV offers a total power output of 600 horsepower and exhilarating acceleration, reaching 0 to 60 mph in 3.5 seconds. What's more, its advanced battery-electric drivetrain allows for an impressive range of 400 miles, giving enthusiasts the flexibility to go wherever whenever they want.
Additionally, the Wagoneer S harbors a new 800-watt electrical architecture that enhances fast-charging capabilities, ensuring a convenient and efficient charging experience. True to Jeep's legendary off-road prowess, the Wagoneer S comes with an electrified four-wheel drive (4xe) system as standard, including the renowned Selec-Terrain system that allows drivers to conquer a variety of terrains with confidence.
But wait, there's more! The Jeep Wagoneer S also boasts advanced technology and meticulous craftsmanship, creating a luxurious, connected driving environment. From state-of-the-art infotainment systems to a range of driver-assistance features, this SUV offers a comprehensive suite of modern amenities that will make any enthusiast's driving experience even more enjoyable.
The all-new Wagoneer S is an exciting addition to the American automaker's sub-brand portfolio. The premium D-segment SUV comes to the market to meet the increasing demand for luxurious electric vehicles worldwide. While the Grand Wagoneer/Wagoneer (WS) models are dedicated to specific needs such as the United States, Canada, and the Middle East, the Wagoneer S marks Jeep's first carbonless footprint of a global product. The remarkable electric SUV will premiere at various auto shows and events throughout the year (2023-2024), providing automotive enthusiasts and potential customers with an opportunity to experience it firsthand. Production of the Wagoneer S is set to begin in 2024 in North America, with plans to launch in Europe before expanding to other regions across the globe.
Jeep plans to unveil a new name for the vehicle soon, adding to the automaker's unparalleled identity and further elevating its position in the premium SUV market. The American automaker is booted up and approaching the EV segment swinging some heavy hitters. While we don't know the exact pricing details yet, industry experts estimate a starting price of around $75,000 in the United States. However, those who desire the top-of-the-line version expect to pay over $100,000.
Come Test Drive your 2023 Jeep Wrangler 4XE 
There's a 2022 Jeep Wrangler 4XE custom-made for your adventure here at Miami Lakes Automall. Here at Miami Lakes Automall, we have all buying, trading, and leasing options to meet your purchasing needs. Our new vehicle inventory or certified pre-owned vehicles speaks to the volume Miami Lakes Automall holds to fit your desires. However, if you already have a beautiful baby needing some fine-tuning, you've come to the right place, and our service department is unmatched. Our service experts at Miami Lakes Automall are warmer than a fresh cup of coffee. Miami Lakes Automall has been here since 1982. So please stop by today to drive the car of your dreams. 
Photo Source/Copyright: Jeep