Stellantis Unveiled Jeep EV's Future Platform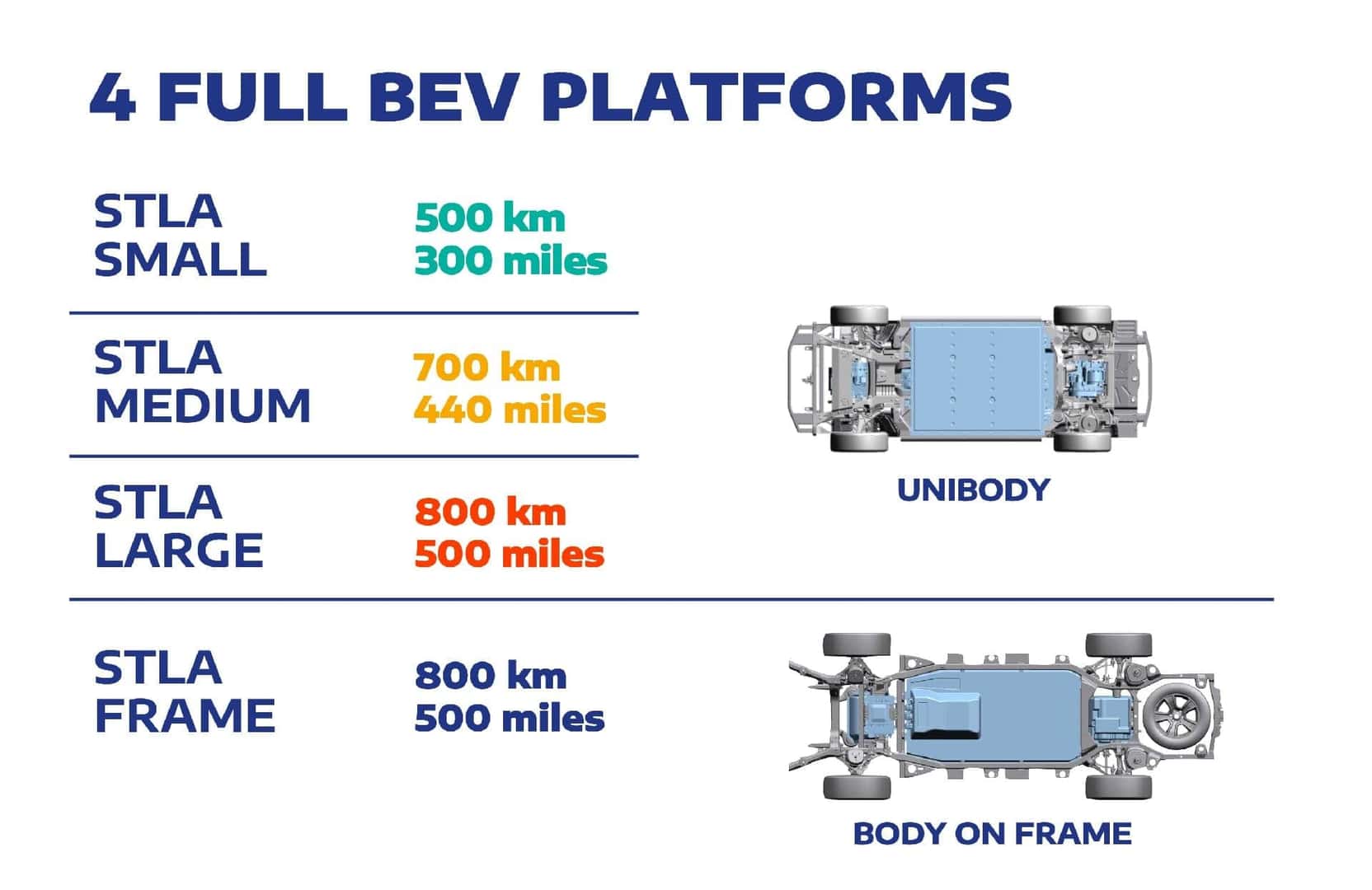 Stellantis recently revealed its new battery-electric vehicle platform, which its plans to use for future Chrysler and Jeep electric vehicles. The STLA Medium platform is one of four that the automotive manufacturer plans to produce for all-electric cars. The platform can manage over 435 miles of range using a 400-volt electric vehicle architecture. Stellantis mentioned that the new platform would bring various body styles, including cars, crossovers, and SUVs, to life. 
"Owners will be able to take their battery from 20% to 80% charge in 27 minutes, a rate of 2.4 kWh per minute."

-Stellantis
Sebastien Jacquet, the Stellantis cross-carline and project engineering senior vice president, spoke on the platform during a press conference and stated it will be "outstanding in off-roading." 
The medium platform will debut first in Europe later this year (2023). It's going to power the next-generation Peugeot 3008, which is a compact SUV. The Stellantis CEO, Carlos Tavares, mentioned that the electric chassis would function in multiple regional brands, including Lancia, Opel, and DS. 
The electric battery holder will exist in France, Italy, Germany, and some undisclosed locations in North America. However, other global areas will come to life in the future.
"This is important for us because now we are going to compete on the performance, of course, on the pricing and, of course, on all the attributes that relate to quality, manufacturing and innovation. So we are now entering a highly competitive product, and we are going to make sure we can fight against any competitor that you could imagine," 

-Carlos Taveres, Stellantis CEO 
Vehicle segments C and D are highly competitive, not just from Tesla but also from Chinese automakers. According to recent data, China has surpassed Japan as the world's top global auto exporter, which means that the platform used for these segments needs to be robust and innovative to stand out in the market.
There were 35 million vehicle sales in the C and D segment, almost half the total 78.5 million vehicles sold worldwide that year. Stellantis brands currently offer 26 different vehicle nameplates in said segments, all built on various platforms. The multinational manufacturer projected that up to 2 million vehicles may be produced annually using this platform, an impressive feat. We have high hopes for Jeep's electric future. 
Come to Test Drive your 2023 Jeep Wrangler 4XE 
There's a 2022 Jeep Wrangler 4XE custom-made for your adventure here at Miami Lakes Automall. Here at Miami Lakes Automall, we have all buying, trading, and leasing options to meet your purchasing needs. Our new vehicle inventory or certified pre-owned vehicles speaks to the volume Miami Lakes Automall holds to fit your desires. However, if you already have a beautiful baby needing some fine-tuning, you've come to the right place, and our service department is unmatched. Our service experts at Miami Lakes Automall are warmer than a fresh cup of coffee. Miami Lakes Automall has been here since 1982. So please stop by today to drive the car of your dreams. 
Photo Source/Copyright: Jeep