The Only 1969 Dodge Charger F8 Green Ever Built Sold For $1.3 Million – Miami Lakes Automall Dodge The Only 1969 Dodge Charger F8 Green Ever Built Sold For $1.3 Million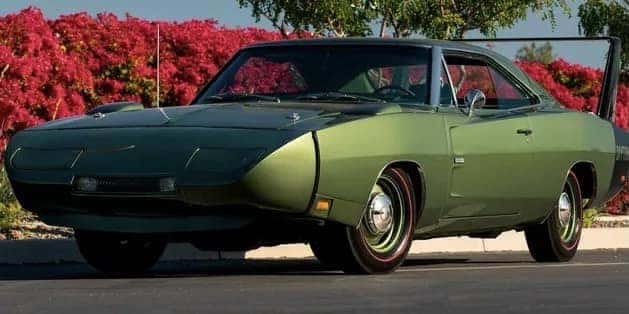 This past week news broke about a $1.3 million sale of the famed 1969 Dodge Charger sold to a private individual. Few brands can create a vehicle that keeps customers purchasing the same vehicle over and over again; unless that vehicle is an aberration. One such vehicle is the 1969 Dodge Charger Daytona F8 Green and that vehicle just sold for a whopping $1.3 million. This was the most distinguished one of its kind to have a solid army green interior and exterior and bested the previous highest sale of any Dodge muscle car by $90,000 according to Mecum Auctions. Even now, over fifty years later, we have seen the memorable muscle car remain a hot item that is highly sought after. The framework of legendary building vehicles started years ago and persists to function as the Dodge legacy that shoppers welcome. After all, Dodge has won awards thanks to its stunning initial quality and owners treasuring their experience with their vehicle, especially early on and as we've seen this continues for decades onward. If buyers today love the engines and technology of been then, envision what drivers will pay for the current generation of vehicles before EVs take over the landscape of muscle and sporting cars and this will include the Dodge brand as we know all too well about.
Reshaping the Dodge Brand In 2022
The Dodge name has worked its way into the hearts of many. The truth remains, customers are totally happy with the Dodge Charger muscle car. There's plenty of evidence to showcase this including the vehicles and their ability to perform. As far as a brand identity, Dodge has theirs. Regarding how this matters in the industry, Dodge brand CEO Tim Kuniskis recently spoke to Automotive News.
"There's over 40 brands in the mainstream market. There's over 300 nameplates. There's massive overlap. So if you don't have an identity … you're just going to keep recycling the same people that are within the brand and like the brand, and you're never, ever, ever going to grow, and you're never going to be able to change the positioning of the brand," – Dodge CEO Tim Kuniskis
Strike It Big With Dodge Muscle
Today, we deliver the Dodge Charger with an abundance of trims including the SRT (Street Racing Technology) collection; like the outstanding SRT Hellcat Redeye. The new Dodge muscle representation has worked its way into the hearts of so many. The truth remains, that customers are totally happy with the Dodge Charger muscle car. We're looking forward to helping our customers experience the joy of driving away in a new Dodge vehicle. Avoid the hassle of dealing with a vehicle that doesn't provide the exhilaration and fun that is delivered with a Dodge muscle car.
Curious to see what the next generation of Dodge muscle cars will look like? So are we! Who doesn't love the aggressive styling and high-performance nature of the Dodge brand? Check out the new inventory of Dodge vehicles available and ready to go at Miami Lakes Automall .
Drive Dodge Vehicles With Our Help Today
Looking for a new Dodge Challenger or new Dodge Charger ? We have them as well as a large variety of high-quality pre-owned vehicles . If you're curious about our pricing options to take home what you desire, check in with our friendly financing team. More than ever, we are here to help. If you want to sell or trade-in your current vehicle, we're here to assist with those needs as well for our customers and can process all transactions online during this unprecedented time. We're ready to begin the process when you are!
Not feeling any excitement with your current ride? We can fully support you, even if you didn't buy with us, with an online service appointment to see our knowledgeable service team. Miami Lakes Automall is located at 16600 NW 57th Ave in Miami Lakes, Florida.
Previous Post How Dodge Is Reshaping the Hornet Next Post Dodge Adds Chief Donut Maker: No Stranger To Making Noise