Dodge Adds Chief Donut Maker: No Stranger To Making Noise – Miami Lakes Automall Dodge Dodge Adds Chief Donut Maker: No Stranger To Making Noise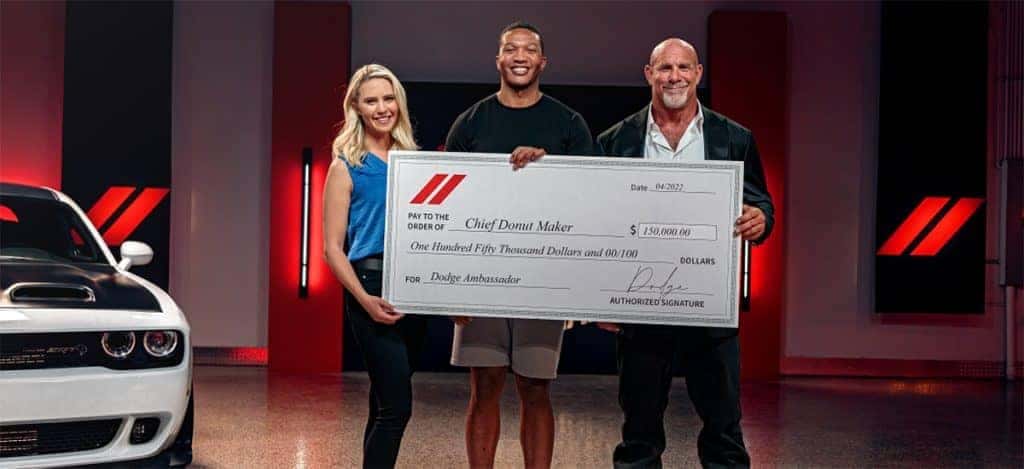 Dodge has sought out the right fit for their * Chief Donut Maker * and they have finally secured the right person the role. Check out the fun they had in the last video posted that highlights the $150,000 dream job. The winner, from Charlotte, North Carolina was Preston P. He will receive a new 2022 Dodge Challenger SRT Hellcat for a one with an important role to encourage others to join the Brotherhood of Muscle! The first-ever CDM will be making burnouts and donuts happen on the regular while * showcasing the best of what new Dodge muscle cars * can do! Found on Instagram @ChiefDonutMkaerOfficial for more info on the endeavors Preston will be navigating in his flashy new Dodge SRT muscle car.
All Part of A Larger Dodge Effort
Dodge has put together a wild surprise with its marketing effort known as Operation 25//8. The promotion included a group of 25 ambassadors across many various platforms from automotive, to entertainment, music, and fashion, and even the world of sports in an effort to each give away a new Dodge SRT vehicle. This role was listed as an influencer-type with an extensive Instagram knowledge. "Chief Donut Maker", a job that will require Preston P. to make wicked donuts at select Dodge events.
Building Up Dodge SRT
The Dodge brand is going to give rise to more support from customers opting for their brand. Dodge is looking out for buyers that are excited to be joining the muscle car segment. Offering more entertainment to go with its already top-flight engineering and horsepower provided for its SRT (Street Racing Technology) muscle vehicles is just one of the ways they hope to grow their fanbase. The purpose for this CDM role is to help grow the love for muscle cars everywhere. This all took place over the final few months of 2021 and into 2022 and now they have secured a way to encourage more fans to shop Dodge. Check out the * final video posted from the Dodge Garage * and check with us about how to secure a new Dodge vehicle with our support at Miami Lakes Automall!
Hurry To Drive New Dodge Muscle Cars With Us!
Come on over to see the collection of new Dodge vehicles with our friendly and helpful staff waiting at Miami Lakes Automall. We want to help our customers get ready to drive off in brand new Dodge Charger and Dodge Challenger muscle cars. Get started where our professional team is here to make your muscle car dream a reality. Our sales staff is ready to help with any leasing, buying, or trade-in options.
Are you experiencing some vehicle issues with your current ride? Not sure how to handle the repairs? If your vehicle isn't running properly, let us help keep it going. We're here to help with a simple online reservation and a trip to our service center. We're open every day to assist our customers to find everything they need. We hope to help you today at Miami Lakes Automall !
Previous Post The Only 1969 Dodge Charger F8 Green Ever Built Sold For $1.3 Million Next Post Ensure A Fantastic Summer Road Trip With These Tips