The 2021 Dodge Durango Is Far Superior to the 2021 Explorer – Miami Lakes Automall Dodge The 2021 Dodge Durango Is Far Superior to the 2021 Explorer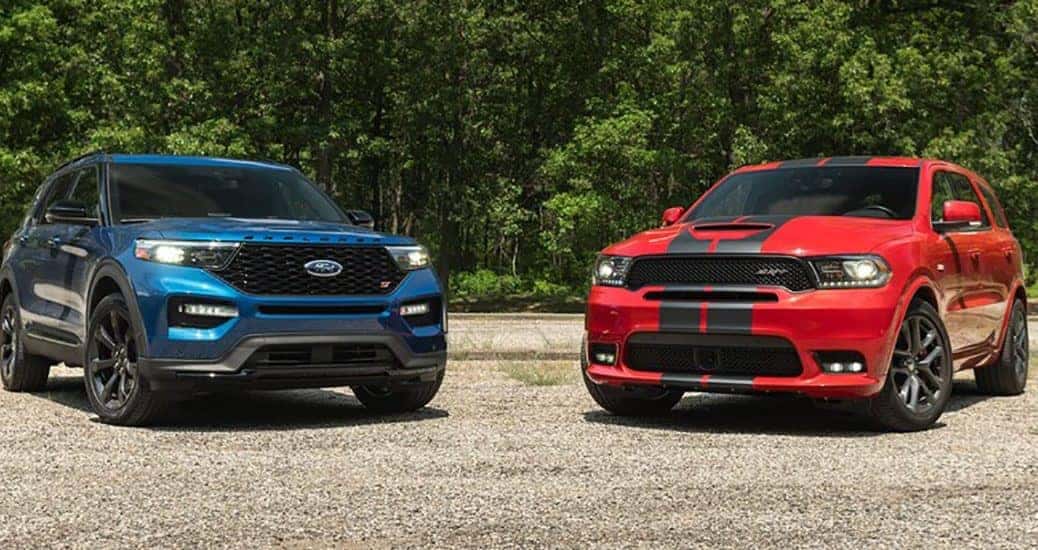 Photo credit: MotorTrend
The new 2021 Dodge Durango has proven to be far superior than its closest competitor, the Ford Explorer ST. Customers sometimes need a reminder about how much better one brand can be over another. While Ford has enjoyed great success across its landscape of vehicles, we can see how much greater the Durango SRT was made. As an overview, when compared the 2021 Dodge Durango is not only faster, offers more horsepower and torque, but can also brake earlier than the Ford. The infotainment system setups are comparable and yet the Durango can also cost less. In the battle of the three-row SUVs, we can identify a clear winner.
Speed Is Key
The speed of 0 to 60 MPG is just 3.5 seconds with a top speed of 180 mph, whereas the Ford Explorer ST takes 5.6 seconds to hit 60 mph. If an owner opts for the V6 engine of the Durango, the Dodge product is 3 seconds faster in a quarter-mile than the Explorer ST. As we mentioned earlier, the 60-to-0 mph brake time is 110 feet for the Dodge SUV versus the 114 Ford Explorer ST. The Dodge Durango carries the available Brembo monoblock calipers that help brake the vehicle quickly and efficiently.
Pricing Comparisons Between the SUV
The Ford Explorer ST when topped out can cost as much as $65,000, while the 2021 Dodge Durango begins at $31,765 MSRP (Plus destination fee). The high-end 2021 Durango SRT Hellcat costs $82,490 MSRP (Plus destination fee). The superior choice between both vehicles, the SRT Hellcat has a nice supercharged 6.2-Liter HEMI® Hellcat V8 engine with its unrivaled 710 horsepower and 645 lb-ft. of torque. This will be for a lone year of production, so buyers will only have this once chance to secure their own. By comparison, the best engine offered with the Ford Explorer ST is the 3.0-Liter EcoBoost V6 engine that only provides just over half what the Durango SRT Hellcat provides. The ST engine hits 400 horsepower with 415 lb-ft of torque; not quite as impressive.
The Interior Differences
The 2021 Dodge Durango has a new look and interior. The luxurious leather and high-grade materials found in the Durango look sharp and are crafted better than the Ford SUV. The style of the Durango is taken from the new Charger Widebody. As far as the infotainment offered, the available 10.1-inch touchscreen is a wonderful centerpiece for owners and passengers alike to enjoy. Both vehicles carry this large 10.1-inch touchscreen, however for the Durango it is available on the GT, GT Plus, R/T, and Citadel trims. The Ford Explorer only offers the touchscreen for the two highest trims.
As far as interior cabin spacing goes, the 2021 Dodge Durango has a cabin that provides space for as many as 30 suitcases of space according to those who tested the spacing at MotorTrend. The Explorer only held as many as 25 suitcases inside. Now that we've painted a clear picture of these two vehicles, we know which vehicle our customers can hope to drive when they debut later in 2020. The 2021 Durango is set to be ready for shoppers starting next month in October. Can't wait to drive one?
Drive New Dodge Vehicles With Our Help Today
Are you curious about getting a new car? We're more than excited to help our customers, we're thrilled. Looking for the new 2020 Dodge Durango or any of the latest Dodge muscle cars ? Don't be afraid to browse through our newest vehicle inventory or our quality pre-owned vehicles . We can help sell your current vehicle or bring it back to life like new with an online service appointment to our service center. Allow our professional techs to get started on all repairs or maintenance work.
We're here to help with any financing needs with our auto financing team . For all needs, or suggestions to help make paying for a vehicle easier, we are here. Miami Lakes Automall is located at 16600 NW 57th Ave in Miami Lakes, Florida. We're open seven days a week across our sales, service, and parts departments to help out with any of your automotive desires!
Previous Post Dodge Challenger Wins 2020 Model Year Award From AutoPacifica Next Post A Look Back At the Recent History of the Dodge Challenger