Dodge Challenger Wins 2020 Model Year Award From AutoPacifica – Miami Lakes Automall Dodge Dodge Challenger Wins 2020 Model Year Award From AutoPacifica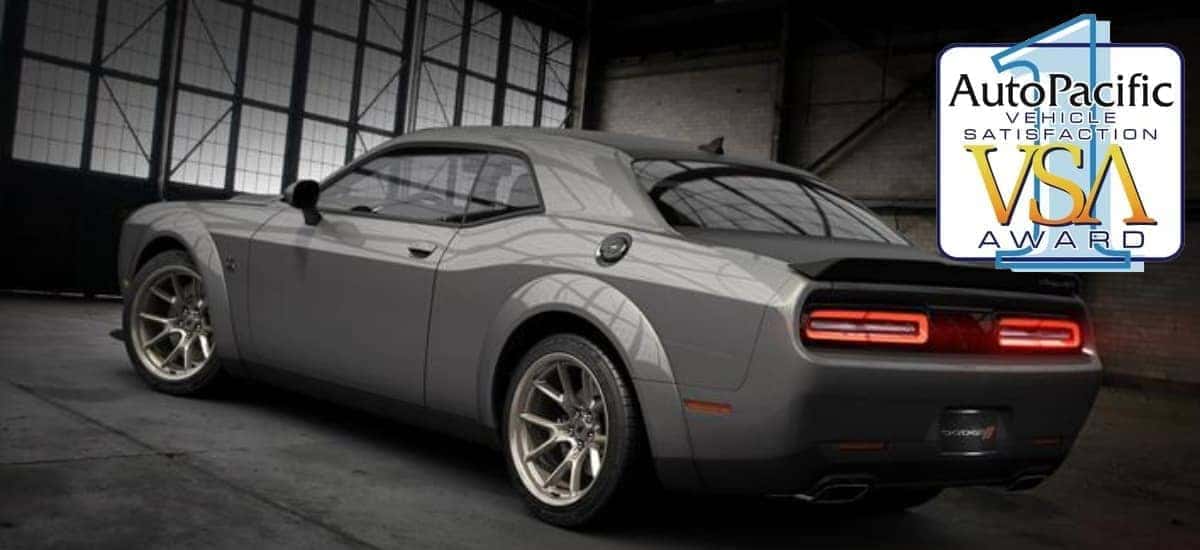 Photo Credit: Dodge
AutoPacifica is a company that informs consumers and automotive manufacturers alike what new owners think of their experience. This month, AutoPacifica tallied all the responses and has given its annual awards to automotive brands. How satisfied were new vehicle owners of the 2020 Dodge Challenger? From the wide variety of syndicated studies (over 73,000 reported responses from drivers) came word that the famed Dodge muscle car is a hit and owners love driving it. This award is just the first of many to come for the latest Challenger. Taking home the prize of Sports/Sporty Car for the fourth year in a row shows how valued the Dodge product has become for not only the brand for its Dodge fanbase that loves what the Challenger offers.
Examining the AutoPacifica Award
The annual New Vehicle Satisfaction survey includes the data that is turned into awards known as VSAs. Across the wide range of vehicles, categories include new car, light truck owners, a variety of luxury car segments, and more are covered. Among the winners for the 2020 model year include winners from 17 brands, but only one fit the mold for the Sports Car selection. What makes this distinction important is how the process unfolds. Car shoppers can feel
"AutoPacific VSAs give consumers true, unbiased insight into which vehicles are providing their owners with the most satisfying experience," says AutoPacific president George Peterson.
The 2020 Dodge Challenger scored high marks in 17 of 27 satisfaction categories. The highlights include its fun-to-drive character, power, braking, acceleration, exterior design, and passenger roominess. The Dodge Challenger SRT Super Stock came out for the 2020 model year and offered an incredible array of strength from its 807 horsepower engine. The high-level engineering helped shoppers fall in love with the performance and handling provided. The upcoming 2021 model year will be no different as Dodge will include the naturally aspirated 6.4-Liter "392" HEMI engine into the Widebody Challenger R/T Scat Pack Shaker and T/A 392.
More on the Upcoming 2021 Dodge Challenger R/T Scat Pack Shaker
The R/T Scat Pack Shaker, one of the most popular choices, will gain the remarkable cold-air grabbing Shaker, which helps blast cooler air into the powertrain is a major highlight. The V8 engine stays providing exhilarating performance with a faster cool down after moving at high speeds. The 2021 Challenger T/A 392 Widebody will also come with a painted Satin Black hood, Satin black wrap roof, and deck lid. The deck lid will have graphics that are paired to the T/A body-side stripes with Air Catcher headlamps with LED-illuminated T/A logos. Some of these traits were first introduced with the famed 2018 Dodge Challenger SRT Demon. Want to know more about what else is coming for the 2021 Dodge Challenger ? The Dodge brand is proud to continue earning new awards, but it's even better for us when we hear that customers love the vehicles we sell, like the 2020 Dodge Challenger .
Shop With Us Online or In-Person Today!
We're more than excited to help our customers, we're thrilled. Looking for a new option to buy or lease? Get ready to make heads turn with our strong muscle line-up of new Dodge Charger and Dodge Challenger models. Take a look at our new vehicle inventory or our quality pre-owned vehicles .
We can help sell your current vehicle or bring it back to life like new with an online service appointment to our service center. Allow our professional techs to get started on all repairs or maintenance work. We're here to help with any financial help, needs, or suggestions to help make paying for a vehicle easier. Stop by today and see what we can do for you right now. We hope to see and assist you soon at Miami Lakes Automall !
Previous Post 2021 Challenger Drag Pak To Offer Drivers 1,200 Horsepower Next Post The 2021 Dodge Durango Is Far Superior to the 2021 Explorer