2021 Challenger Drag Pak To Offer Drivers 1,200 Horsepower – Miami Lakes Automall Dodge 2021 Challenger Drag Pak To Offer Drivers 1,200 Horsepower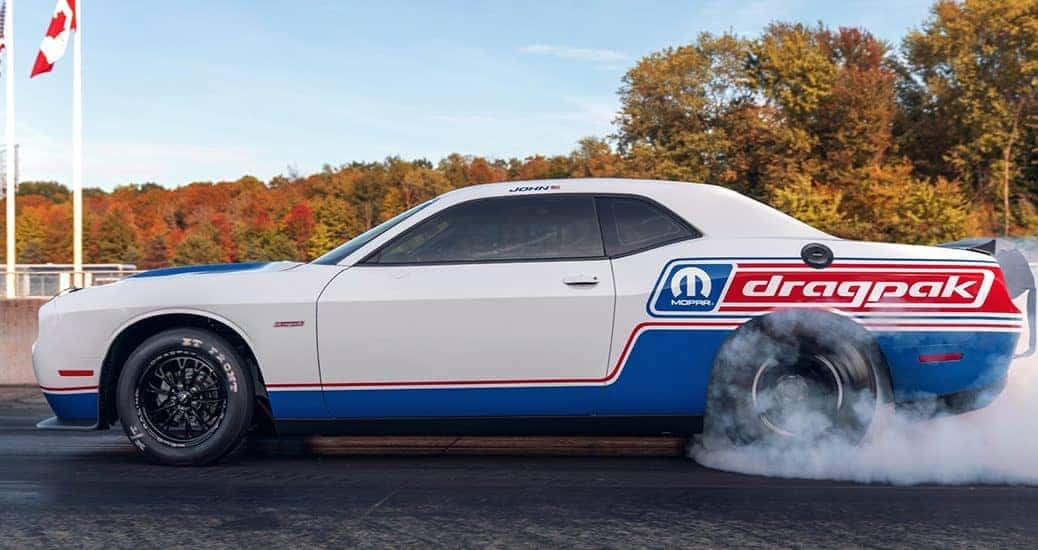 Photo credit: Dodge
The Dodge brand has found a way to push the limits of the world's fastest production muscle car. Formerly that illustrious title belonged to the 2020 Dodge Challenger SRT Super Stock, but today the newest Challenger will gain that recognition. Dodge has announced the 2021 Dodge Challenger Drag Pak is ready for customers to reach out to purchase this all-new trim. However, there is one thing to keep in mind, there is an extremely limited amount of these Challenger Drag Pak muscle cars being made.
The Exclusive Dodge Challenger Drag Pak
Buyers contemplating whether or not to try and own this absolute speed monster will not have a large amount of time to decide. The Dodge brand is set to produce just 50 of these new Drag Pak Challengers and orders began this week. The good news for those lucky enough to afford and purchase one is how much horsepower and strength that will be offered for this unique Dodge vehicle. We last saw the Challenger Drag Pak back in 2015 and it has been improved to surpass any Challenger that came before. A new special supercharged 5.8-Liter engine was added and it was chiefly created and manufactured for racing. The exact specs of this Dodge muscle car are anticipated to give owners a lot to love.
What Can Drivers Expect With the 2021 Drag Pak?
While we have questions about all the perks that have been added to this year's Drag Pak, we know some things that are expected to be included. The correct figures of the powertrain have not been revealed just yet, but the previous Drag Pak made granted 1,200 horsepower and we can expect this one to offer the same or even more. The Drag Pak increases drag racing equipment that provides a driver to possess complete control of the Challenger with a manually-shiftable three-speed automatic transmission and solid rear axle. Like any vehicle that makes runs on a drag strip, the Drag Pak carries including a roll cage, wheelie bar, and even a parachute.
Inside the Challenger Drag Pak
The 2021 Dodge Challenger Drag Pak will include race tires that were produced for implementing lighting quick times. The new Drag Pak will surpass any and all previously made Dodge Challenger on the strip without much of a contest. For those who are looking to acquire this new piece of muscle car history, the exclusive path towards owning one comes from calling 800-998-1110. The number went live for calls on September 9th, 2020 with a likely short term opening for customers to gain this piece of Dodge muscle car history. Our bet is on the Drag Pak selling out well before October 2020. After all, just look at how impressive the Dodge brand has grown its sales this year alone.
More Dodge Challenger Options?
Since Dodge will only produce 50 of these 2021 Dodge Challenger Drag Pak, we know very few customers will be able to obtain this muscle car. Dodge has listed a steep price point, but they have good reasoning. With all the amenities and wicked-fast speed granted, it's no surprise by Dodge has the opening price set at $143,485 MSRP (Plus destination fee). Keep in mind, there is no way the Drag Pak will be turned into a production vehicle. Dodge is not going to create this vehicle again after the order is placed for the original fifty. This is similar to the limited production run of the beloved 2018 Dodge Challenger SRT Demon .
We're confident customers will be swept up by the joy provided with the 2021 Dodge Challenger Drag Pak, but understanding how rare this vehicle is, we know many readers might be too late to buy one. And although the 2021 Dodge Challenger is coming out soon, we can extend our customers the courtesy of the 2020 Challenger lineup . The 2020 Dodge Challenger is fierce and waiting to be driven, come find them today at Miami Lakes Automall.
Drive New Dodge Vehicles With Our Help Today
Are you curious about getting a new car? Browse through our collection of new Dodge muscle cars . Our newest vehicle inventory and our quality pre-owned vehicles are second to none. We can help sell your current vehicle or bring it back to life like new with an online service appointment to our service center. Allow our professional techs to get started on all repairs or maintenance work.
We're ready to help with any financing needs with our auto financing team . For all needs, or suggestions to help make paying for a vehicle easier, we are here. Miami Lakes Automall is located at 16600 NW 57th Ave in Miami Lakes, Florida. We're open seven days a week across our sales, service, and parts departments to help out with any of your automotive desires!
Previous Post Dodge Has Improved Its Fastest Charger Ever Next Post Dodge Challenger Wins 2020 Model Year Award From AutoPacifica