The Chevrolet Camaro Is Surging In Popularity Again – Miami Lakes Automall Chevrolet The Chevrolet Camaro Is Surging In Popularity Again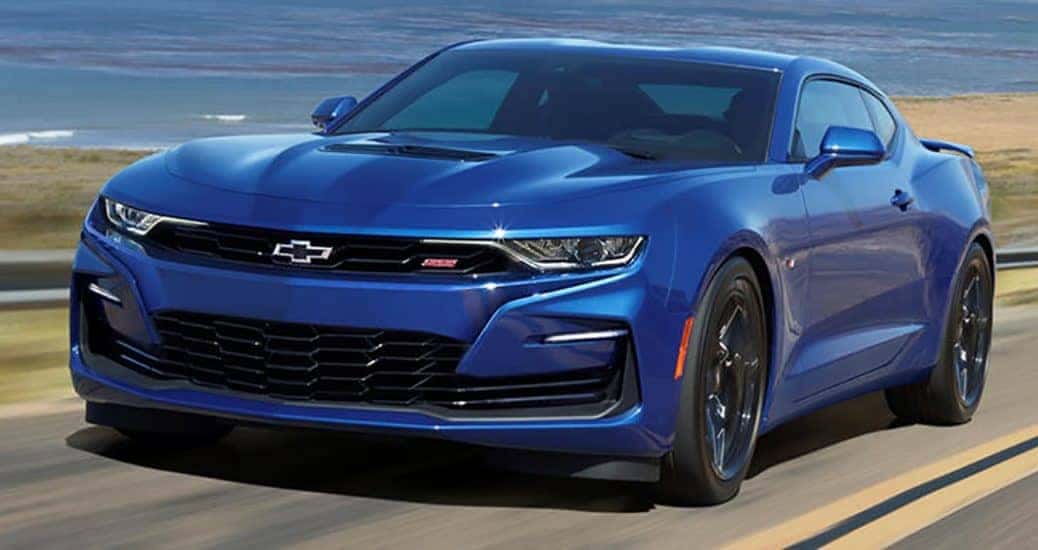 Photo credit: Chevrolet
Chevrolet is rolling out some new Camaro muscle cars that are going to take over the scene. After over 54 years of producing the popular Camaro, we have learned some news about the next version of Chevrolet's American muscle car. General Motors has continued its rivalry with the Ford Mustang that goes on to this day. The first Camaro that debuted in 1966 sold 285,748 vehicles and the love for customers enjoying a ride in a muscle car continues despite the growth of crossovers and SUVs. Chevrolet has added two new body colors for the 2021 model year with the Wild Cherry tint coat and the Red Hot color, a part of the Garnet Red option. These are appearance packages that carry a deep red hue and will cost an additional $495 for owners.
More On the New Camaro Appearance Package
The specific color code is GSK and the touch-up paint code is WA-252F. These colors will join Jet Black, Medium Ash Gray, Kalahari, Adrenaline Red, Ceramic White, and Jet Black w/ Red Accents. There are certain color options that will not pair together as the Wild Cherry color can not be paired with blue convertible tops. The 2021 model year is being produced at the General Motors Lansing Grand River plant. The assembling and shipping for the Camaro have begun after the COVID-19 outbreak slowed production down. But Chevrolet has started to move out its products including the 2020 Corvette along with the Camaro. In fact, sales have increased for the Camaro recently.
The Chevrolet Camaro Is Only Going Up!
Not long ago the Chevrolet brand added a new Z/28 to the Camaro trim list. The latest redesign for the Camaro is expected to come within the next couple of years. The goal of GM and its companies like Chevy is to focus on EVs and new electric vehicle batteries. GM is trying to work on lowering the price for the Camaro to generate more sales for the final quarter. The "Caliente" wheels that come in a two-tone grey-and-silver finish are 20 inches in diameter are going to be $295 less. Keep in mind that the Chevrolet Camaro has seen an increase in sales just last month. The Camaro rose 8 percent in September 2020 and we expect the Camaro to grow in sales over the holidays. Want to find out why a Camaro is the right fit for any driver's speed racing fix? Allow us to help make it possible at Miami Lakes Automall .
Share Your Excitement With Everyone
The feeling of driving a new vehicle is close by for many of our readers. We're here to help our customers and thrilled to offer so many options. Looking for a new vehicle to buy or lease? Take a look at our new vehicle inventory or our quality pre-owned vehicles . Want to experience the joy of the 2020 Chevrolet Camaro ? Allow us to make that happen. We can help sell your current vehicle or bring it back to life like new with an online service appointment at our service center. Allow our professional techs to get started on all repairs or maintenance work.
We're here to help with any financial help, needs, or suggestions to help make paying for a vehicle easier. Stop by today and see what we can do for you today at Miami Lakes Automall !
Previous Post The 2022 Chevy Bolt Might Be The More Sleek and Sexier Younger Sister Next Post Chevrolet Will Present The Electric Chevy K5 Blazer Concept At SEMA360