Chevrolet Will Present The Electric Chevy K5 Blazer Concept At SEMA360 – Miami Lakes Automall Chevrolet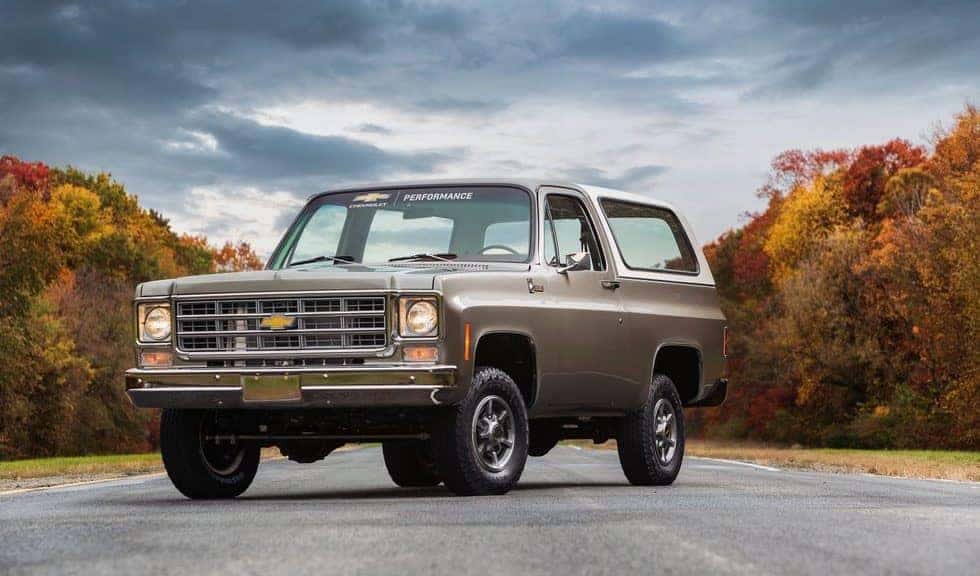 SEMA360 is an event that centers on manufacturer/attendee/media relationships, new product introductions, project vehicle debuts, industry-leading education, and unparalleled networking opportunities. For this year's function, the Chevrolet company will present a 1977 version of their K5 Blazer converted into a fully-electric concept.
During the virtual showcase, Chevrolet Performance, an automotive performance parts brand, will sound out SEMA members receptive to building their own electric projects to aid in concluding Chevrolet's original eCrate offering.
"As GM introduces a new fleet of electric vehicles, it creates an exciting opportunity to bring EV technology to the aftermarket," said Jim Campbell, GM U.S. vice president of Performance and Motorsports. "Our vision is to offer a comprehensive line of Connect and Cruise systems from Chevrolet Performance – delivering a solution for every customer ranging from LSX V-8s to eCrate conversions."
Constructing The K5 Blazer-E
The American automaker first introduced the eCrate conversion concept with the Chevrolet eCOPO Camaro in 2018, with the 2019 Chevrolet E-10 following soon afterward. Based on the findings from those vehicles, they informed Chevrolet's Electric Connect and Cruise strategy.
The revamped K5 Blazer-E maintains a lot of elements from the original Blazer, and just about 90 percent of the new parts fixed in the eCrate package are factory materials from the brand's Bolt EV car.
The transformation of the 1977 K5 SUV started with the team removing the original 175-horsepower V-8 engine, as well as the three-speed automatic transmission, fuel system, and exhaust. Next, the crew built a special Bolt EV electric motor, bringing up the horsepower to 200 with 266 lb-ft of torque, also tacking on a Chevrolet Performance electronically controlled four-speed automatic transmission. The rest of the Blazer's drivetrain remains unchanged, inclusive of the transfer case, driveshaft, and axles.
Power comes strictly from a 400-volt Bolt EV battery pack with 60 kilowatt-hours of workable energy fixed in the cargo area. Making use of production controllers and wiring harnesses conserves a lot of features of the Bolt, counting shock protection, battery heating and cooling, battery-overcharge protection as well as regenerative braking.
The components of the aftermarket encompass an electric power steering kit, an electric pump supplying vacuum to the stock brake system, and an electronic controller to drive inputs to the 1977 Blazer gauges like showing the battery's state of charge on the originating fuel gauge.
eCrate Installer Certification Program
With the intention of making preparations for eCrate's inauguration, Chevrolet Performance is certifying Electric Connect and Cruise installers. Chevrolet dealers that are partaking in the event will get the training, tools and equipment that is necessary to utilize the high-voltage systems and charging stations to be of service to vehicles of Chevrolet buyers.
In Brighton, Michigan, Lingenfelter Performance Engineering will be the first company to direct the training and certification program. This venture will help to clue in the certification process for upcoming installers.
It is expected that the 60-kWh Electric Connect and Cruise package will be readily available in the second half of next year, and will include:
60-kWh battery pack
200-horsepower electric motor
DC-to-AC power inverter to drive the electric motor
DC-to-DC power converter to power low-voltage systems
Wiring harnesses, controllers and water pumps for battery heating and cooling
Additionally, Chevrolet Performance will determine extra eCrate packages with options that have a higher performance as well as new battery configurations to suit a broader range of aftermarket applications. Long term, the crew will attempt to merge General Motors' modular Ultium battery system technologies.
"Minutes after Chevrolet showed the E-10 concept, customers started calling to ask how soon they could build their EV project," said Russ O'Blenes, Chevrolet director of engineering, Performance and Racing. "The K5 Blazer-E demonstrates what is possible for customers who want to convert their vintage truck to a daily driver with the instant torque and unique driving experience of an EV. For customers who want more extreme performance, the modular eCrate system will have virtually limitless applications."
Miami Lakes Automall
If you're looking for something that is a bit more current in style than the K5 Concept, Miami Lakes Automall currently has an extensive range of 2019 Chevrolet Blazer 's as well as the 2021 Chevrolet Tahoe (the replacement of the original K5 Blazer in 1995). Those who are interested in any of our Chevrolet models can simply view our online new car inventory and chat with a representative for further assistance.
Photo Source/Copyright: Chevrolet
Previous Post The Chevrolet Camaro Is Surging In Popularity Again Next Post 2021 Chevrolet Silverado Gains New Realtree Special Edition