2021 Chevrolet Silverado Gains New Realtree Special Edition – Miami Lakes Automall Chevrolet 2021 Chevrolet Silverado Gains New Realtree Special Edition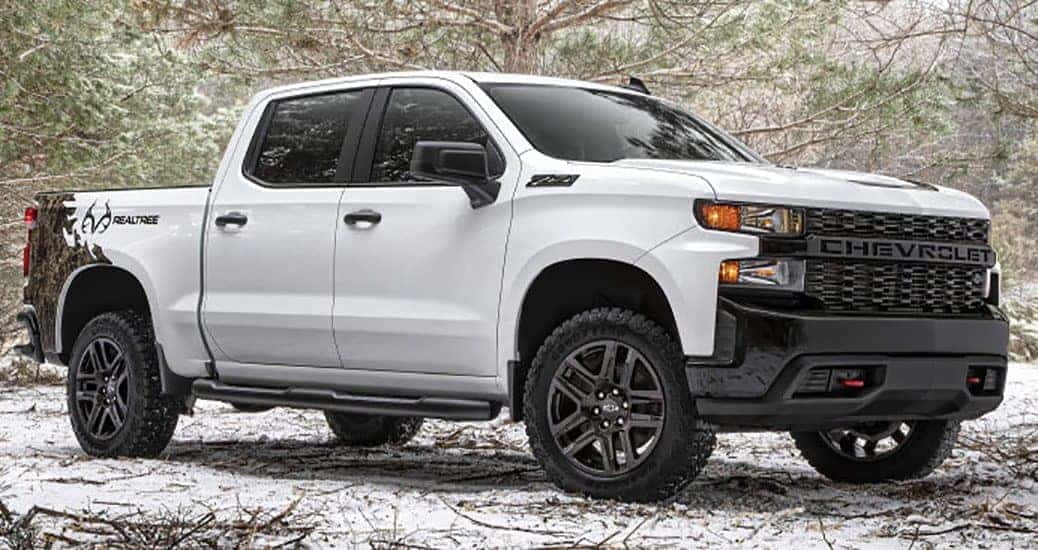 Photo Credit: Chevrolet 2021 Chevrolet Silverado Realtree Edition
2020 has been an interesting year in the automotive industry. We've seen disruptions due to COVID-19, resulting in some production delays across the entire landscape of auto manufacturers. The difference between Chevrolet and the other brands is how fast are customers returning to purchase a brand's vehicles. The Chevy brand has actually posted higher percentages with the Silverado HD posting a 9.1 percent increase in the third quarter over the second quarter of 2020. The Chevrolet Blazer also increased up a massive 45.2 percent along with the Chevrolet Corvette gaining 33.3 percent, and the Chevrolet Spark that went up 26.6. The compact Chevrolet Sonic sedan went up 102.4 percent over its results from the previous quarter.
Chevrolet Brings Back the Realtree Edition
Chevrolet has just announced a new Realtree Edition that is back for the first time in five years. This Realtree-themed pickup is made for the outdoors and carries the off-road perks of the Trail Boss trim. The powertrain is solid with its 355 horsepower effort from the 5.3-Liter V8 paired to a six-speed automatic transmission. There is also an optional 6.2-Liter V8 that is tied to the 10-speed transmission that equals 420 horsepower for owners to embrace. The apparel of driving a new Chevrolet Silverado is found in its off-road capabilities for this special edition trim.
The perks of the Silverado Realtree Edition adds a suspension lift of two inches and the added Z71 package's Rancho off-road-tuned shocks, added skid plates, automatic locking rear differential, and hill-descent control. Wrapped with mud-terrain tires on 20-inch wheels, we think this pickup is the bee's knees for any driver that wants a secure off-road experience in a stylish and modern cabin experience.
More On the Appearance of the Silverado
Overall, the 2021 Silverado is as gorgeous as it has ever been. The exterior perks of the Realtree Edition include cues from the outdoorsy theme with camouflage-pattern "Timber" decals, also located on the sides of the bed and on the hood as well. The bed has a liner that includes the Realtree logo. The exterior includes black badging, black exhaust tips, and side steps. The interior carries further camouflage patterns across the door panels. The 2021 Silverado has a starting price of $28,600 MSRP (Plus destination fee), which is way lower than the 2021 Ford F-150 and 2021 Toyota Tundra. For our readers, let us know what you think on our social media . Curious about any future Chevrolet EVs ? Or want to go on a test-drive? We can help at Miami Lakes Automall!
Drive New Chevy Vehicles With Our Help
We hope you visit us at Miami Lakes Automall , where our friendly team is excited to show off our entire new Chevrolet lineup , including the new 2021 Chevrolet Silverado . We can help with any selling, buying, or leasing offers. Have a trade-in for us? We can help with that as well.
Do you currently have a vehicle that isn't running like it used to? Make an online service appointment and we will do our part. We're happy to offer our help with car maintenance and repairs. Don't wait any longer to fix up your car. We look forward to providing an entire automotive experience. Find all that and more at Miami Lakes Automall today!
Previous Post Chevrolet Will Present The Electric Chevy K5 Blazer Concept At SEMA360 Next Post Chevrolet Might Be Advancing Release Date For The 2021 Corvette C8