GM to Debut All-New Off-Road Chevrolet Silverado ZR2 – Miami Lakes Automall Chevrolet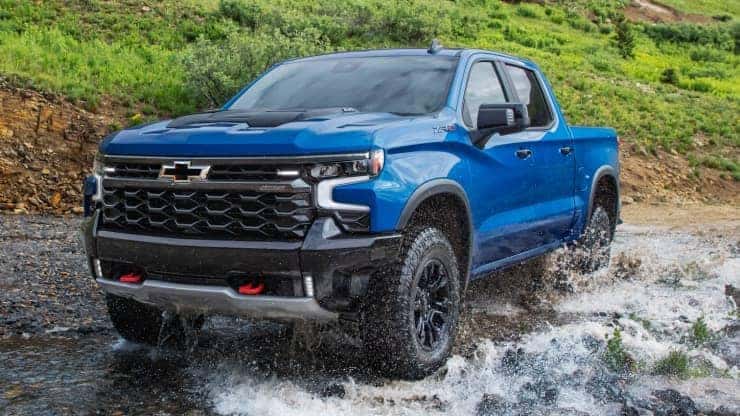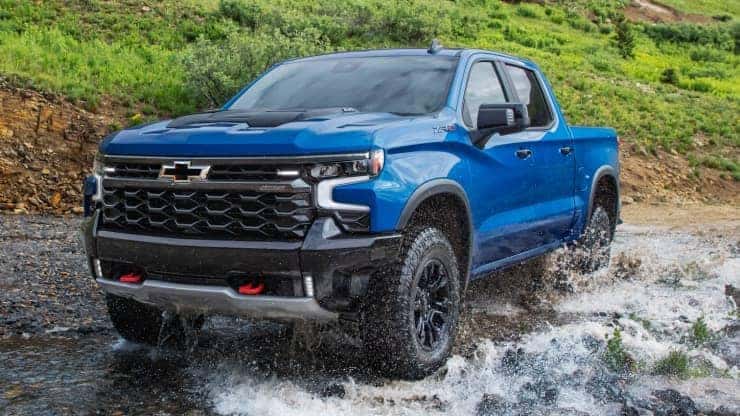 General Motors (GM) is getting ready to show off its latest pickup, the all-new off-road 2022 Chevrolet Silverado ZR2. This release comes in the midst of a global transition to electric vehicles. Most automakers have been aiming to produce their own version of an electric vehicle. GM has been teasing the all-electric Chevy Silverado and rumors have been spreading about a potential electric Camaro. With the all-new off-road 2022 Chevy Silverado ZR2, GM is hoping to ramp up excitement and anticipation for its future lineup. The debut of a fully electric pickup has garnered the most interest, but GM has been sure to keep any information under wraps. For now, the automaker is providing updates and adding new features to its current lineup. Until more information is released about other vehicles, we'll have to stick to pure speculation. The automaker has released details about the 2022 Chevy Silverado ZR2 however, so we'll dive into the new updates.
All-New Off-Road 2022 Chevrolet Silverado ZR2
GM unveiled the all-new off-road 2022 Chevy Silverado ZR2 ahead of the NFL'S first game of the season between the Dallas Cowboys and Tampa Bay Buccaneers. GM has enjoyed a lot of interest recently for its Silverado lineup, but this move to reach the greatest number of eyes was solid. According to the director of Chevrolet marketing Kelly MacDonald, about 60% of Silverado sales have been off-road-focused pickups. With so much interest in off-road capable pickups, it's no wonder GM is updating its lineup.
The all-new off-road 2022 Chevy Silverado ZR2 will be getting a new exterior design and several new features and technologies. GM will update the pickup's exterior with slimmer headlights and a refreshed grille. These will help display the brand's logo more prominently. The new designs are similar to those of the updated 2022 Chevy Tahoe and Suburban , both of which share the same platform as the Silverado. Inside the Chevy Silverado ZR2, consumers will note more technologies such as an e-shifter. A larger infotainment screen and heads-up display will also accompany the new pickup.
The last addition to the all-new Chevy Silverado ZR2 will be safety and driver-assist features. These will consist of lane-keep assist, lane departure alerts, forward collision alerts, and automatic emergency braking. GM will also be including its new Super Cruise hands-free highway driving system. This new system will use sensors, radars, and cameras to help drivers better navigate the road. Pricing for the all-new off-road 2022 Chevy Silverado ZR2 has not been determined yet, however, the starting price for the Silverado lineup ranges from $30,000 to $60,000 MSRP (plus destination fee). The new pickup will most likely fall between these prices. Off-road pickups offer the function of a pickup with the versatility of an off-roader. GM is providing consumers with the best of both worlds. Consumers will be happy to see GM expanding and updating its lineup.
Come Test Drive a Brand-New Chevy at Miami Lakes Automall!
Are you excited about getting the all-new 2022 Chevy Silverado ZR2? So are we! At * Miami Lakes Automall *, we're more than excited to help our customers find what they're looking for. Check out our new vehicle inventory or browse our quality pre-owned vehicles . We offer suggestions like auto financing to help make paying for a vehicle easier.
If you're in need of service, schedule an online service appointment with our expert technicians. Allow our professional techs to get started on all repairs or maintenance work. Stop by today and see what we can do for you right now.
Photo Credit: GM
Previous Post General Motors Will Showcase Its "Legacy" At This Month's Motor Bella Auto Show Next Post The 2021 Chevrolet Silverado Is Armed and Dangerous With Its Incredible Features