New Ram Off-Road Package VS Mopar Ram Runner Kit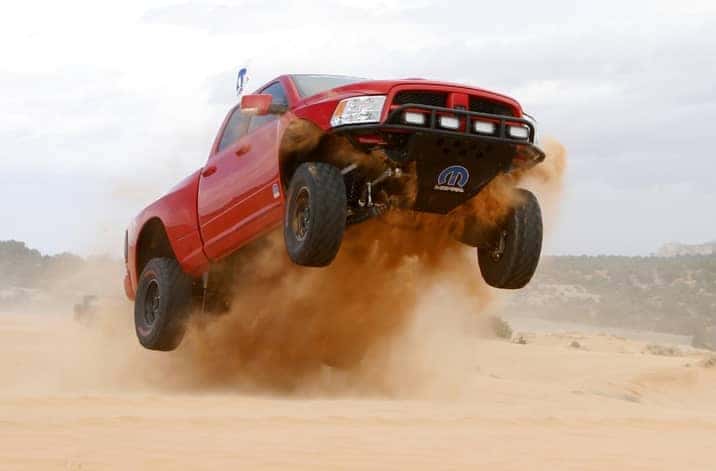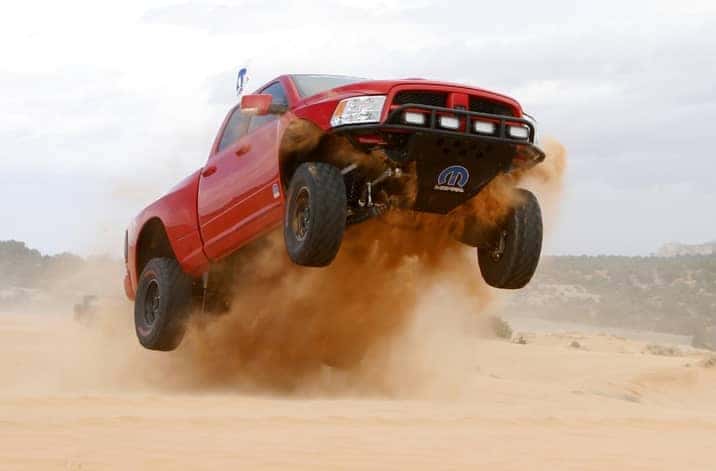 Who said the Ram trucks can't handle going off-road? If they missed the off-road feature capabilities, and the new off-road package for the 2019 Ram 1500 light duty pickup truck, and our piece on " Three Amazing Off-Road Ram Trucks ", then here's a little more evidence for the naysayers in one word – Mopar. Does anyone remember the off-road Ram Runner concept image that Mopar showed off several years ago at the 2010 Moab Jeep Safari event? Sadly, the kit is no longer available, but off-road enthusiasts need not worry. Take a look at how the new off-road package matches up with the kit by Mopar.
Mopar Ram Runner Kit
As noted, back in 2010, Mopar showed up with the "Mopar Ram Runner Kit". Developed in conjunction with Baja off-road racer Kent Kroeker, the kit had a number of components, including an additional Pre-Runner Stage II Lift Kit, off-road front bumper, off-road front and rear fenders, off-road rear-tire carrier, sport performance hood and cat-back exhaust. For people interested in more ground clearance, there was also the Pre-Runner Stage II LIft Kit. It included the following: a 5-link coil-spring rear suspension, 4130 chromoly lower control arms, upper control arms rebuildable high-angle ball joints, and forged steel, high-angle tie rods. This kit added fourteen inches of suspension travel in the front and rear, and provided 13 inches of ground clearance in the front and 16 inches of ground clearance at the rocker panels.
2019 Ram 1500 Off-Road Package
The Ram 1500 has always had off-road capability available, but nothing like the capability with the 2019 1500. A new off-road package has been added for the next-generation pickup truck, and it may match up with the old Mopar Ram Runner kit. The package adds a one-inch suspension lift, with or without available four-corner air suspension, an electronic-locking rear differential, and 32-inch on/off-road tires on (standard) 18- or (available) 20-inch wheels to provide additional grip. Denoted by rear-fender decals equipped with the 4×4 Off-road Package, any 2019 Ram 1500 modded with this package will be unmistakable from the rest. The transfer cases have also been upgraded with BorgWarner 48-12 for part-time 4WD operation with Hi and Low ranges and the BorgWarner 48-11 for on-demand 4WD.
Don't forget about the upcoming 2019 Ram 1500 Rebel either! The off-road capabilities of the Rebel extend beyond pretty looks – built with suspension articulation, hill climbing prowess, and desert running capability, the new Ram Rebel is made for hardcore off-road truck buyers. Riding on new 18-inch wheels with 33-inch Goodyear Wrangler DuraTrac tires driven by an electronic-locking rear differential, the Ram 1500 Rebel also comes standard with coil spring suspension, a one-inch factory lift, and designed Bilstein shocks.
Ram's active-level four-corner air suspension is an available add-on for the Ram 1500 Rebel. Consumers that opt-in for the off-road package on another 2019 Ram 1500 trim will get the active-level four-corner air suspension standard. The Ram 1500 Rebel will be made available in both quad-cab and crew-cab configurations as a result of the beefed-up frame on the new 2019 Ram 1500.
Still Available for Customization
The Mopar Ram Runner kit is no longer available, and if someone can find a retailer, the kit was only available for owners of 2009 to 2011 model-year Ram 1500 models. Soon enough though, the new 2019 Ram 1500 will come out, and it's off-road package is pretty great itself.
In addition, Mopar and Ram teamed up at the 2018 Chicago Show . The two put together a presentation to show off two of Mopar's new performance catalogs. One for the new Jeep Wrangler JL and the other for the new 2019 Ram 1500. 200,000 hours were invested into the design, testing, and validation of 200 new parts for both catalogs so that consumers could customize their 2019 Ram 1500 and make them unique for different wants, needs, and lifestyles.
* What do you think about this new Mopar Ram Runner Kit? Will the 2019 Ram 1500 be a match for it with that sweet off-road package? Let us know on Miami Lakes Ram social media . *
* Photo Source/Copyright: FCA Media *
Previous Post Tips for Loading a Trailer and Connecting it to Your Truck Next Post WardsAuto Names 2019 Ram 1500 on 10 Best Interiors List