Different New Ram Truck for Everyone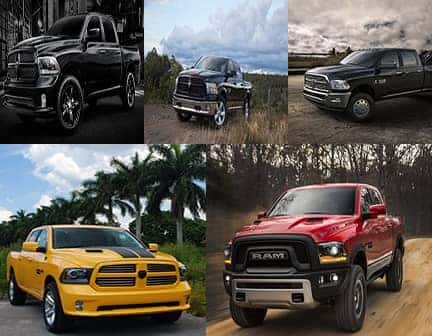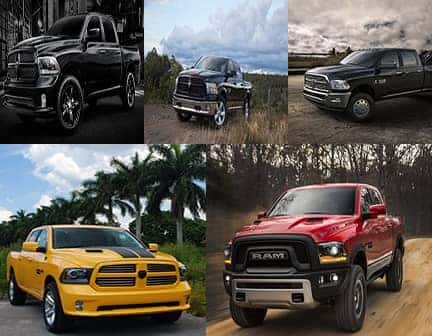 Old trucks are out and new Ram trucks are in. The good news about new Ram trucks in 2016 is all of the different special-edition models. From dark and subtle, to bright and bold, and everything in between, Ram has a truck for all personality types. Aside from offering 31 colors on their line of trucks, Ram also has the Black Express, Outdoorsman, the Ram Rebel, and Yellow Stinger options to satisfy everyone.
The mysterious owners are the ones who are harder to read so they need a truck that is dark, yet loaded with features. The Ram 1500 with the Black Express appearance package is a perfect match for those who like to keep a little mystery in their lives. This package features a "black on black on black" appearance. The special black elements are 20-inch rims, a blacked out grille, black paint, black logos, black front and rear bumpers and a black cloth interior.
Down in South Florida there are a lot outdoorsy folks who love to fish, hunt, and enjoy nature. If that description sounds like you, you are in luck. The Ram Outdoorsman is dedicated to those who like to spend time outdoors. There are several features that make this truck perfect for the "outdoorsy types." Equipped with tow hooks, an anti-spin rear differential for safety, a 5.7-liter HEMI V8 engine makes it perfect for towing boats or off-road toys to the wilderness.
Other features on the Ram Outdoorsman are premium cloth seats that are 10-way power adjustable, and UConnect 8.4 with an 8.4-inch touchscreen. Additionally, the Outdoorsman is available with the Mossy Oak package, which includes exterior camo trimming.
Some people have more adventurous souls. They like to go beyond the limits and they need a truck who can take them there. That is where the Ram Rebel comes into play. Features that make the Ram Rebel capable of taking on any obstacle for adventure and fun include, an air suspension system that adds one-inch of height, skid plates, a 3.6-liter V6 standard engine or an optional 5.7-liter HEMI engine, and 17-inch wheels.
The Ram Rebel is also stylish inside and out. Style features include an aggressive black grille with the RAM name written produly on the grille as well as the tailgate, Rebel graphics and a black and red trim interior.
Then there are the people that love luxury, and the Ram Big Horn that come on all three Ram models (1500,2500,3500), is fitted with luxury upgrades to make one feel at home. Upgrades include premium cloth material, large 6×9-inch folding mirrors, a premium instrument cluster on a 7-inch display, and 8.4 UConnect with Bluetooth that displays on an 8.4-inch touchscreen.
And finally, there's the outgoing owners. They are fun to be around and they like to stand out and be different and bold and the limited-edition 2016 Ram 1500 Yellow Stinger Sport truck could not be a better fit for them. Covered in an eye-catching bright yellow color with black racing stripes, the Yellow Stinger is a truck that stands out on the road. Aside from the loud hue, the Yellow Stinger has a flashy chrome dual-exhaust, 22-inch or 20-inch rims, a matching yellow and black interior, and UConnect 8.4 with Bluetooth, and a back-up camera for safety.
Check out our lineup of ram trucks at Miami Lakes Auto Mall here.
Previous Post New Ram, New Warranty, Less Worries Next Post Diesel or Gas – Which Fits Your Business Needs?