Counting Down to the Ram 2500 and 3500 Pickups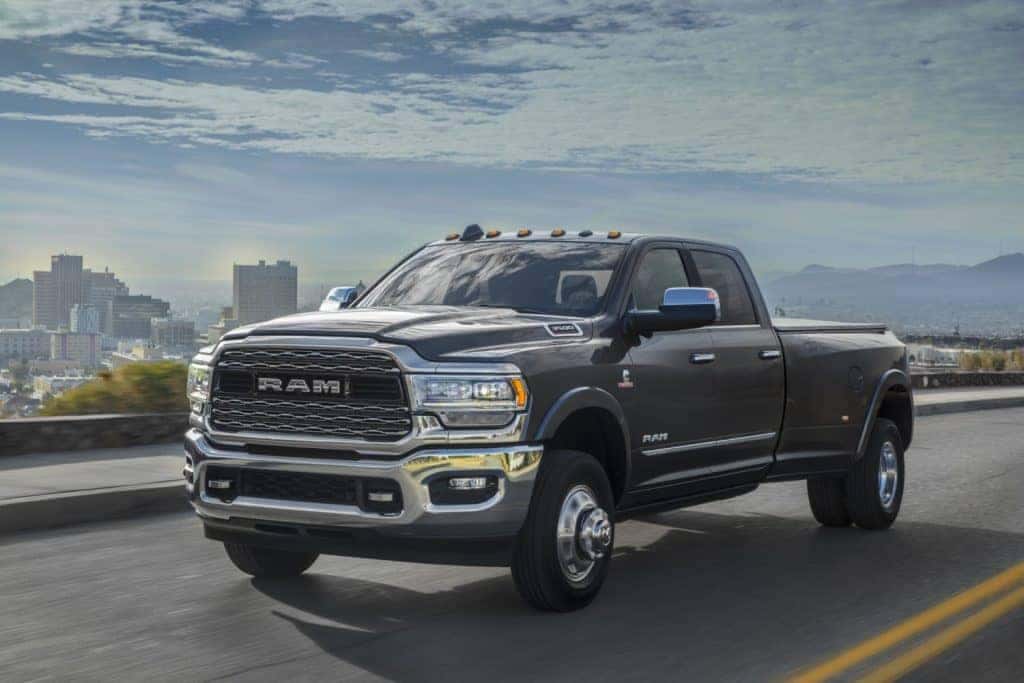 The 2019 Ram 2500 and 3500 pickups are finally coming to town – and to farms, rodeos, work sites, and RV parks, too! Work trucks from Ram deliver not only when it comes to functionality, but luxury as well. As the most capable and luxurious pickups in the heavy-duty segment, Ram is expected to dominate the truck market, but the brand knows that to retain that top spot it'll have to continuously outshine crosstown truck manufacturer rivals like Ford and Chevy.
How powerful and capable are the latest additions to the Ram lineup? Let's start with the base engine, a 6.4-liter version of the legendary HEMI V8, offering 410 horsepower and 429 lb-ft of torque. Need additional torque power? Buyers can opt for a different engine under the hood, a redesigned Cummins turbodiesel 6.7-liter engine that's capable of generating 400 horsepower and a whopping 1,000 lb-ft of torque – a best-in-class figure. According to statistics, the average engine on heavy-duty pickups offers 370 horsepower and 850 lb-ft of torque. Both figures are positively crushed by the Ram 2500 and 3500.
The Cummins engine and its powerful torque output aren't the only parts of Ram's story. Both the 2500 and the bigger 3500 are surprisingly easy to drive. Numerous trims and additional packages available make Ram pickups one of the most luxurious vehicles manufactured by traditional American truck makers. Both the Ram 2500 and 3500 compete with pickups such as the Chevy Silverado 2500/3500, the Ford Super Duty F-250/350, and the GMC Sierra 2500/3500. Even though the competition is intense as new versions of the Silverado and Sierra go on sale this Summer, while Ford is slated to debut a new gasoline engine and other improvements, however, Ram remains at the forefront of pickup innovation in terms of power and luxury. The 2019 Ram 2500 and 3500 are slated to reach dealership lots in the second quarter of 2019.
Considering the fact that full-size pickup sales make up about one-third of all vehicles sold, it's no wonder that automakers are racing to add features and advanced capability to their popular and profitable pickups. Speaking of which, on the Ram 2500/3500 buyers can enjoy a remarkably quiet cabin thanks to sound-proofing and engine updates, improvements to the Cummins diesel engine to handle all that extra power and actively reduce noise, an available 12-inch touchscreen display, advanced safety features including a cargo camera to safely monitor cargo, and lots of extra-high-strength steel improvements to reduce the overall weight making for a more capable and aerodynamic pickup.
Although the Ram 2500 and 3500 models have yet to arrive at our Miami Lakes AutoMall dealer lot ( follow Miami Lakes Ram on social media to be the first to know when they arrive ), feel free to browse the all-new 2019 Ram 1500 inventory. The 2019 Motor Trend Truck of the Year winner and its complete overhaul served as the inspiration for the all-new heavy-duty Ram trucks.
Photo Source/Copyright: Ram
Previous Post Ram Redefines the Work Truck Next Post Ram Relies on Innovation to Win the Pickup Truck Wars