Comparing the 2022 Ram 1500 vs the 2021 Ford F-150, Which has the Nicer Interior? – Miami Lakes Automall Ram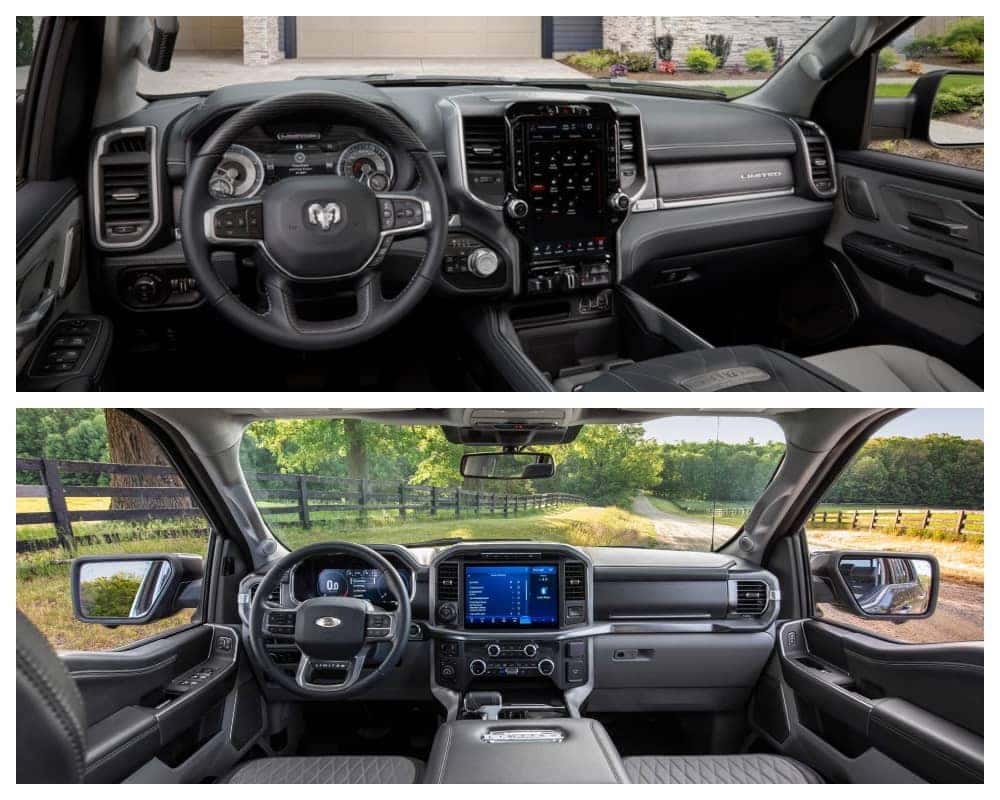 The 2022 Ram 1500 has been receiving high praise and attention for its capability, versatility, and overall toughness. The 2021 Ford F-150 has also received similar praise for its ability to get just about any job done. Both pickups are similar in capability and when comparing them, the decision between both really comes down to preference. One factor that hasn't been compared however is the interior cabin. We'll be looking at both pickups and comparing the interior to see which has better features and overall comfort. For this comparison, we'll be using the Limited trim as features and aesthetics can change depending on trim level.
2022 Ram 1500 Limited
The 2022 Ram 1500 Limited is one of the better light-duty pickup trucks available. It offers a lot in terms of capability and versatility. As far as the interior goes, it offers a rather luxurious aesthetic with upscale material. The Ram 1500 has a similar level of leather quality as the F-150, but the interior features rich details and trims. The pickup offers quilted door panels and A-pillar grab handles. The center dash does have a lower grade chrome, but attention to detail is carried throughout the pickup.
The Ram 1500 comes equipped with analog gauges around a central information screen. The gauges feature a 3D appearance and the center of the dashboard has a vertical 12-inch touchscreen. The graphics are high-quality, but they aren't the most responsive. The front center console is large, similar to the F-150, but it has a configurable aspect ratio along with a sliding section. As far as the rear seating area goes, the Ram has a comfortable amount of room. There's an adjustable rear bench seat with a reclining backrest. The rear seats are also heated and ventilated.
2021 Ford F-150 Limited
The 2021 Ford F-150 is a very capable pickup. The F-150 is one of the most popular trucks and there's a reason for that. One quality that isn't mentioned much, however, is the interior. The Ford F-150 features a relatively decent interior cabin. There's high-quality leather upholstery with carbon-fiber accents and a suede headliner. The quality can diminish with hard-plastic elements near the front-seat cushion and below, however. The A-pillar grab handles do not differ much from lower trimmed F-150s, but they serve their purpose. The pickup features an intuitive dashboard with a 12-inch touchscreen. This features easily accessible buttons and knobs for the audio and climate controls.
Looking at the rear seating area, the Ford F-150 features a spacious rear bench seat with plenty of legroom. The rear-seat cushion is a bit short though. Like the Ram 1500, the rear seats are heated but they are not ventilated.
Verdict
Both the 2022 Ram 1500 Limited and 2021 Ford F-150 Limited are luxury trucks capable of a lot. They both offer consumers a high-quality interior with upscale materials. The F-150 offers premium amenities, but compared to the Ram 1500, the Ram pulls ahead given its high-scale upholstery and more comfortable backseat.
Come Test Drive a Brand-New Ram at Miami Lakes Automall!
Are you excited about getting a new Ram ? So are we! At * Miami Lakes Automall *, we're more than excited to help our customers find what they're looking for. Check out our new vehicle inventory or browse our quality pre-owned vehicles . We offer suggestions like auto financing to help make paying for a vehicle easier.
If you're in need of service, schedule an online service appointment with our expert technicians. Allow our professional techs to get started on all repairs or maintenance work. Stop by today and see what we can do for you right now.
Photo Credit: Ram/Ford
Previous Post Is a New Turbo Six-Cylinder Engine in the Works? Next Post The Ram 2500 is One of the Best Heavy-Duty Pickups of 2022