A Ram 1500 Comparison: TRX vs Big Horn vs Limited – Miami Lakes Automall Ram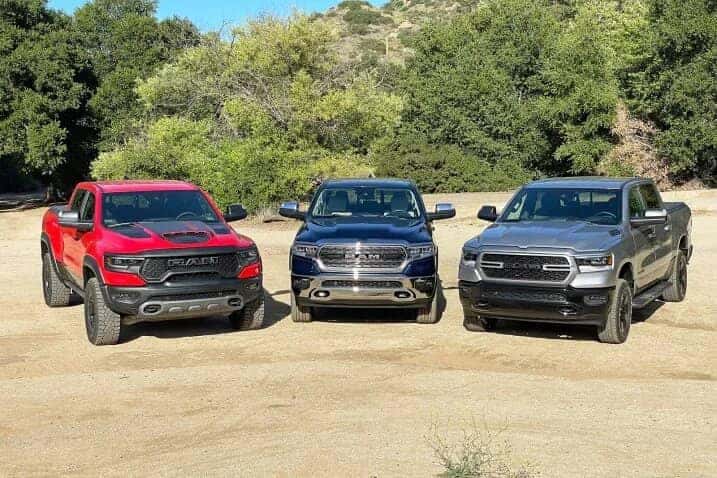 For years the Ram 1500 has dominated the pickup truck sector. Known for its high capability and strong performance, the Ram 1500 has earned numerous awards including Texas Truck of the Year and Motor Trend's Best Truck . Ram continues to dominate the pickup market by updating its lineup and by offering some of the fiercest trims available. Some of these trims include the powerful TRX and Big Horn as well as the luxurious Limited . These trims improve the performance of the Ram 1500 and also add additional features to help drivers get the most out of their pickup. We'll take a look at each of these Ram trims and see what they offer.
The Ram 1500 TRX
One of the most powerful trims available for the Ram 1500 is the TRX. This 3-and-a-half-ton pickup truck has the capability and versatility to take on almost any terrain. The Ram TRX arrives with a powerful 702 horsepower 6.2L supercharged V8 engine that's paired with an eight-speed automatic transmission. Owners wanting an unstoppable pickup will find it with the TRX as it boasts 11.8-inches of ground clearance and comes with 35-inch all-terrain tires. It also has a highly tuned suspension and can go 0-60 mph in just 3.7 seconds. The Ram 1500 TRX starts at an MSRP of $78,675 (plus destination fee). While pricey, given its power and performance, it may be well worth it.
The Ram 1500 Big Horn
Another powerful trim is the Ram Big Horn. This trim can be equipped with either a 3.6L V6, a 5.7L V8, or a 3.0L turbo diesel V6. While each of these engines provides drivers with impressive horsepower and torque, those wanting a superior work truck can opt for the 3.0L to get 480lb-ft of torque. With a towing capacity of up to 12,560 pounds, the turbo diesel V6 makes sure to get just about any job done. It also has impressive fuel economy. The Big Horn trim starts at an MSRP of $41,815 (plus destination fee). While it doesn't offer as much performance as the TRX, it does offer strong capability. It also has a much lower price tag. Owners wanting more in terms of driver assist and convenience features can also opt for various equipment packages.
The Ram 1500 Limited
Up next is the Ram 1500 Limited trim which is unlike any other pickup truck. With the Limited Edition trim, Ram wanted to offer a luxurious pickup with the latest technology features. Inside the pickup, owners will note high-quality materials such as wood, metal, and leather. These materials are stitched throughout the interior alongside an indigo and sea salt gray color scheme. The Limited trim also features quilted leather seats and door inserts along with a suede headline that extends to the overhead visors. For entertainment, there's a premium 19-speaker sound system. Drivers can also make use of driver assist features like a 360-degree camera and adaptive cruise control. Starting at an MSRP of $62,685 (plus destination fee), the Ram Limited trim offers quality combined with comfort. Those wanting a comfortable and luxurious pickup will be more than happy with this trim.
Come Test Drive a Brand-New Ram at Miami Lakes Automall!
Are you excited about getting a new Ram ? So are we! At * Miami Lakes Automall *, we're more than excited to help our customers find what they're looking for. Check out our new vehicle inventory or browse our quality pre-owned vehicles . We offer suggestions like auto financing to help make paying for a vehicle easier.
If you're in need of service, schedule an online service appointment with our expert technicians. Allow our professional techs to get started on all repairs or maintenance work. Stop by today and see what we can do for you right now.
Photo Credit: Ram
Previous Post The All-New 2023 Ram ProMaster is Almost Here Next Post Is There an All-New Ram 2500 Power Wagon Rebel Trim on the Way?