2022 Ram ProMaster Van Looks to be a Strong Competitor as a Transit Vehicle – Miami Lakes Automall Ram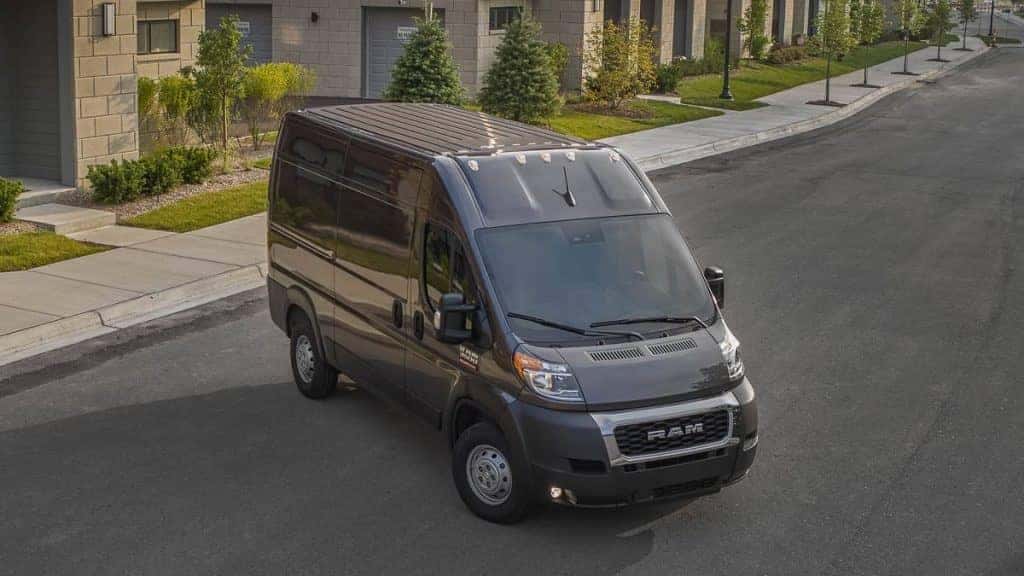 Ram has updated its ProMaster Van for the 2022 model year. The transit van has served as a utility vehicle carrying supplies, parts, and pieces for several years now. Ram has also utilized the ProMaster van as a traveling vehicle for bands . The transit vehicle offers a lot of versatility and function and now, Ram is making it even better. For the 2022 model year, Ram will be updating the transmission, interior cabin, and infotainment system of the transit van. Ram is hoping the 2022 ProMaster van will trump other transit vehicles like the Ford Transit. From the updates and new interior, it's looking like the ProMaster will exceed expectations.
2022 Ram ProMaster Receives Updates
Ram will be updating its ProMaster van for the 2022 model year. Although the transit van has proved to be a reliable and comfortable ride for drivers and passengers, Ram is making sure the riding experience sees several new improvements. For this, Ram is updating the 2022 Ram ProMaster van with a new nine-speed automatic transmission, a new interior look, the Uconnect 5 infotainment system, and some new safety features.
The 2022 Ram ProMaster van will use the same 3.6L V6 engine as the 2021 Ram ProMaster. Currently, the engine is capable of an impressive 280 horsepower and 352lb-ft of torque. With the addition of a new nine-speed automatic transmission, however, it will be much more efficient. Ram will be replacing the previous transmission with a TorqueFlite transmission which will deliver a better final-drive ratio. This will increase performance and pack a little more punch. Along with the new transmission is the addition of a push to start engine function. This comes alongside a push-button electric parking brake. One more helpful feature being added to the transit van is an electric rack and pinion power steering. This will improve fuel economy and aid steering assistance.
The 2022 Ram ProMaster van will also be getting a new interior look. The transit vehicle has a modern and stylish look that's enhanced by sleek panels and digitized buttons. Leather-trimmed material and black two-tone color also add to the stylish look. For space, Ram will be offering a two-row crew van package that lets three people sit up front. This sets the ProMaster apart from other cargo vans as this additional space provides a lot more comfort for drivers and passengers. For entertainment, Ram ProMaster drivers can utilize the new Uconnect 5 system. A 10-inch touchscreen provides access to smartphone connectivity, Apple CarPlay and Android Auto, and driver-assist features.
The last bit of updates to the 2022 Ram ProMaster van are new driver-assist and safety features. These consist of cornering function, traffic sign recognition, adaptive cruise control, front parking sensors, lane-keep assist, and a rear camera. These features provide drivers with the assurance that they are safe and secure on the road. Another advanced driver-assist feature is active driving assist which includes level 2 automated driving capability. This uses adaptive cruise control and can even manage the throttle and brakes. Drivers will also have access to a 360-degree side view camera that will help with blind spots. A release date for the 2022 Ram ProMaster van has not yet been confirmed, but the newly updated ProMaster van looks to be a very viable and comfortable transit vehicle, so much so that it seems other transit vehicles may have to look toward the ProMaster van for inspiration.
Come Test Drive a Brand-New Ram at Miami Lakes Automall!
Are you excited about getting a new Ram ? So are we! At * Miami Lakes Automall *, we're more than excited to help our customers find what they're looking for. Check out our new vehicle inventory or browse our quality pre-owned vehicles . We offer suggestions like auto financing to help make paying for a vehicle easier.
If you're in need of service, schedule an online service appointment with our expert technicians. Allow our professional techs to get started on all repairs or maintenance work. Stop by today and see what we can do for you right now.
Photo Credit: Ram
Previous Post Ram to Update 2022 Lineup with Uconnect 5 Next Post 2021 Ram 1500 Ranks First Among Light-Duty Pickups in New APEAL Study