2019 Ram Storage Compartments, and Even Some Hidden Ones Too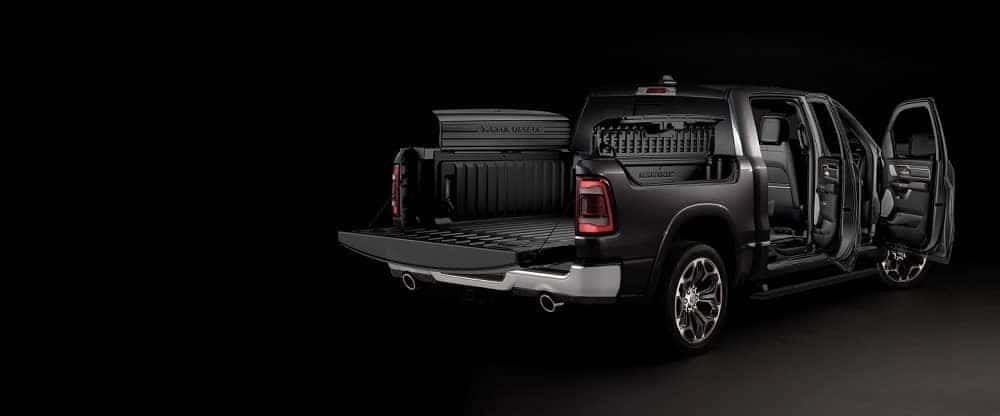 While any Ram pickup truck, used for personal or commercial use, offers premium capabilities to take on any job – sometimes hard-working truck owners require additional storage and organizational options. The 2019 Ram 1500 is equipped with a Best-in-Class interior storage volume, in-floor storage, and a RamBox Cargo Management System among other cargo compartments that are available.
RamBox Cargo Management System

Photo Credit/Copyright: ramtrucks.com
Available in either 6-foot-4-inch (quad cab) or 5-foot-7-inch (crew cab) truck beds, the Class-Exclusive RamBox Cargo Management System is a secure storage compartment that can be installed into the side rails of a light-duty or heavy-duty truck. Durable and efficient, the RamBox system allows truck owners to have an additional place to store tools and other items. Not only does the RamBox offer a convenient location for more massive objects, but it can also be locked for additional security by utilizing the remote keyless entry, class-exclusive all-secure central locking system. The RamBox includes cargo box lighting, cargo bed extender and divider, and car bed rails with four adjustable tie-down cleats.
As previously mentioned, the RamBox is available on either 6-foot-4-inch or 5-foot-7-inch truck beds. To give consumers a better idea of just how much the Rambox is capable of, it can hold about 140 standard beverage cans. Furthermore, the maximum cargo bed volume for the 2019 Ram 1500 is 61.5 cubic feet and has the ability to hold a significant amount of 4×8 sheets of plywood.
Hidden Storage Compartments

Photo Credit/Copyright: ramtrucks.com
Along with the RamBox Cargo System, the interior cabin of the 2019 Ram 1500 also includes some hidden storage compartments. Beginning with the rear flat-load floor, this hidden storage compartment, according to Ram, provides additional passenger comfort, usability, and extra cargo storage. The under-seat storage is another concealed cargo compartment. The Class-Exclusive under-storage can be located after folding up the rear bench seat and is capable of storing up to 40 liters using the fold out feature. Lastly, 5.5-inches more extended than the previous Ram models, the Ram Bins can fit up to a 4-inch drop hitch with integrated tie downs for added assistance in securing extra cargo.
The 2019 Ram 1500 also features a class-exclusive reconfigurable center console. Yes, a center console isn't necessarily hidden, but the amount of storage space is surprising. The center console can charge up to five cell phones, hang file folders, has space for a 15-inch laptop, and also includes Type-C USB high-speed charging ports.
The under-seat storage feature is optional on the Big Horn/Lone Star, Laramie, and Rebel crew cab models only and the floor console is standard only on the Rebel trim.
Mopar Cargo Accessories
Photo Credit/Copyright: ramtrucks.com
For the 2019 Ram model year, the folks at Mopar decided the all-new pickup truck would not be complete without some sweet accessories.
Some of those optional accessories include:
Class four hitch receiver – tow rating of 12,750 lbs
Ball mount adapter kit – three drop sizes available
Pickup box adjustable utility rails
Cleats that slide along the rail system to secure cargo of just about any size
Cargo bed divider
Bed sliding toolbox
Bed mount cargo carrier
Ski and snowboard carrier **
Along with all the previously named storage options, it's definitely safe to say that consumers can pack their Ram 1500 in full, stay organized, and not waste any space. Interested in test driving the all-new 2019 Ram 1500 ? Visit the Miami Lakes Automall located in Miami Lakes, FL or visit our website for more information on our entire new car inventory lineup . Stay updated with all things Ram by following us on social media .
Previous Post The Seven-Year Itch Is No Match For The Ram 1500 Next Post The 2019 Ram 1500 Laramie Crew Cab: The Beast Of Luxury