Month-Long Black Friday Specials at Miami Lakes Mitsubishi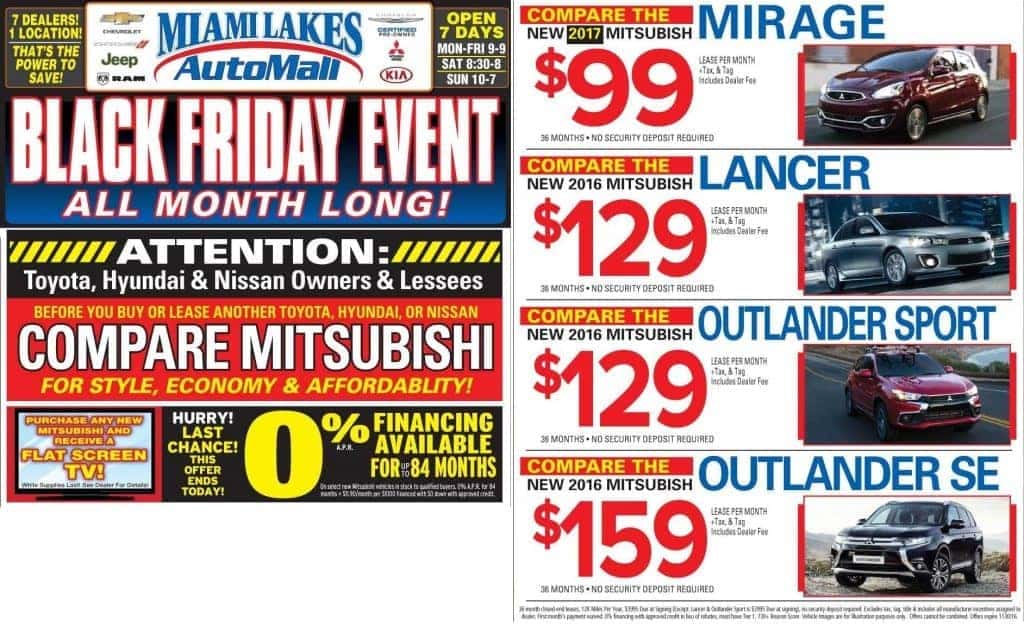 Looking for a new vehicle before the end of the year? Well listen up smart buyers, we all know the best deals are during Black Friday, and with a ton of 2017 vehicles already available, we're talking sweet deals for great cars. Right now at Miami Lakes Automall, we're hosting our month-long Black Friday specials, and it all ends November 30th.
New car lessees can grab up a deal on the 2017 Mitsubishi Mirage, 2016 Mitsubishi Lancer, 2016 Mitsubishi Outlander Sport, or the 2016 Mitsubishi Outlander SE.
Start leasing the most fuel-efficient gas-powered vehicle made by Mitsubishi, the 2017 Mitsubishi Mirage for just $99 per month* with a 36-month lease. The Mirage gets 37/43 mpg city/highway, so you'll be saving tons of money in gas costs once you're on the road.
Or you can get a 36-month lease on the stunning 2016 Mitsubishi Lancer for $129 per month*. The Lancer isn't only stylish, but some Lancer models have all-wheel-control which makes for excellent driving and handling on a number of road conditions.
The sporty version of the Outlander, the 2016 Mitsubishi Outlander Sport , also starts at $129 per month* with a 36-month lease. The Outlander Sport is a SUV made for adventure, and it has 49.5 cubic-feet of cargo space for all of your equipment.
If you want an SUV with a little more space, the 2016 Mitsubishi Outlander SE is available with a 36-month lease for $159 per month*. The Mitsubishi Outlander SE comes standard with a fuel efficient engine, a 7-inch touchscreen, and all-wheel-control.
No security deposit is required plus, your first month's payment is completely waived – that means the first month of your new lease is free! And don't forget, Mitsubishi has the best warranties on the market, such as a 10-year/100,000-mile powertrain limited warranty , practically double compared to its competitors.
Again, offers are good until November 30th, 2016.
* *Lease per month, plus tax & tag. Dealer fee included. *
Previous Post Closer Look at Mitsubishi's 3 Subcompact Cars Next Post Close to Home with JDRF to Cure Diabetes