Closer Look at Mitsubishi's 3 Subcompact Cars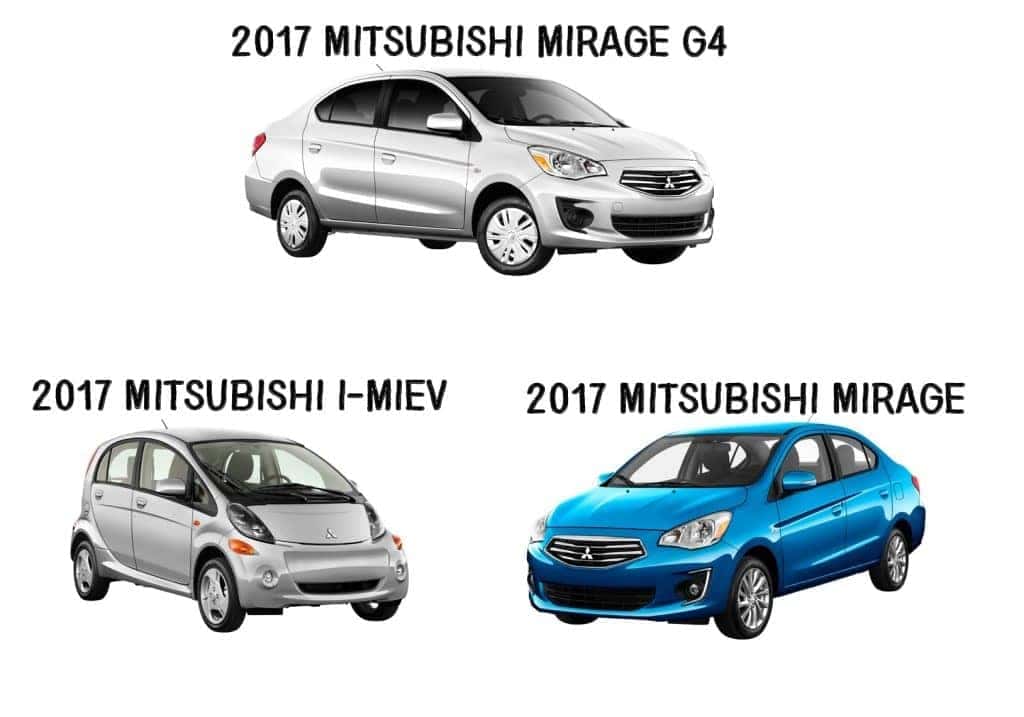 Subcompact cars! Wait…what's a _ sub _ compact car? It's a smaller version of a compact car. What's a compact car? A _ medium-sized _ car. Yeah, the definitions are very loose. So why not have an example, or three, of what a _ good _ sub-compact car is? Mitsubishi has three types of subcompact cars – the Mitsubishi Mirage, Mirage G4, and Mitsubishi i-Miev.
2017 Mitsubishi Mirage
So first up, let's talk about Mitsubishi's Mirage. Averaging 37 mpg _ in the city _ , and 43 mpg on the highway, it is one of the most fuel efficient cars in its class. How is it so fuel efficient? It has a 1.2-liter MIVEC DOHC 12-valve 3-cylinder engine coupled with a 5-speed CVT transmission.
"MIVEC" is the name given to Mitsubishi's variable valve timing design, a process that optimizes a vehicle's performance, as well as increases its fuel economy. As for the CVT transmission, CVT standards for continuous variable transmission, a design that allows the vehicle to switch between gears at different speeds without losing power or expending extra fuel. Hence, the high fuel economy on the Mirage.
High fuel efficiency isn't the only thing great about the Mirage though. Its features are plenty, and they all start with the base trim, the Mirage ES. Inside are convenient features like automatic climate control, FAST key entry system, and a Bluetooth hands-free phone system for keeping eyes on the road while able to safely take important calls.
For some luxury, heated front seats come on select trims, as does wireless connectivity for Apple CarPlay and Android Auto playback. Oh, and a rearview camera for that extra bit of safety. There's actually many packages one can get on a Mirage, including cargo storage and safety.
There are only three Mirage trims, and the ES has an MSRP starting at $12,995. It's backed by Mitsubishi's usual warranties – a 5-year/60,000-mile basic warranty, a 10-year/100,000-mile powertrain limited warranty, anti-corrosion coverage for 7 years/100,000 miles, and roadside assistance for 5 years, unlimited miles.
2017 Mitsubishi Mirage G4
The Mitsubishi Mirage G4 isn't to be confused with the above vehicle. The two both have great fuel economy (35/42 mpg city/highway), and the same engine and warranties, but that's it. Like the Mirage though, since there are only two trims on the G4, the base trim is already pretty loaded with great features.
Starting with the seating, leather trim and heated front seats are either optional or standard depending on the trim. Again, we have a Bluetooth hands-free phone system and Apple CarPlay and Android Auto wireless connectivity. It also comes with the latest safety features for a safe drive, while sporting 15-inch dark chrome alloy wheels. Yeah, it's a nice ride. And it has a nice price, too.
Starting MSRP for the Mirage G4 is $13,995. It's backed by the same warranties as the Mitsubishi Mirage.
2017 Mitsubishi i-Miev
Let's talk a little about electric power. The Mitsubishi i-Miev is an all-electric car. Instead of an internal combustion engine under the hood, it has a 16 kWh Lithium-ion battery that generates 66 horsepower. The total range of the i-Miev is 62 miles, which may not sound like much, but it covers most commutes, and it's highway capable.
Plus, if there's a charging station near your destination, with a CHAdeMO Level 3 DC Quick Charger , you can get an 80% charge in just 30 minutes. An 8-amp outlet will fully charge the battery in 14 hours and the available AeroEnvironment delivers a full charge in 6 hours – all while you sleep. How nice.
The starting MSRP for the Mitsubishi i-Miev is $22,995. Unlike most Mitsubishi cars, the warranties are a little different for an all-electric car. Because lithium-ion batteries aren't like the engine, they have their own battery warranty, covered for 8 years or 100,000 miles. The basic warranty is three years or 36,000 miles and the powertrain warranty is five years or 60,000 miles.
* Take a look at Miami Lakes Mitsubishi inventory , and see what's in store. *
Photo Source/Copyright: Mitsubishi Ad Planner
Previous Post Mitsubishi Safety Highlights Next Post Month-Long Black Friday Specials at Miami Lakes Mitsubishi