Mitsubishi FUSO Truck and Bus Corp. to Produce Hydrogen Fuel Cell Vehicles Later this Decade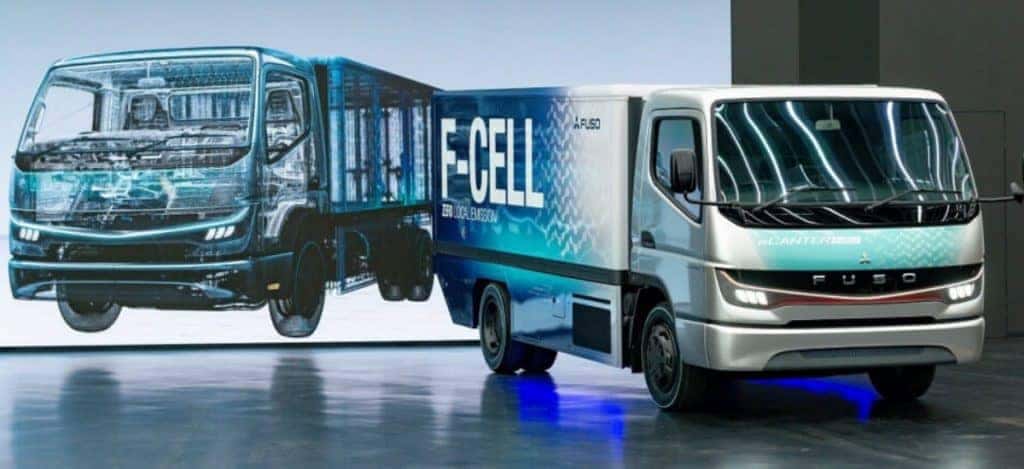 Mitsubishi Fuso Truck and Bus Corp. (MFTBC) is joining several automakers in breaking ground with a new form of fuel source for vehicles to reduce CO2 emissions. Hybrids came first, then plug-ins, and then electric vehicles (also known as battery electric vehicles, BEVs). Who ever thought hydrogen fuel cells would become a thing? But it's an endless fuel source, hydrogen will always be available in some form, and with a little electrolysis, it's not impossible to separate the hydrogen from water (H2O). A part of Daimler AG, a German multinational automotive corporation, MFTBC has already put together a concept and aims to begin the production of fuel-cell trucks by the late 2020s.
The Hydrogen Fuel Cell Vehicle Concept
Named the "Vision F-CELL", the concept is a light-duty fuel-cell concept truck based off of the already successful eCanter. Through the utilization of energy-dense high-pressure hydrogen, the vehicle can travel around 180 miles and will only require 10 minutes to fill up. It may be longer than a trip to the gas station, but it's a fraction of how long a consumer must wait when charging up an electric vehicle. Although we love electric vehicles, unless we're grocery shopping or stopping for a bite to eat, no one wants to wait half an hour, or two, so they can get going. Some people can't even wait 5 minutes for their smartphone to charge.
Although production will be starting a few years, the MFTBC won't be shutting down the electric vehicle or truck department any time soon. A part of the Electric Mobility Group, an internal research and development organization established in 2018, FUSO will continue to benefit from the shared resources for vehicle electrification within the larger Daimler Truck network. This means electric models for all FUSO truck and bus segments will continue production while continuing to research and develop a hydrogen fuel cell vehicle.
A major player in the reduction of CO2 emissions is not only the more strict regulations popping up in other parts of the world, but the Paris Climate Agreement, signed in 2016 between 197 countries to work on reducing greenhouse gas emissions to lessen the impacts of climate change, adapt to the current changes, and provide financial assistance to developing countries currently affected. MFTBC is committed to this agreement and hydrogen fuel cell vehicles are the next logical choice for CO2-neutral transportation.
"To realize this vision, and to make CO2-neutral transport a feasible choice for our customers, subsidies for electric vehicles and charging equipment will continue to be of high importance. Through close collaboration with industry players, we aim to deliver CO2-neutral vehicles to customers and continue to offer better solutions to them." – Hartmut Schick, CEO of MFTBC
Basing the first hydrogen fuel cell truck off of the eCanter is a great choice. Having been released in 2017, over 150 eCanters are already operating in Japan, Europe and the U.S. Ideal for traveling short-distance routes and urban deliveries, and able to travel roughly 60 miles on one charge, this new eCanter F-CELL concept will surely help get more done with triple the distance.
What do you think of seeing fuel cell vehicles on the road? By 2030, they may not be so rare, maybe even practical. Join the discussion on Miami Lakes Mitsubishi social media .
Photo Source/Copyright: ngtnews.com
Previous Post Some Tips for the COVID-19 April 2020 Lockdown Next Post Small Batch – Big Impact Continues in TN with Community Resource Center