Misconceptions About the Mitsubishi Outlander PHEV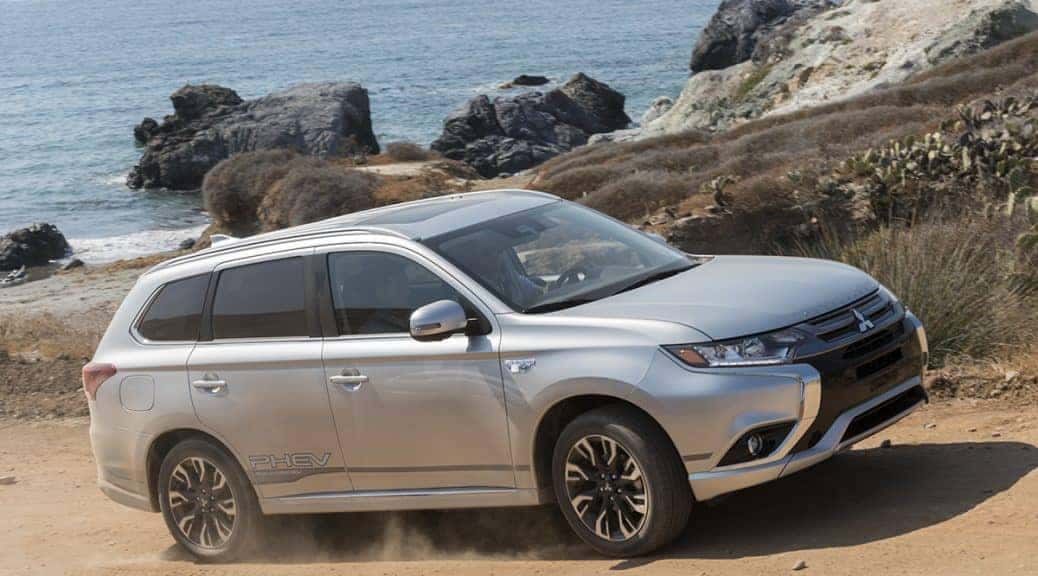 With the Mitsubishi Outlander PHEV finally in North America for the 2018 model year, some consumers are a little skeptical about the new plug-in hybrid. After the discontinuation of the Mitsubishi i-Miev, an electric vehicle, in North America due to sales, some may think Mitsubishi Motors decided to keep their alternative fuel vehicles overseas. Maybe the auto market just wasn't in a good place for electric vehicles to be favorable. Hybrid vehicles and plug-in hybrids still have a way to go before they become a norm in the automarket, after all. So, there have been a lot of misconceptions about the Outlander PHEV, and we're here to clear some of that up.
Some have said the Mitsubishi Outlander PHEV is essentially the ultimate tailgating or camping vehicle, and there's a reason for that. Some people may be worried about the kind of power a plug-in hybrid can deliver. What they're forgetting is the Outlander PHEV is also an SUV, meaning it was born to haul heavy cargo from the get-go. The standard 2018 Mitsubishi Outlander, powered by a 2.4-liter MIVEC internal combustion engine, has a maximum towing capacity of 1500 pounds†. The Mitsubishi Outlander PHEV, powered by a 2.0-liter MIVEC DOHC engine and two electric motors, has the same towing capacity. With the combination of electric power, hybrid gasoline/electric power, and four-wheel traction, the Outlander PHEV is a hardworking and practical utility vehicle that also operates with the high efficiency of part-time electric drive.
Okay, but what about camping? How will the Mitsubishi Outlander PHEV turn that into a life of luxury? Well, with this plug-in hybrid from Mitsubishi, consumers can forego the camper and take the Outlander PHEV to the nearest campsite. Standard household outlets installed in the back seat and the rear cargo area are helpful and unique features in the plug-in, and just like the 120-volt power outlets in one's home, consumers can use these outlets to charge up standard appliances without a special power inverter. Seems plug-in hybrid _ electric _ vehicles have a little more to offer than we thought.
"Americans are still warming up to the idea of a hybrid vehicle … A lot of people don't know a lot about it, and they're a little confused about it." -Mitsubishi Sales Team Member
That's true. Many consumers worry about hybrid gasoline/electric vehicles because they think they'll always need to charge up to get the vehicle to go, but that's not true. Let's talk a little more about power. Because the Outlander PHEV is a plug-in hybrid, it can operate on just gasoline, just electricity, or both. That offers consumers the ability to drive up to 22 miles, maybe more with regenerative braking, with zero tailpipe CO2 emissions when powered by solely the electric motor. The Outlander PHEV has a combined fuel economy of 74 MPGe, and if driving on both, a fully charged battery and a full tank of gas, consumers can expect 310 miles of total driving range.
"The Outlander PHEV is the only mainstream plug-in hybrid-electric vehicle on the market that offers SUV practicality, comfortable seating for five passengers with ample cargo room, and an advanced all-wheel-drive system … Over in Europe, they've already sold over 100,000 models since 2014 … So it's a proven vehicle. This isn't its first model year." -Mitsubishi Sales Team Member
There's a lot to love about the Mitsubishi Outlander PHEV, but its downfall could be a lack of awareness in the states. The popularity of the Outlander PHEV in North America is scarce at times, and that's a problem. Because the Outlander PHEV just got here in early 2018, many consumers aren't aware that this plug-in hybrid from Mitsubishi Motors has been hiding overseas in Japan and Eurasia for some time now.
One last tidbit – if consumers are shying away from the new plug-in hybrid because it has "Outlander" in the name, that's understandable. In recent model years, Mitsubishi Motors has slacked off a bit when it comes to modern technology and convenient features. For the 2018 Mitsubishi Outlander PHEV, consumers can expect a 7.0-inch smartphone link display as a standard, complete with Bluetooth wireless technology, Digital HD Radio, and Apple CarPlay and Google Android Auto capabilities.
With a starting price of $34,595* the 2018 Mitsubishi Outlander PHEV has a lot to offer. The possibilities are there, Mitsubishi Motors just needs to do a better job of showing America this is a plug-in with a lot going for it. Interested in finding yours? Come over to Miami Lakes Automall and check out our inventory.
*Plus destination fee
†3500 pounds on the Outlander GT 3.0
* Photo Source/Copyright: Mitsubishi Ad Planner *
Previous Post Mitsubishi Motors Praised by Science Next Post The Mitsubishi Outlander PHEV – Not Your Typical Plug-in Hybrid