Ideal Mitsubishi Models for Different People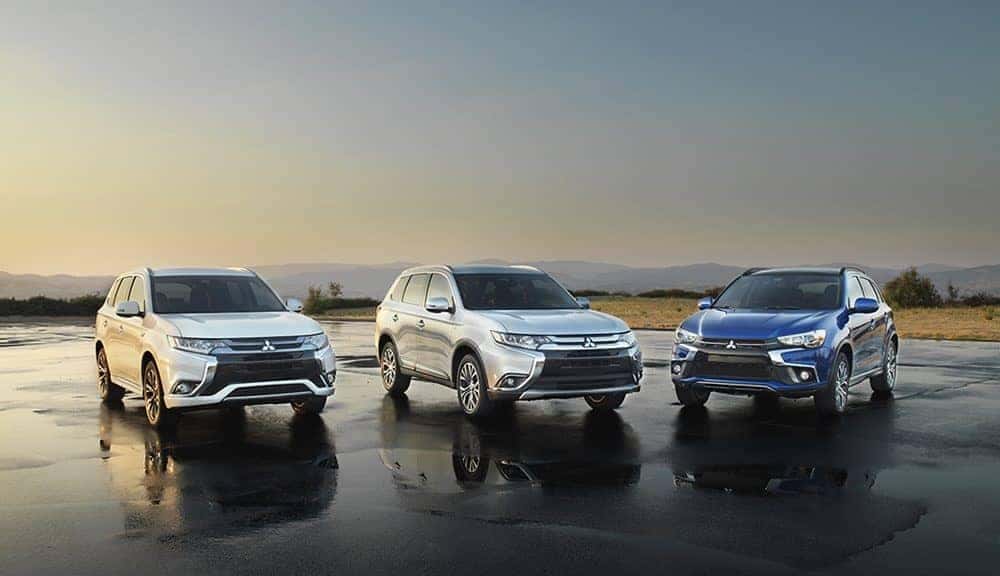 No matter who you are, there's a Mitsubishi vehicle for you!
Do you want to have a spacious, quiet ride for the whole family to enjoy? Look no further than the fuel efficient 2018 Mitsubishi Outlander.
2018 Mitsubishi Outlander
The complete compact sport utility vehicle in the 2018 Mitsubishi Outlander base model, ES, starts at only $23,945 MSRP (plus destination fee). Owners will notice the spacious room, impressive technology with the Mitsubishi Connect infotainment system, wireless Bluetooth capabilities, blind-spot warning and lane change assist technology. Fuel economy is strong with 25 mpg in the city and 30 mpg on the highway.
Some of the best features of the 2018 Mitsubishi Outlander include the available seating capacity for seven people, including a large trunk and multi-view camera system, as well as a rear backup camera. Have towing needs? The 2018 Mitsubishi Outlander provides a towing capacity of 3,500 pounds.
2018 Mitsubishi Outlander Sport
A different option for those that don't want something as large as the Mitsubishi Outlander is the 2018 Mitsubishi Outlander Sport. With a lot of standard exterior features, the five passenger Outlander Sport stands out from other crossovers on the market.
The price for the base model 2018 Mitsubishi Outlander Sport is $20,395 MSRP (Plus destination fees). From heated power side-view mirrors, a rear window wiper and defroster, a spare tire, and LED rear combination headlights, the standard perks are amazing.There's something for everyone with premium technology, as all trims equipped with the CVT transmission have an ECO Indicator light that visually aides drivers showing when they are effectively saving gas depending on the route they are taking. With a fuel economy of 23 mpg in the city and 30 mpg on the highway, drivers benefit from not having to spend a lot of money at the fuel pump or make frequent stops to refill.
Other useful interior tech features include a 7-inch touchscreen display and a rear view camera. Standard features on the Outlander Sport LE, Outlander Sport SE and Outlander Sport SEL have heated front seats, Apple Carplay with Android Auto, automatic dual-zone climate control and two USB ports.
2018 Mitsubishi Mirage
Have a budget, but want a new vehicle? There's few options better than the 2018 Mitsubishi Mirage . Starting off at only $14,400 MSRP (plus destination fee), the Mirage comes with an amazing fuel economy of 33 city and 41 highway MPG. That's impressive!
Standard options include a 7-inch touchscreen with Bluetooth phone/audio streaming, rearview camera and USB port. Available Apple CarPlay and Android Auto capabilities and Rockford Fosgate premium audio system enhance the interior ride. With a four star rating from the National Highway and Traffic Safety Association (NHTSA) drivers can feel comfortable in a new 2018 Mitsubishi Mirage.
2018 Mitsubishi Outlander PHEV
For those who want to experience unmatched fuel economy in a vehicle that can travel off the beaten path, there's the Mitsubishi Outlander PHEV. The Outlander PHEV is the world's best selling PHEV crossover vehicle and its a fuel efficient plug-in hybrid electric vehicle (PHEV) SUV that is equipped with all-wheel-drive.
The Outlander PHEV is a five-passenger vehicle that features an internal combustion engine and a battery-powered motor. When the Outlander PHEV is powered by its battery it has a total driving distance of 22 miles and when the battery and engine work together, the Outlander PHEV has a hybrid combined city/highway fuel economy of 74 MPGe. Also, the Outlander PHEV has an exceptional charging time. Using a fast charger, the Outlander PHEV can be charged to 80 percent capacity in under 30 minutes. Starting price is only $34,595 MSRP (plus destination fee) and includes a wide, roomy five passenger experience.
What Mitsubishi Works For You?
* Maybe a test drive would help you decide. Look no further than Miami Lakes Automall to find the latest 2018 Mitsubishi models. Our professional and courteous staff will ensure you have a great experience and want to return for any maintenance or repair needs with our servicing department down the line. We hope you join us for a test drive, we're open seven days a week for your convenience. Come say hello! *
Previous Post Outlander Sport SEL is an Affordable, Loaded + Modern Crossover SUV Next Post What Future Hybrids Could Mean for Mitsubishi