A Second Look at the Mitsubishi Engelberg Tourer Concept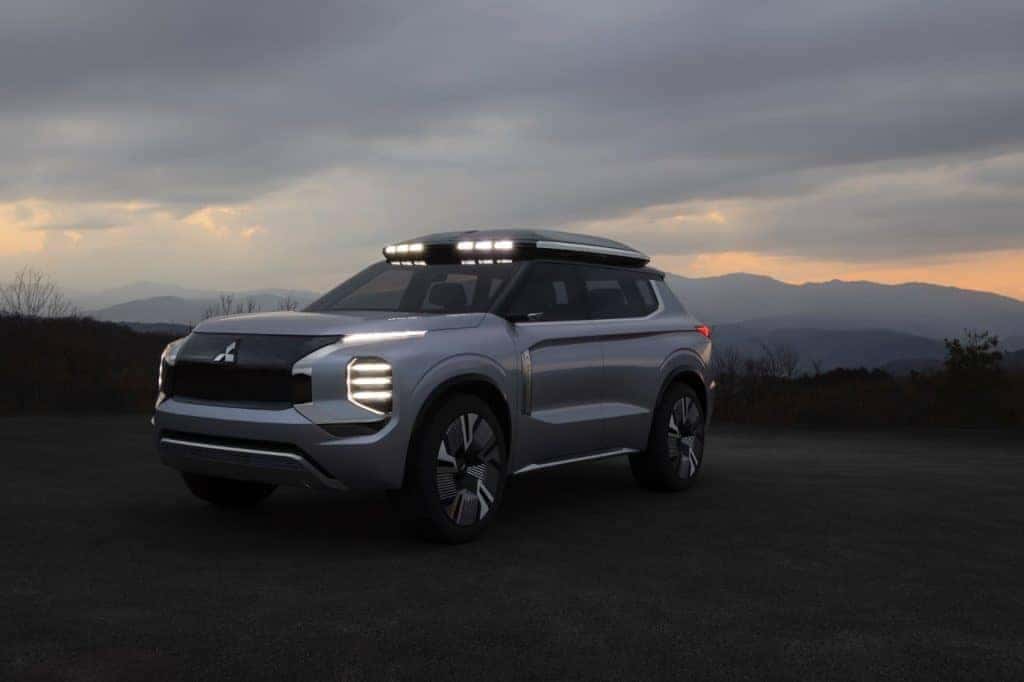 The 2019 Geneva International Motor Show brought us a lot of great concepts, and although a month ago, some vehicles are still be talked about as the details start to sink in. Largely taking the spotlight at Geneva were hybrid and electric vehicles. Nearly every automaker had one to display, and that meant an automaker had to do really stand out to get some deserved attention. Mitsubishi Motors achieved this by not just bringing a new plug-in hybrid electric vehicle (PHEV) concept to the show, but brought a PHEV that could boast high-performance, off-road action, and even came with its own house. Whether the concept becomes a reality is another story.
Taking a look at the Engelberg Tourer, and it screams rugged. The design is sharp and could pass for a luxury SUV in the right light. The box on the roof for extra cargo, shaped like a snowboard, gives way to a well-known ski resort in Switzerland, what the concept is named after. Made for active lifestyles, the Engelberg Tourer could be well suited for winter seasons, and for those who like to go off-road year-round, the Engelberg Tourer is known as a Twin-Motor 4WD plug-in hybrid system.
Much of the 4WD comes down to Mitsubishi Motors Super All-Wheel Control (S-AWC) system, known for adding better driver handling in a variety of driving conditions. In tandem with S-AWC, an Active Yaw Control (AYC) allows the electric motor to manage how much torque is split between the front wheels. Throw in systems made to improve driver handling and control, and the Engelberg Tourer is an SUV that one can take to the racetrack. When it comes to the plug-in hybrid system of things, the Mitsubishi Engelberg Tourer concept is much closer to what passes for production models today, versus the sometimes too futuristic concepts that tend to float around auto shows. Some could draw similarities to its size and powertrain to vehicles already in the Mitsubishi lineup. The Outlander PHEV is the most obvious, already an SUV with a plug-in hybrid powertrain made of two electric motors (one in the front and one in the rear).
Able to drive with both power sources in series-hybrid mode, a feature found in the Outlander PHEV, the Engelberg Tourer concept has an estimated total driving range of around 430 miles, give or take while the 2.4-liter gasoline engine acts as an onboard generator to charge the battery pack. If consumers choose to just use electricity, the Engelberg is estimated to smash the Outlander PHEV electric-only distance of 22 miles by nearly doubling it. So then there's the act of recharging the battery pack of the electric motors, and aside from already practical ways, there's that house we mentioned.
Even if the Engelberg Tourer doesn't come to pass, Mitsubishi Motors has already stated that their invention, the Dendo Drive House , will be available by the end of 2019. Based on their project to create clean energy with Hitachi Europe and ENGIE, Mitsubishi Motors took the same technology and put it into a house. Mitsubishi Electric has already tested this technology and crunched the numbers and found that an entire business could save 5-percent on electric costs with clean energy . Think of how much a house can save. Instead of needing to always plug into the city power grid, the Dendo Drive House installs a battery large enough to power the house and all of its appliances, as well as recharge a PHEV in the garage.
The Engelberg Tourer was designed with this ecosystem of a house in mind, and with its current product design matching what's on the market today, this plug-in hybrid SUV could become more than a concept. Do you think the Engelberg Tourer has what it takes? Join the discussion on Miami Lakes Mitsubishi social media .
Photo Source/Copyright: automoblog.net
Previous Post Mitsubishi Improves Outlander Sport with Automatic Safety Features Next Post The Safe and Luxurious Mitsubishi Outlander