5 Accessories to Make Your Outlander Awesome for Camping Trips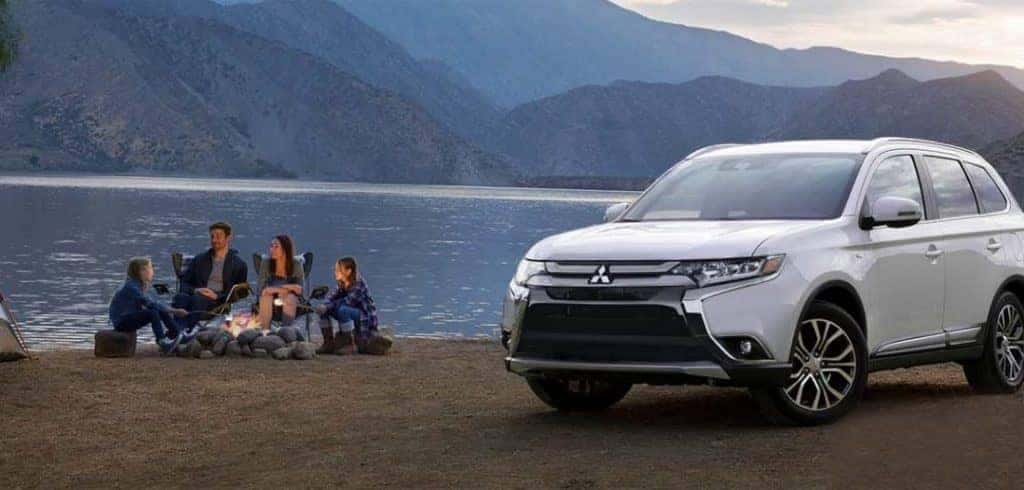 Camping trips are fun for many reasons, and a lot of the fun comes from the driving experience to get to where you'll stop to camp. The 2018 Mitsubishi Outlander is an exceptional ride. It provides comfortable seating for seven passengers and it is available with enough power to tow up to 3,500 pounds. Also, the Outlander has a great fuel economy that averages 25 mpg on the city and 30 mpg on the highway. Being a comfortable ride with remarkable fuel economy makes your camping trip that much easier.
With a starting price for the base model of $23,795 MSRP (plus destination fees), the Outlander is affordable to lease or finance. With available All-Wheel-Control to take you every With summer rapidly approaching, we have ideas for modifications you can do to make your summer camping trips even more fun.
Use Your Outlander to Help You Sleep Under the Stars
There are many ways to turn your 2018 Outlander into a camper, or special hammocks that can tie to the end of the Outlander and all you need to do is tie the other end to a strong tree to have a place to sleep. Various items online exist that can partially connect to your Outlander, letting your Outlander serve as the perfect steady base to hold your tent or hammock.
Roof Racks
Streamline roof racks are a great option to compliment additional cargo onto the roof of your 2018 Mitsubishi Outlander. Lack of space is no longer and issue with durable and supportive roof racks that fit the Outlander. Store your bikes, additional luggage or tent above your vehicle and give your guests more interior space.
Inflatable Tent
If you want an innovative, modern tent, you can find them in 2018. Get ready to relax with an inflatable tent where you don't have to struggle to put it up. In less than 60 seconds, items like "The Cave" made by Heimplanet are ready for you to enter (All that's need is an air pump to do the work for you).
Portable Stove
Having a convenient propane burner stove is always useful on camping trips. There's a market for mini grills that can be easily setup and provide exactly what you need to make a warm meal. And with an Outlander, you can bring and carry a large portable stove with great ease.
Mini Solar Panel Charger
Beginning to feel like James Bond, yet? A portal, niffy solar panel that can grab all the sunshine to power your cellphone or other portable devices is a useful tool. You won't have to worry about using your vehicle's battery and you don't need any power to charge the solar panel. We recommend investing in one.
Lightweight Chairs
There's nothing more important on a camping trip than the portable lightweight chair to sit next to a campfire with. Make sure to find one that's trim, comfortable and foldable to easy cargo storing. With or without a cup holder, what makes most is that the chair works properly.
Always Remember, Safety First
Driving a long way for adventure? The 2018 Mitsubishi Outlander received highmarks and attention for upgraded technology and safety improvements, which further raised the value of the popular SUV. The active safety technology on the 2018 Mitsubishi Outlander was named a Top Safety Pick by the Insurance Institute for Highway Safety (IIHS) and the 2018 Outlander earned a five-star rating from the National Highway Traffic Safety Administration (NHTSA).
The First Place to Find Your 2018 Mitsubishi Outlander
* If you're ready to go on the road with a new vehicle, try your hand first at what Mitsubishi has to offer. Visit Miami Lakes Automall today to ride a new 2018 Mitsubishi Outlander . Our friendly staff will help you buy, lease or sell your vehicle. Get the most for your trade in with us and stop by for any future servicing needs you'll have; even if you didn't buy with us. *
Previous Post Mitsubishi Motors Helps to Create Renewable Energy Next Post What to Ask When Financing a Car